Hypersonic weapons race is a marathon, not a sprint: Who will cross the finish line first?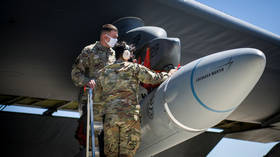 The US' latest hypersonic rocket test has failed, whereas China has reportedly tested a hypersonic rocket that circled the globe and Russia carried out the second successful test launch of its Zircon hypersonic cruise missile.
But can we determine yet who's to be the leader in the development of this future weaponry?
Last Thursday, the Pentagon said that its latest test at the Pacific Spaceport Complex in Kodiak, Alaska, had been scuttled after a booster rocket carrying a hypersonic glide body failed to launch. Earlier this year, the US Air Force had two failed tests of the AGM-183A hypersonic missile.
Also on rt.com
Zircon, Russian Navy's hypersonic cruise missile, will transform balance of power at sea
However, earlier last week, the US said it had successfully tested hypersonic missile technology at a NASA facility in Wallops, Virginia. "This test demonstrated advanced hypersonic technologies, capabilities, and prototype systems in a realistic operating environment," the Navy said in a statement, adding that it was "a vital step in the development of a Navy-designed common hypersonic missile."
It must be noted that failed tests of weapons and military hardware at the development stage are a normal part of the process.
After the first unsuccessful launch of the AGM-183A missile in the Pacific Ocean, some media outlets rushed to announce that, once again, the United States had failed to join Russia and China in the club of countries that have hypersonic missiles in their arsenals. But I have to warn these observers against such hasty judgments.
There is no reason to gloat here. Let's not forget that hypersonic tests are considered a state secret and classified military information in all of these countries.
There is no data about such launches coming out of China. The US is more open in this respect, but it is still classified information. The public has no way of knowing the actual results of hypersonic weapon tests.
Therefore, it is not an accurate assessment when journalists write that the United States "failed again." Let me remind you about the test launch of the Soviet V-1000 anti-ballistic missile that was part of System A (Soviet anti-ballistic missile system). Its first successful intercept was on March 4, 1961, when it intercepted an R-12 (8K63) theater ballistic missile. It is no exaggeration to say that it was a moment of triumph for the Russian weapons. However, there had been 11 failed launches before March 4, 1961. Hundreds of tests for air defense missile weapons have been conducted, and not all of them have been successful.
We don't know what exactly went wrong with the US test launch – we don't have access to that information. We don't know much about the American technology behind the hypersonic booster rocket in general. The details and specifications have not been made available to the public.
As for the Chinese hypersonic missiles, there is absolutely no verified information about them. Beijing denied reports suggesting that it tested a nuclear-capable hypersonic missile earlier this year, and said it was not a missile but a routine spacecraft check. However, it is virtually impossible to hide something happening in near space from the US and Russia, with their missile-attack warning systems.
Therefore one can assume that certain specialists may have necessary information regarding the Chinese hypersonic missile that has allegedly circled the globe. Immediately after the weapon's test launch, the space reconnaissance units of the US and Russian Ballistic Missile Early Warning Radar Systems (and also their above-the-horizon radars) would be able to calculate the trajectory of the Chinese missile, and the military of the two countries would be informed of all its mission parameters.
That's why if President Joe Biden says he is concerned about performance capabilities of the Chinese weapon, there is probably some basis for such fears.
Gen. Mark A. Milley, chairman of the Joint Chiefs of Staff, called China's alleged hypersonic missile launch "very concerning" and compared it to the "Sputnik moment" – the Soviet Union's 1957 launch of the world's first satellite amid the US-Soviet space race.
"What we saw was a very significant event of a test of a hypersonic weapon system. And it is very concerning," the US' top military officer said on Wednesday, in an interview on Bloomberg TV's 'The David Rubenstein Show'. "I don't know if it's quite a Sputnik moment, but I think it's very close to that."
Also on rt.com
A bad workman blames his tools: Armenian PM claims about Russian Iskander missiles attempt at deflection, based on misinformation
Hypersonic weapons testing is a marathon, not a sprint, in any country. So, looking at who is ahead or a little behind in this race is pointless right now. The important thing here is not the race itself, but who will finish first, i.e. accept hypersonic weapons into service and start mass production. And even this is not the ultimate indicator either.
Only successful practical use of hypersonic glide vehicles in combat will determine the real leader. This is the true "final exam" for any weapon. This is the real test that can prove that the initial idea has panned out, the resources were efficiently invested, and the developers were moving in the right direction. At this point, celebrating or gloating would be equally premature.
Like this story? Share it with a friend!
The statements, views and opinions expressed in this column are solely those of the author and do not necessarily represent those of RT.
You can share this story on social media: