Celebs who think they're highlighting their eco credentials by wearing OLD CLOTHES are clueless about what net zero means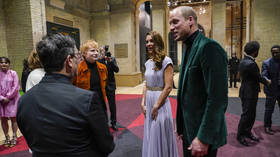 Fawning coverage of the Earthshot Prize awards ceremony highlighted the recycled wardrobes of some of the guests as proof of their commitment to the cause. All it really proves is how out of touch with reality they actually are.
This week, the first Earthshot Prizes were awarded at a glamorous event at London's Alexandra Palace. The initiative comes from Prince William's charity, the Royal Foundation, and along with its royal patrons, the individual awards were presented by actors Emma Thompson, Emma Watson and David Oyelowo, and footballer Mohamed Salah. The cash to back the project came from a host of well-to-do charitable foundations and environmental campaign organisations.
Using high-profile prizes to encourage and reward innovation is no bad thing in itself. But the guff around the whole affair reveals that those behind the Earthshot Prize and who support it have precious little idea about just the scale of the sacrifices involved for the rest of us if we are to achieve net zero without multiple technological breakthroughs. Instead, they love to be seen to be 'doing their bit'. But if they really believe that climate change is an imminent, existential threat, their behaviour is not merely hypocritical, but dangerous.
One ridiculous example of these rich and famous people being lauded for 'doing their bit' was the newspaper reports that lionised William and wife Kate for their outfits. According to The Independent: "Kate donned a lilac Alexander McQueen dress that she previously wore in 2011, while William followed suit, re-wearing a dark green velvet blazer he wore for a charity gala in 2019, which he paired with 20-year-old trousers." The paper also reported: "'Harry Potter' star Emma Watson also walked the green carpet, wearing a custom Harris Reed outfit made of 10 upcycled wedding dresses from Oxfam. The dress is part of Reed's Found collection, and was paired with the designer's H-flared trousers." Emma Thompson wore the same outfit that she wore when picking up her damehood in 2018, a blue suit with white trainers.
Also on rt.com
'Robbing from our children's future': Prince William criticises billionaires for space ventures, says they take focus off Earth
In other words, we are expected to glow with pride that the royals and their chums were expressing their commitment to the environment by – wait for it – wearing clothes that had been worn before. On which basis, my habit of wearing faded old T-shirts and joggers with a hole in the pocket makes me Gaia's number-one friend. Where was my invite to Ally Pally for the award ceremony? I could have been a role model.
Far from reinforcing the spirit of restrained consumption, this little PR stunt reveals only how clueless the great and good are about 'saving the planet'. How many of us ever have the privilege of wearing designer clothing? Yet they make a fuss when they wear such posh threads more than once. Meanwhile, they live gilded lives in grand houses, drive – or more likely, get driven around – in gas-guzzling cars and jet around the world in private planes or, at the very least, in the first-class cabin.
Hello magazine ran a feature in May headlined 'Kate Middleton and Prince William's London home is another scale of luxury'. Apparently, they live in Apartment 1A at Kensington Palace. But this is no bijou pied-à-terre – it's a "massive four-storey property with 20 rooms". But that's only when they are 'in town'. They also have a "jaw-dropping country mansion", Anmer Hall in Norfolk.
The other celebs involved can't quite match that scale of opulence. Emma Thompson reportedly ditched her home in Venice almost immediately after receiving Italian citizenship last year to see out the lockdown in her family's holiday home in Scotland. She's much more famous, though, for having flown over from her £4 million ($5.5 million) Los Angeles home to support an Extinction Rebellion protest in London in 2019, meekly claiming that if she could fly cleanly, she would.
Emma Watson (apparent net worth: £58 million/$80 million) has been described as a "greenhouse gas 'super-emitter'" by Swedish academics researching the carbon footprints of 10 wealthy public figures, with her flights and lifestyle causing three times more emissions than the global average.
Also on rt.com
Britain's reality show royals should team up in their bid to save the world and fill the gap left by the Kardashians
Personally, I don't care about the wealth and lifestyles of the rich and famous. If Mohamed Salah can persuade Liverpool Football Club to pay him £400,000 ($552,000) per week (as newspaper reports this week suggest he is asking for), good luck to him. He's a brilliant footballer, possibly the best in the world. If he and others want to use their status to support causes close to their hearts, that's fine by me, too.
But what the Earthshot Prize and the constant demands for net zero are about is to suppress the living standards of everyone on the planet. If we're really all in this together, the first thing these famous people could do is live up to the standards they are demanding should be imposed upon the rest of us. Perhaps if they tried it, they might have a more nuanced conception of what a disaster net zero would be.
Like this story? Share it with a friend!
The statements, views and opinions expressed in this column are solely those of the author and do not necessarily represent those of RT.
You can share this story on social media: