Britain's reality show royals should team up in their bid to save the world and fill the gap left by the Kardashians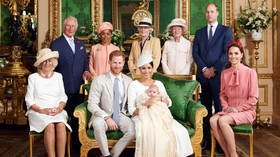 What better way to save planet Earth than by watching a TV show from Britain's ultra-privileged royal family? It's clear do-gooders Prince Charles and Prince William love the limelight as much as the ostracised Prince Harry.
I've got a great idea for a new reality TV show. It would be filled with high-octane drama and family feuds, tears and laughter, and every family member is – in their own way – trying to save planet Earth from imminent disaster.
It's called 'The Windsors Save The World'.
The original plan was to call it 'The Saxe-Coburg and Gothas Save The World', but it just doesn't have the same ring to it. And, anyway, the starring family changed their surname in 1917 because Britain was at war with Germany at the time. 'Saxe-Coburg and Gothas' sounded just a wee bit too German on account of the family being, well, a wee bit German.
Windsor is so much nicer and English sounding. It comes from the town of Windsor, where the show's matriarch, Elizabeth Windsor, likes to hang out when she's not up in Scotland. Windsor Castle nestles on the River Thames, 20 miles or so to the west of Buckingham Palace (a less-cherished Windsor family home in central London).
So, TV producers, sit up and take notice. This 'The Windsors Save The World' thing is a winner for sure. It would, of course, borrow heavily from the format of its forerunner, 'Keeping Up With The Kardashians'. But there's a huge hole now in the schedules, as that show finally came to an end a few months back after 20 seasons on the air.
The idea is kind of the same thing, except with exceedingly posh folk and a lot more jeopardy – the world, our very existence, is at risk. No less. And the Windsors are gonna save the day, oh yeah!
It's focused around an ageing father called Charles Windsor and his two sons, William and Harry. They're all princes, whatever that even means these days.
Prince Charlie wants to save the world from impending doom, via the medium of television. And, to this effect, he has just launched a channel to fight climate change on Amazon Prime, a company keen to promote its green credentials – despite even being criticised by its own staff for its environmental impact.
"We've forgotten sometimes, I think, that we are part of nature. So what we do to the world around us, we are doing totally to ourselves," he said in a voice just like the Queen's. "We can't go on, I think, equivocating on this and just expect us to test the world ultimately to destruction before you can prove that you have destroyed it."
A fair point, well made.
As a bit of a comedic side story within 'The Windsors Save The World', Charles' kid brother 'ostracised Andrew' (or 'Randy Andy' as he was known to the tabloid newspapers of the 1980s), spends much of his time behind tall castle walls trying to hide from American lawyers who want to serve him papers for alleged sexual assault.
Harry, the youngest Kardashian – sorry, err, I mean Windsor – is a ginger-mopped former soldier who used to be the edgiest and most interesting member of the clan. But then he wobbled and went all woke by running away to the US with his pushy American wife Meghan, a mediocre actress and awful author who now pretty much keeps Harry's balls in her purse.
Charles is, apparently, working as editor-in-chief at RE:TV for free (re-imagine/re-balance/re-energize/re-invigorate/re-invest – that's what the 're' bit is all about. Get it?) That's not exactly the case with Harry, who also wants to save the world from the ongoing climate catastrophe and make the world an altogether fluffier place through – yup – the medium of...television. Harry and Meg have signed a deal worth, reportedly, a whopping $100 million with Amazon's streaming rival Netflix.
Also on rt.com
Queen Elizabeth II supports BLM, royals 'passionately care' about removing racial barriers, top aide says
"Our focus will be on creating content that informs but also gives hope," said this strand of the Windsors. "As new parents, making inspirational family programming is also important to us." And Netflix's "unprecedented reach will help us share impactful content that unlocks action."
It reads like Meghan's writing skills might have been employed in that clunky statement. Whatever. There's sure to be LOADS of content related to climate change, even though the happy couple do tend to personally spew a fair bit of carbon into the atmosphere themselves (as indeed do all of the Windsors).
Then there's William, the eldest and most loyal, dutiful son. Willy has lost most of his hair and tends to be overshadowed somewhat by his louder kid brother. But that doesn't matter, for one day – after his grandma and then his old man cark it – he will inherit the family empire called 'The United Kingdom of Great Britain and Northern Ireland'. That's a bit of a mouthful, so better to just call it 'Britain' or simply 'the UK'.
William, of course, also wants to save the planet from imminent disaster with the help of the world's TV screens. He's doing it the old-fashioned way though, via the BBC (oh and Discovery Plus). His TV series with Sir David Attenborough will be called 'The Earthshot Prize: Repairing Our Planet' and will show environmental challenges and their scientific solutions. It's based around The Earthshot Prize (a twist on 'Moonshot', get it?) – an environmental prize initiative sponsored by William and his missus, Kate.
"It's incredible what we humans can build, but we often forget that it comes with a cost. We can create a different future, a better future, but only if we reach for it now," he said.
They're certainly dedicated to saving us from the abyss, these Windsors, aren't they? So why not sit back on the sofa with the remote control in your hand, relax and tune in. Britain's royal reality show has gotta be better than the Kardashians.
Hasn't it?
Think your friends would be interested? Share this story!
The statements, views and opinions expressed in this column are solely those of the author and do not necessarily represent those of RT.
You can share this story on social media: