Opposition is growing against Italy's heavy-handed imposition of mandatory Covid vaccine passes for ALL workplaces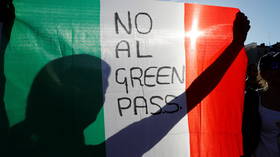 Problems arising from the state's demand that every worker have a 'green pass' demonstrating they are vaxxed, or face fines, are threatening to disrupt ports, businesses, and may precipitate wider upheaval.
From today, all employees in Italy are legally required to have the country's 'green pass', showing they have had at least one dose of a vaccine, or have recovered from the disease within the last six months, to go to work. Alternatively, they can also do their jobs if they pay (out of their own pockets) for a test every two days, provided it comes back negative, obviously. Currently, around 15% of private and 8% of public sector employees are reported to not have the green pass.
Workers in Trieste announced they would strike at the port from today and are refusing to conform with green pass requirements. Late yesterday, this strike was ruled illegal, but thousands of port workers are out demonstrating against the pass today.
Also on rt.com
Hundreds blockade Italian ports as mandatory Covid-19 passes come into effect for all workers (VIDEOS)
In the Venice region, at Electrolux, which has 23% of 1,430 employees unvaccinated, an eight-hour strike started today against the pass. Many other businesses face disruptions as employers struggle with checks every day as they cannot store employees' health data due to privacy regulations. Many buses and coaches in the Venice region have been cancelled due to a lack of drivers with passes.
In addition, it is estimated 30% of lorry drivers in Italy do not have the pass. Forty percent of drivers originate from outside Italy, meaning many of them have types of vaccination doses that are unrecognised by the government and may be unable to enter workplaces from today.
Employees risk fines of up to €1,500 and being suspended from work without pay if they do not comply with the new regulations. The only other country that has made evidence of not having Covid-19 necessary for all employees is Saudi Arabia.
Italy's green pass was initially announced in mid-July, came into force on August 6, and was required for foreign flights, to eat inside restaurants, to work in healthcare, and enter museums, concerts, galleries, theatres, cinemas, and sporting venues.
On September 1, the green pass was extended as necessary to travel on long distance trains and buses, domestic flights, for all employees at schools and universities, and for students to attend university.
There were concerns over vaccine uptake in mid-September, with 12.3% of the Italian population aged 50 and over not vaccinated against Covid-19. Over half these were aged 50 to 59, hence the nudging of employees to get vaccinated.
The announcement that the green pass would be extended to all employees initially led to an increase of 11% in vaccinations in the week after September 16, yet the vaccination rate has gone up and down in subsequent weeks.
With more than 80% of Italians over 12 years old fully vaccinated, between 1,500 and 2,800 new Covid-19 cases each day and a positivity rate below or at 1%, Covid is now a minor disease in Italy. While it is worrying that there are usually 30 to 50 new deaths associated with the disease each day, the Gimbe medical foundation reported on September 16 that Covid cases in Italian hospitals were "unvaccinated people almost exclusively."
Vaccinations have been very effective in combating the virus. But if some people choose not to get vaccinated and risk becoming ill and dying from the disease, they should be free to do so.
Also on rt.com
Italian police warn of armed attacks by anti-vaxxers at protests, eight people under investigation
Italy's green pass is placing severe restrictions on rights to work, study, travel, and live as free citizens, despite unvaccinated people having done nothing illegal. Bodily autonomy is a fundamental human right, so it was unsurprising that tens of thousands of Italians protested in Rome last Saturday against the green pass (with violent scenes breaking out among a small minority of demonstrators and police) and, if the government chooses to continue with this scheme, I fully expect more protests in the foreseeable future.
If you like this story, share it with a friend!
The statements, views and opinions expressed in this column are solely those of the author and do not necessarily represent those of RT.
You can share this story on social media: