Even NCIS, which should know better, can't seem to tell Russian warships from US Navy ones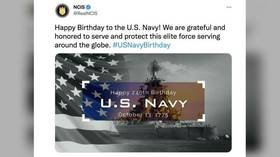 It's bad enough the romanticized TV portrayal of the Naval Criminal Investigative Service is nothing like the real thing, the sleuths at NCIS just had to wish the US Navy a happy birthday with a photo of a Russian cruiser.
Most Americans know about NCIS from the CBS TV series that's been running for almost 20 years – a brainchild of the same producer that romanticized the JAG corps before that. The actual military agency barely cracks the top 10 Google searches. This week, they might wish they didn't.
On Wednesday, the official NCIS Twitter account – for the naval agency, not the TV show – wished its parent service branch a happy 246th birthday, with a smart graphic of the giant US flag fluttering beside an impressive-looking surface ship. There was just one tiny problem: the vessel turned out to be Pyotr Velikiy, the flagship of the Russian Northern Fleet – named after Peter the Great, the first Romanov emperor of Russia.
"NCIS yesterday mistakenly used an incorrectly labeled stock image of a Russian ship in a tweet commemorating the 246th anniversary of the US Navy," Lieutenant Commander Patricia Kreuzberger told Task & Purpose on Thursday, adding that the service "is refining its internal review processes to prevent future errors."
It wasn't the first time NCIS goofed, either. Some sharp-eyed online sleuths noticed the agency had wished a happy birthday to the US Air Force last month with a graphic resembling Russian Sukhoi-34 jets, rather than any US designs.
As of this writing, that post was still up on the NCIS Facebook page – so either no one noticed, or nobody bothered to point it out. It's hard to decide what's worse. It's worth noting that the exact same graphic was used by US Southern Command – which covers South America – for the same birthday card, but they did catch flak for it and pulled their tweet down.
Also on rt.com
Thanks, comrades! US SOUTHCOM amuses Twitter followers with pic celebrating US Air Force birthday featuring RUSSIAN warplanes
The NCIS mix-up is the second time this specific ship was used to wish the US Navy a happy birthday. Congressman Brian Mast (R-Florida) did so back in September 2019. Mast is an Army veteran, however, so he has a good excuse for failing ship recognition. A navy agency? Not so much.
Senator Jim Risch (R-Idaho) also screwed up this week, using the image of what appeared to be a "Pattani-class offshore patrol vessel belonging to the Royal Thai Navy," according to Dave Brown, the very defense editor at Politico who had called out Mast two years prior. This "means it was built by China," Brown added.
Risch sits on the Senate committees for foreign relations and intelligence. Make of that what you will. While on the subject, who can forget the fake news peddled by his colleague James Inhofe (R-Oklahoma), currently the ranking member of the Senate Armed Services Committee, who back in 2015 showed photos of Russian tanks "invading Ukraine" that were clearly taken in the Caucasus mountains seven years earlier. Eastern Ukraine is notoriously flat – kind of like Oklahoma, really.
Also on rt.com
US Senator congratulates Air Force Reserve… with a picture of RUSSIAN planes
This kind of thing can be a mistake once, twice, even three times, but at this point it's endemic. Nor is it just US lawmakers that appear geographically and historically challenged, or ignorant of their own country's combat hardware, but actual military commands and agencies such as SOUTHCOM and NCIS.
The US Navy revolves around its supercarriers, with cruisers and destroyers serving as support ships. Meanwhile, the Kirov-class Pyotr Velikiy is officially known as a 'heavy nuclear-powered missile cruiser' in Russia and described as a 'battlecruiser' in the West, and is the largest surface combatant in the world. This seems important, and it shouldn't take a naval investigator or a weapons geek to figure it out.
Also on rt.com
Zircon, Russian Navy's hypersonic cruise missile, will transform balance of power at sea
Think your friends would be interested? Share this story!
The statements, views and opinions expressed in this column are solely those of the author and do not necessarily represent those of RT.
You can share this story on social media: