Instead of policing the rule of law in other countries, the US should get its own house in order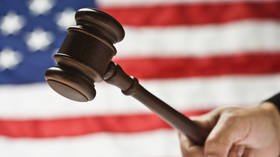 Revelations that 131 federal judges broke the law by hearing cases in which they had a financial interest are a shocking indictment of American 'justice.' It has no right, or ability, to police the rest of the world.
Roy Cohn, Senator Joe McCarthy's legal pitbull, famously proclaimed, "Don't tell me what the law is, tell me who the judge is." Cohn, speaking back in the 1950s, was opining that the US does not have a rule of law, but instead a rule of men and women who decide cases based on their own prejudices, personal relationships, and whims.
The goal of the lawyer, therefore, according to Cohn, is to make sure you appear in front of the 'right' judge who will be predisposed to rule in favor of your client. This, of course, is not how the US judicial system – allegedly a model for the world – should work.
A recent report by the Wall Street Journal suggests Cohn's statement should be amended somewhat to read, 'Don't tell me what the law is, tell me who the judge is and the identity of the companies in which he/she holds stock.' The headline and intro of the WSJ piece summarize the situation well: "131 Federal Judges Broke the Law by Hearing Cases Where They Had a Financial Interest. The judges failed to recuse themselves from 685 lawsuits from 2010 to 2018 involving firms in which they or their family held shares, a Wall Street Journal investigation found." At the same time, the WSJwarns that "the Journal's tally of recusal violations is likely an undercount."
And this is not just an academic matter, for as the WSJ makes clear, the conflict of interest of these judges seems to have had an actual impact on their decisions, with "about two-thirds of their rulings on motions that were contested [coming] down in favor of their or their family's financial interests." As the WSJarticle also notes, there are only 600-plus federal judges in the US, meaning the 131 offenders represent about 20% of the entire judiciary.
In other words, this is not an isolated problem, but rather, a systemic failure – or maybe a systemic success, if you're on the winning side of this rule-of-money judicial regime. The WSJ, the paper of record for the capitalist class, makes it clear that this systemic corruption violates "a bedrock principle of American jurisprudence: No one should be a judge of his or her own cause. Congress first laid out that principle in 1792 to guarantee litigants an impartial judge and reassure the public that courts could be trusted."
The WSJ also notes that this is violative of a 1974 US law that explicitly "prohibits judges from hearing cases that involve a party in which they, their spouses or their minor children have a 'legal or equitable interest, however small.'" However, this is a law with absolutely no teeth, as proven by the fact that, despite the enormity of the transgressions against the law, "[n]o judges in modern times have been removed from the federal bench solely for having a financial interest in a plaintiff or defendant that appeared in their courtroom."
And it appears from the article that no judge will be removed, much less go to jail, for such corruption. Instead, they will keep earning their $218,000 a year, plus benefits – an amount that is huge by US standards, but which the WSJ sympathetically cites as a reason judges feel a need to find other means of income through stock investments.
When one reads the WSJ report, one is struck by the nonchalant, 'Oh, shucks' reactions of the judges, who clearly fear no reprisals for their actions. The response of one, Judge Lewis Babcock, when challenged by the WSJ, was typical: "I dropped the ball. Thank you for helping me stay on my toes the way I'm supposed to."
Meanwhile, in scenarios reminiscent of 'Les Miserables', poor people in the US can spend decades in jail for stealing $50 or two T-shirts. As Bob Dylan once wrote, "Steal a little and they throw you in jail. Steal a lot and they make you king" (or maybe a federal judge).
One might think that all of this would create a huge scandal, and maybe even a US Department of Justice investigation to root out corrupt judges to at least try to bring some fairness and equity to our legal system. But no such righting of the US system will come – not any time soon, anyway. Instead, the US, true to its long-standing practice of projecting its own sins on others so it doesn't have to get to grips with its own, is focused on rooting out corruption – both real and fabricated – in other countries.
President Obama perfected this practice in Latin America, using the US Department of Justice to topple foreign governments based on fabricated corruption charges. Obama's greatest, and most shameful, feat in this regard was his Lava Jato – in English, 'Car Wash' – campaign in Brazil, which resulted in the ouster of the country's progressive president, Dilma Rousseff, and the jailing of the popular former president, Lula da Silva.
This trumped-up 'anti-corruption' campaign resulted in the election of the right-wing President, Jair Bolsonaro, who has proceeded to destroy the Brazilian rainforest and the indigenous communities living there. It also resulted in the swift payout of $3 billion to North American investors. In addition, this coup led to the privatization of Brazil's state oil company, Petrobras, shares of which were then bought up for pennies on the dollar by US oil companies such as Chevron and ExxonMobil.
The Brazilian coup, moreover, followed similar 'legal' coups that the US supported in other countries – such as Honduras in 2009, and Paraguay in 2012 – via which progressive leaders were toppled through judicial and legal machinations, and that paved the way for right-wing governments that favored US corporate interests.
The US government then formalized its alleged assault on world corruption through the Global Magnitsky Human Rights Accountability Act of 2016. As of 2020, the US State Department boasted that individuals and entities in 28 different countries, mostly in Asia and Africa, were being sanctioned under its auspices. Of course, some have criticized this Act and its application in countries such as Cambodia as really being about targeting and punishing individuals and entities that are competing with US companies for resources, labor, and business abroad, rather than about ridding the world of corruption.
And how could this be otherwise? How could a country such as the US, whose judiciary – and Congress and White House – is so infected by corporate interests and greed, be expected to be an honest broker in fighting corruption abroad? The answer is that it cannot. The entire US claim to being entitled to intervene around the globe is that it is somehow an exceptionally good and upstanding country that has something to teach others. But the truth is that it is not.
As the WSJ report demonstrates, the US has a legal system that is deeply corrupt and compromised, and, what's more, there is no indication that those in the US tasked with fighting such corruption will do anything to address this. Indeed, it is almost comical that, as the WSJ notes, one of the very judges tasked to prevent corruption – Chief Judge Timothy Batten Sr., a member of the Committee on Codes of Conduct for the Judicial Conference of the United States – has himself ruled in no fewer than 11 cases involving the bank JPMorgan Chase, in which he has a personal interest.
In other words, you have a classic case of the fox guarding the hen house. And, I would submit, the US is the giant fox guarding the global hen house. Until the US gets its own house in order, it has no right – and, more importantly, no ability – to be a policeman of the world. It is high time the US looked to its own deficits in democracy and rule of law, and spent its ample resources in fixing them. This is the best thing the US could do, both for its own people and for the world.
Like this story? Share it with a friend!
The statements, views and opinions expressed in this column are solely those of the author and do not necessarily represent those of RT.
You can share this story on social media: