Treat domestic violence like terrorism? No, we need to stop exaggerating over what's a new and dangerous form of police harassment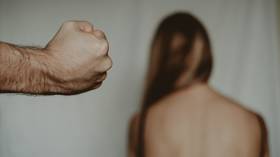 A recent virtue-signalling police report has used false claims to justify a new crackdown on what it alleges is an 'epidemic of violence against women and girls'. It just doesn't stack up.
There are certain issues in the UK and further afield that have become sacred cows – issues that, when raised, elicit only one "correct" response, and that is to nod your head uncritically. One such issue is that of domestic violence and the way it is policed.
For example, the recent publication of a report by Her Majesty's Inspectorate of Constabulary and Fire & Rescue Services, which has statutory responsibility for the police forces of England and Wales, led to shock-horror headlines in the UK press about the need for "violence against women and girls," to be "prioritised in the same way as terrorism." Few questions were raised by journalists about this claim, or indeed the contents of the report itself. But it is often those issues that make us feel ill at ease about questioning that we should indeed question.
Also on rt.com
Scotland's push to make sexism a crime is being steered by a group of biased feminists who want to re-socialise us
The report was initiated by the murder of Sarah Everard by a serving police officer and the response to her death, which included a cry from some quarters for a 6pm curfew on all men in London. What the brutal rape and murder by a stranger has to do with the police response to domestic violence is not clear. Indeed, the interconnection of the two could be seen as not only confused but disrespectful to Everard and the brutal nature of the grotesque crime committed against her.
The conclusion of the report was that the police are not doing enough to tackle domestic violence, or to prevent it from happening in the first place. However, the idea that they are not prioritising it is highly questionable. As is the way with reactive commissioned reports of this kind, the tendency is to exaggerate the problem, exaggerate the lack of response by the police and criminal justice services, and finally proclaim that "more must be done."
Too many cases are resulting in alleged perpetrators not being charged, the report explains, at a time when there is an "epidemic of violence against women and girls." A number of recommendations are made regarding this problem, one being the creation of a new statutory duty to protect women in the same way that child protection services operate. But should we really be treating women the same way we treat children?
Reading the 158-page report, it doesn't take long before we come across a misrepresentation of the case at hand. Indeed, the first page cites a survey that found "two out of three 16- to 34-year-old women and girls reported that they had been sexually harassed in the past year." From this we get the following statement from the report that prompted a number of newspaper headlines, "These figures are alarming. We consider they represent an epidemic of violent and abusive offending against women and girls in England and Wales." However, if we examine the survey being referred to, we find something quite different to this figure of two-thirds of women being sexually harassed.
The survey in question cites figures from the Office for National Statistics' Opinions and Lifestyle Survey, but those statistics pertain to the much broader category of "harassment," rather than "sexual harassment" or indeed "violence." They include catcalls, unwanted sexual comments or jokes from a stranger, being insulted or shouted at by a stranger, and the feeling of being followed or threatened.
Some of these experiences are subjective, given they relate to feelings, while others describe non-sexual instances of being insulted. None of them relate to actual incidents of violence. As a result, while two-thirds of women said they had had one or more of these experiences, almost a third of men said they had experienced them too.
Following the approach of the Inspectorate's report, might it not be possible to argue that these figures are also alarming, and that we consider they represent an epidemic of violence and abusive offending against men and boys in England and Wales? But of course, this would be no more true than the picture being painted by the skewed use of these statistics to come to a conclusion about violence against women and girls. Based on this survey's findings, these claims are not simply misleading, they are utterly false.
Living in Scotland as I do, I have noticed that, rather than the police not taking domestic violence seriously, the issue has been politicised and prioritised in a way that has never been seen before. This is also the case across the rest of the UK, and, indeed, when Theresa May resigned in 2019, she explained that one of the three areas of work she was most proud of was her campaign to tackle domestic violence.
An experienced Glasgow court practitioner I talked to about the nature of domestic violence policing in Scotland gave a very different view of what is actually happening, both on the ground and in court itself. When it comes to the policing of domestic violence, he explained, there is a "strict policy of zero tolerance" – one where experience and judgement can no longer be relied on, and the ability to deploy common sense and discretion has been removed. The outcome of the pressure involved in this form of policing is that "everyone is watching their back," the result being that men (and sometimes women) are locked up for, "as much as four days" with little or no evidence, even in cases where the alleged victim intervened to ask that no further action be taken.
Finally, my source noted, with regard to the unthinking zero-tolerance approach to domestic cases, "I have numerous instances of the above, but perhaps the most draconian was the detention overnight of a schoolboy for an alleged domestic incident at the door of his school girlfriend. Words may well have passed in anger, but does this justify the action taken?"
The reality of domestic-abuse policing is that it has been politicised to an extent that it has warped the way the police operate. That constantly elevates the pressure on the police and the criminal justice system to 'do something' – even when this goes against the evidence or the common sense of those investigating the incident.
Poor research and hyperbolic press releases do nothing to help the public understand the nature of this crime or, indeed, to set the correct balance when dealing with the policing of people's private and personal relationships. We need to stop exaggerating, virtue signalling and using false claims to justify what is becoming a new and highly dangerous form of police harassment.
Like this story? Share it with a friend!
The statements, views and opinions expressed in this column are solely those of the author and do not necessarily represent those of RT.
You can share this story on social media: