Political leaders' fence sitting on mandatory vaccines is fuelling unrest and division in Australia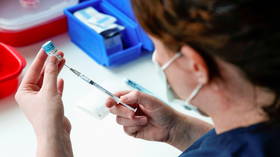 Australia's unimpressive handling of the pandemic is continuing with the debate over mandatory vaccines getting ever more bitter – a result of political leaders shirking their responsibilities to make tough decisions.
For the past few weeks, the contentious issue of mandating Covid vaccination has bedevilled Australian politics and courts.
Last week, a directive by the Victoria state government telling construction workers that they could not work unless they were fully vaccinated provoked violent mass demonstrations – led by radical anti-vaxxers – in Melbourne that went on for days, and brought the city to a standstill.
In recent weeks, many large companies in Australia, including Qantas, Virgin Australia and Telstra, have ordered their employees to get fully vaccinated or face dismissal – a stance that has attracted much criticism and the predictable fusillade of online abuse.
Also on rt.com
How Australia's zero-covid strategy turned into a total shambles thanks to our inept leaders
This week, the Queensland Police Commissioner issued a directive in similar terms to members of the Queensland police force – and some police officers responded by commencing legal action to challenge the validity of the directive.
A case got under way in the New South Wales Supreme Court this week involving a challenge to a directive issued by the state government requiring all essential workers to be vaccinated. The judge hearing the matter stated in court that he has received more than 1,800 emails from anti-vaxxer activists urging him (quite improperly) to overturn the directive. He described this as an attempt "to interfere with the administration of justice."
Two other cases attacking similar Health Department orders are due to go to trial in the New South Wales Supreme Court in November.
This week the Fair Work Commission – Australia's federal industrial relations tribunal – handed down an appeal judgement upholding a decision by an aged care facility to dismiss an employee who refused to have a flu vaccination mandated by a New South Wales government directive.
And these events have taken place in circumstances where those states that are currently experiencing serious Covid outbreaks and have been in strict lockdown for months – Victoria, New South Wales and the Australian Capital Territory – have foreshadowed a lifting of restrictions commencing next month, once full vaccination rates reach 70 or 80% of the adult population.
Whatever position one takes on the issue of mandatory vaccination, this state of affairs is nothing less than a shambles. Either mandatory vaccination is warranted or it is not. And if it is warranted – which is a determination that should be made by governments and not individual employers – then surely it should be warranted for all citizens, not just particular groups of employees?
The Fair Work Commission judgment – which contains a strong dissenting opinion – is of interest, because it highlights the intensity of the opposing views on mandatory vaccination. The majority commissioners held that the sacked employee held "a general anti-vaccination position" and that the government direction was reasonable on the facts. They then went on to say that they refused "to give any encouragement, in the circumstances of the current pandemic, to a spurious objection to a lawful workplace vaccination request."
The dissenting commissioner, however, vehemently disagreed, saying that mandatory vaccination was "an abhorrent concept and is morally and ethically wrong and the antithesis of our democratic way of life and everything we value." She described the majority decision as introducing a system of "medical apartheid."
The majority decision is in accord with previous rulings by the commission, and has been welcomed by employers' organisations. Even so, the outcome turned on the specific facts of the case – in particular that the employee worked in an aged care facility. Cases brought in respect of other employment situations may be decided differently. Multiple court cases – with the likelihood of conflicting decisions based on differing factual circumstances – can only give rise to more confusion, uncertainty and unfairness.
How does Australia come to be in this unsatisfactory predicament? Primarily because federal and state political leaders have refused to take a principled and clear-cut stand on the issue of mandatory vaccination. The federal and state governments have the legal power to make Covid vaccination mandatory for all citizens. Yet they have shirked their responsibility, and refused to make a decision one way or the other.
This has created the current unacceptable state of affairs – where individual employers and state agencies are entitled to decide what to do, and where a multiplicity of litigation will be the inevitable result.
Even on the issue of so-called 'vaccine passports', political leaders remain vague and inconsistent. New South Wales Premier Gladys Berejiklian has hinted that when lockdown restrictions are lifted in her state next month, those persons who remain unvaccinated will be able to avail themselves of the "freedoms" that she will confer on her electorate.
Victoria Premier Dan Andrews, however, has stated that only the fully vaccinated will be able to attend restaurants, bars, pubs and events in his state after lockdown restrictions are lifted.
Why have Australia's political leaders refused to act responsibly on this important issue?
Political expediency is the main reason. People are understandably tired of lengthy lockdowns and their consequences. Politicians are acutely aware of this, and they are also fearful of the significant anti-vaxxer sentiment that the Covid pandemic has unleashed in Australia.
Many conservative politicians are avowed anti-vaxxers and have opposed even limited lockdowns. Craig Kelly, leader of Clive Palmer's United Australia Party, the National Party's George Christensen, and Pauline Hanson, leader of the One Nation Party, all fall into this category.
These right-wing political figures have all enjoyed a resurgence of popularity in recent months. As the popularity of political leaders in power has waned, due to the spread of the Delta strain and lockdowns in New South Wales and Victoria – in particular Prime Minister Morrison (who faces an election within six months) and also to a lesser degree Premier Berejiklian – they have become afraid of further alienating the electorate. Thus, their recent adoption of a program to lift lockdown restrictions.
In such a fraught political context, politicians are extremely reluctant to unilaterally impose uniform sanctions on the electorate – even when they may be necessary. The conferring of privileges on favoured groups according to politically correct ideologies is, of course, another matter entirely. But the selective granting of such privileges is always accompanied by the illusion of an element of choice.
This phenomenon might be termed the 'Starbucks Syndrome'. In the same way that customers at Starbucks were impressed by the array of choices available – even though all varieties of the coffee offered were undrinkable – so too voters will apparently accept bad policy decisions provided they feel that they have chosen them and not had them imposed upon them.
There is one other important aspect of what is occurring in Australia that should be noted. The policy of lifting lockdown restrictions while at the same time refusing to mandate Covid vaccination will have the unavoidable effect of increasing the number of deaths caused by the virus.
This is already happening in Australia, and in those countries that have already gone down this policy path it does not seem to have caused undue concern.
In America, the Covid death toll has now reached nearly 700,000, but recent polls indicate that Donald Trump – the politician who bears most responsibility for this appalling outcome – is now more popular than President Joe Biden.
Western societies apparently no longer believe in the 'sanctity' of human life (a notion based on Christian religious belief) but are only concerned with the 'quality' of life – at least of those individuals who are still alive to experience it. It is arguable whether such a limited concern makes for worthwhile policy decisions where pandemics are concerned.
Also on rt.com
Indigenous health bodies SLAM Australian govt's 'joke' response to Covid outbreak in remote communities despite 18 months' notice
Those political leaders in Australia who have decided to lift lockdown restrictions, and have irresponsibly dodged the issue of mandatory vaccination, have taken something of a gamble. The success of their program depends upon rapidly increasing voluntary vaccination rates – which appears to be happening at the moment. But encouraging anti-vaxxer views – even by default – may prove to be a dangerous political tactic in the longer term.
The success of their program also depends upon the health system (which is currently under considerable strain) being able to cope with the dramatic increase in the number of Covid infections that will inevitably occur when restrictions are finally lifted. More importantly, it also depends upon new variants of the Covid virus – especially those that are not amenable to current vaccines – not emerging in the future.
The current gamble may well pay off – but the final outcome is as yet uncertain.
If you like this story, share it with a friend!
The statements, views and opinions expressed in this column are solely those of the author and do not necessarily represent those of RT.
You can share this story on social media: