How Australia's zero-covid strategy turned into a total shambles thanks to our inept leaders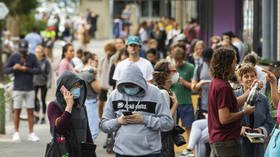 Australia's performance in dealing with the Covid pandemic, until three months ago, ranked amongst the best in the world. Even today, its record is impressive – only 1,006 deaths and 56,212 cases in a nation of 23 million people.
Readers in the UK, Europe and America may find these figures difficult to believe – but they underlie the unique nature of Covid politics in Australia.
Australia's success came about because Prime Minister Morrison closed our borders to international travellers in March 2020, and shortly afterwards established a national cabinet, comprising himself and the state Premiers, to co-operatively handle the crisis.
Australia is a federation, with state borders able to be closed by individual states – and this also helped. We have a national health system (like the NHS) and our quarantine and tracing systems have, until very recently, worked well.
There have been serious Covid outbreaks in Australia – including the second wave of cases in Victoria late last year that resulted in some 800 deaths – but strict border closures and targeted lockdowns have contained the virus within manageable bounds.
Some states, including Queensland and Western Australia, have remained virtually Covid-free for the past two years.
Three months ago, however, a serious outbreak involving the Delta strain occurred in New South Wales, Australia's most populous state.
Currently 1,200 new cases and five deaths are being recorded daily in New South Wales, and these figures are predicted to rise. The entire state is in strict lockdown, and other states have closed their borders to New South Wales. These restrictions will last until at least Christmas, and perhaps beyond.
This latest Covid outbreak in New South Wales, which is spiralling out of control, has provoked a political crisis that is intensifying on a daily basis.
In order to understand how this crisis came about, it is necessary to go back to the beginning of the Covid pandemic, early last year.
At that time, Prime Minister Morrison and the state Premiers were in broad agreement that Covid outbreaks should be dealt-with by targeted lockdowns and state border closures.
Also on rt.com
Teen mental health hospitalizations rise by 57% during lockdowns in Victoria – state report
There was, however, a contrary view – the so-called 'herd immunity' theory – which played down the effects of the virus, opposed lockdowns and border closures, and urged that the virus be allowed to spread unchecked throughout the community.
This view was a modern variant of the extreme Thatcherite notion that society does not exist – only individuals – and that economic interests should prevail completely over concerns for human life.
This ideology had supporters within the Morrison government and the Australian business community, especially in the aviation and tourism sectors. As one airline CEO pithily put it earlier this year "international borders must reopen even though some people may die."
Some right-wing media organisations in Australia – most notably Sky News and the Australian Spectator – promoted the herd immunity theory and have vociferously opposed all lockdowns and border closures. At times, their views have tipped over into blatant anti-vaxer propaganda.
Up until recently, Prime Minister Morrison attempted to pursue a middle course – accepting, at times reluctantly, the need for lockdowns and border closures while at the same time refusing to strongly condemn proponents of the herd immunity theory.
The recent catastrophe in New South Wales, however, has caused Morrison to change ideological tack.
For the past few weeks he, together with the conservative Premier of New South Wales, Gladys Berejiklian, have been spruiking a new approach to dealing with the pandemic – what they grandly call the "national plan."
This program mandates that all state Premiers must immediately commit to lifting lockdowns and opening borders "as one" once the Covid vaccination rate in Australia reaches 70-80% – a figure that will not be achieved for some months.
Predictably, the Queensland and Western Australian Labor Premiers have refused to sign up to the "national plan." This week Premier McGowan of Western Australia accused Morrison of "trying to infect WA" and the Queensland Premier Annastacia Palaszczuk warned that mass deaths would occur if borders reopened.
Also on rt.com
'Enough': Australian newspaper The Age comes out against extended lockdown in fiery editorial
The herd-immunity zealots, however, have warmly welcomed Morrison's ideological change of heart, as have the anti-vaxers – and both groups have recently staged protests across Australia, one of which shut down the Queensland parliament this week.
Why have Morrison and Berejiklian so fervently embraced the "national plan" – even at the risk of provoking a political crisis?
Primarily for ideological reasons, so as to avoid having to bear responsibility for the serious mistakes, made by each of them, that have led to the latest Covid debacle in New South Wales.
The fact is that Morrison's roll-out of Covid-19 vaccines in Australia has been a disaster.
Only 37% of the population over 16 is fully vaccinated. This is a very low figure compared to other countries – in Britain, Israel and Singapore, for example, the figure is above 80%, and those countries achieved that figure months ago.
Morrison complacently delayed commencing the vaccine roll-out and has still not obtained sufficient doses – just this week he was forced to obtain 500,000 doses from Singapore to cope with the New South Wales crisis.
More importantly, vaccination rates amongst high- risk groups – for example, Aboriginals, the elderly and health workers – remain disturbingly low.
These low vaccination rates have, of course, exacerbated the impact of the New South Wales outbreak – especially amongst discrete Aboriginal communities in country towns in the west of the state.
Berejiklian's demonstrable faults are even more egregious.
The current outbreak began with a driver who drove international flight crews around Sydney. Clearly, he fell into a high-risk category and should have been vaccinated, but he hadn't been.
When the driver tested positive, Berejiklian rejected Health Department advice and delayed introducing a lockdown in Sydney for two weeks.
Then, when the lockdown was finally put in place, Berejiklian failed to ensure that residents within the ethnic areas of Sydney, in which the virus had taken hold, complied with the lockdown restrictions. She subsequently sent in army troops and police, but by then it was too late.
Also on rt.com
Indigenous health bodies SLAM Australian govt's 'joke' response to Covid outbreak in remote communities despite 18 months' notice
Berejiklian now holds daily press conferences at which she highlights the number of people being vaccinated (rather than the number of new infections and deaths) and petulantly avoids answering questions about her own ineptitude.
"Vaccination is the solution" she cries, but she is looking more rattled and deranged by the day.
No wonder the New South Wales Premier is the most enthusiastic supporter of Morrison's "national plan".
Morrison and Berejiklian have both strongly criticised the Queensland and Western Australian Premiers for failing to uncritically embrace the "national plan."
Thus, we have the curious spectacle of two inept conservative politicians, whose collective incompetence has caused the most serious Covid outbreak that Australia has experienced, attacking two state Labor Premiers who have kept their states virtually Covid free.
And both McGowan and Palaszczuk have won state elections in the last 12 months by endorsing lockdowns and border closures.
Morrison must hold a federal election before May next year and he needs to win seats in Queensland and Western Australia in order to stay in power. His national plan will only alienate voters in those states.
Morrison's political stupidity has also fuelled support for extremist right-wing parties espousing crude anti-vaxer ideologies.
Clive Palmer's United Australia Party – now led by former Liberal Craig Kelly (who infamously in a recent Sky News interview opined that people who were vaccinated were at more risk from Covid than those who were not) is gearing up for the election. So too is Pauline Hanson's One Nation party. Hanson has publicly stated that she will not get vaccinated.
And what of the federal Labor party – led by the doltish and probably unelectable Anthony Albanese, a younger version of Jeremy Corbyn minus the charisma? Well, oddly enough, he is a committed supporter of the "national plan."
Also on rt.com
Australia records more than 1,000 new domestic Covid infections for the first time since the pandemic began
Why, you might ask? Lack of courage and political judgement, for the most part, but also because the latest outbreak in New South Wales has glaringly exposed the weaknesses inherent in two key Labor party policies: multiculturalism and separate development for Aboriginals.
It is no coincidence that the primary victims of the current Covid debacle are ethnic communities in western Sydney and Aboriginal communities in the far west of NSW – but Labor is incapable of criticising the policies that have produced this appalling outcome.
Thus Australia – despite its extraordinary success in dealing with the Covid pandemic – now finds itself in the midst of a political crisis that can only intensify in the lead-up to the next federal election.
And all because of a self-serving "national plan" that is both unnecessary and unworkable.
Perhaps the most pernicious aspect of the "national plan" is the fact that it is primarily justified on the basis of an alleged epidemic of mental health problems caused by lockdowns and border closures.
Instead of stiffening the resolve of Australians and imbuing them with the values necessary to cope with and overcome the pandemic, Morrison, Berejiklian and Albanese are intent on medicalising social problems and encouraging people to see themselves as victims.
The current political crisis in Australia makes clear that even an extremely successful containment of the Covid virus can be completely undone by politicians – from both sides of the political spectrum – who are simply not up to the task of governing competently.
Think your friends would be interested? Share this story!
The statements, views and opinions expressed in this column are solely those of the author and do not necessarily represent those of RT.
You can share this story on social media: