Dismissing religious objections to taking the Covid vaccine flies in the face of the principles the United States was founded on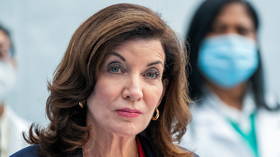 Governors, journalists and even pastors across the country have shown total contempt for the Americans refusing the Covid-19 vaccine on religious grounds. Have they forgotten the US doesn't have an established church?
New York Governor Kathy Hochul has been in office just over a month, and already she's making national headlines. After her former boss, ex-Governor Andrew Cuomo, resigned in disgrace after being caught in a web of sexual harassment claims, Hochul took the reins of office and promptly pulled them hard toward addressing Covid-19. Despite months upon months of overwhelmed New York hospital staff and a looming nursing shortage in her own state and elsewhere, she decreed that all unvaccinated medical personnel in the state would be fired at the stroke of midnight on September 28 of this year, and indeed, the firing process has already begun.
Governor Hochul also took to the pulpit last Sunday, preaching a message of vaccination at the Christian Cultural Center, a Brooklyn megachurch. "I need you to be my apostles," she told her audience members, imploring them to spread the gospels of J&J, Pfizer, and Moderna throughout their boroughs. The curiosity of her self-identification as Vaccine Jesus becomes even more bizarre when juxtaposed with her absolute insistence that there exist no legitimate religious exemptions to a mandatory jab.
Also on rt.com
Imposing an ill-conceived vaccine mandate on the US Armed Forces falls right in step with our military's disastrous leftward march
She wouldn't be the first politician with a god complex, but this is taking it to another level.
"There are not legitimate religious exemptions," declared Hochul, "because the leaders of all the organized religions have said there's no legitimate reason." Even a single exception would prove her statement false, and there are many. That said, individual religious exemptions are exactly that: individual. Employers are legally required to accommodate the sincere religious beliefs of their employees, not those of the employee's denominational leaders.
On the opposite coast, the editorial board of the Los Angeles Times fervently argues that religious exemptions should be dumped altogether. "Religious exemptions don't protect the public," they say, "and when it comes to COVID-19, public health must remain the overriding priority." The zeal with which the LA Times demands that personal beliefs simply don't count when they conflict with the nebulous idol of 'public health' is troubling to anyone who values free exercise of religion.
Ironically, mandatory and widespread Covid-19 vaccinations – the editorial board's Holy Grail – don't fully protect the public either. This summer, Los Angeles County noted that more than 10,000 patients, a full quarter of its Covid cases, were fully vaccinated. Around the globe, from Singapore to Israel, breakthrough cases among highly vaccinated populations are rising, and at Harvard University, even with the jab mandated and a 95% vaccination rate, coronavirus infections have spread far enough to force some classes to move online.
The truth is that Covid vaccination, while shown to be valuable in decreasing symptoms and hospitalizations (though not necessarily transmission), is in no way a panacea to the pandemic, and for the LA Times to suggest otherwise as a rationale for rejecting religious exemptions is a journalistic sin.
Also on rt.com
As a doctor, here's my opinion on Nicki Minaj, swollen testicles and vaccine hesitancy – she's not talking boll**ks
One might expect such disdain for religious conviction from liberal NY and LA, but to hear it echoed in Republican-held Texas is more surprising. "No matter how you feel about religious exemptions: 'I prayed about it' is not one," tweeted conservative Dallas-based talk show host Mark Davis. "'My body is a temple' is not one unless you have refused shots your whole life and are not fat," he continued. "If you don't want the shot, don't get it. But stop using God as a phony reason." For a man who speaks so often about faith and liberty, this is a shocking sentiment. Denigrating convictions as an answer to prayer, conflating the novel coronavirus vaccines with other established, better-studied shots, and characterizing religious exemptions as across-the-board "phony" is hardly a good look for a "foremost conservative voice."
Dallas megachurch pastor and vocal Trump supporter Rev. Robert Jeffress told the Associated Press that, in his view, "there is no credible religious argument against the vaccines." Addressing the moral objection that every vaccine available in the United States uses aborted fetal cell lines in some stage of its development, Jeffress added, "Christians who are troubled by the use of a fetal cell line for the testing of the vaccines would also have to abstain from the use of Tylenol, Pepto Bismol, Ibuprofen, and other products that used the same cell line if they are sincere in their objection." The pastor doesn't seem to realize that the response from most, if not all, of such objectors would be, "Thank you for bringing those to my attention so I can stop using them," and never mind that nobody is being faced with a choice to either take an Advil or be fired.
Rev. Jeffress, an evangelical, would do well to recall that the thesis of Martin Luther's Protestant Reformation more than 500 years ago was that individuals ought to be responsible for their own faith, rather than depending entirely on the dictates of an intermediary priest class.
To Governor Hochul, Mr. Davis, Reverend Jeffress, and anyone else who claims a Christian faith in God but scorns the idea of a religious objection to a Covid-19 vaccine, one might suggest a reading of the Apostle Paul's words in Romans chapter 14: "Each one should be fully convinced in his own mind." "I know and am persuaded in the Lord Jesus that nothing is unclean in itself," writes Paul, "but it is unclean for anyone who thinks it unclean."
Also on rt.com
Obesity is a killer and Covid is brutal to fat people, so why are we doing nothing to tackle this ticking time bomb?
"Give me liberty or give me death!" cried Patrick Henry. "Live free or die," echoed General John Stark. "Death is not the greatest of evils." For these heroes of the American Revolution and the Puritan and Pilgrim colonists before them, religious liberty was the very raison d'etre for their nation-building efforts. Nobody in American civic life ought to understand and champion its importance better than elected officials, journalists, political pundits, and clergy. It's to their shame that they seem to have failed the test when it counted.
As for Governor Hochul, who one hopes will avoid the shameful sex scandals that sullied her three predecessors: if her plan to replace fired medical staff with the National Guard actually works, it will be a miracle.
If you like this story, share it with a friend!
The statements, views and opinions expressed in this column are solely those of the author and do not necessarily represent those of RT.
You can share this story on social media: