We want to cancel you, Mr Bond: Both Left and Right are out to get 007 before they've even seen 'No Time To Die'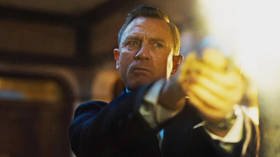 The conservative reaction to the updating of the James Bond franchise in 'No Time to Die' echoes the whining of progressives who say it is tired and old-fashioned. Why can't both accept Bond for what it is, simple entertainment?
Film journalists must gather around their editors' desks just before any 007 movie premieres to draw matchsticks. Whoever ends up with the short pull gets the job of writing the tired, whining protest piece on how Eon Productions and its studio partners need to stop making James Bond movies. No matter what writer hacks his or her way through the predictable screed, its content remains the same – regardless of what leading man carries the Walther PPK.
For example, you can picture the young, crayon-wielding champion of everything masked and bubble wrapped charged with the Guardian's little piece of unintelligible counterintelligence: He/she/it/they avoids eating anything that casts a shadow; only gets their hands dirty when painting a happy face on a protest sign; considers kissing a romantic partner to be a possible hate crime; never completes a successful push-up etc.
Also on rt.com
'No Time To Die' is the latest in a long line of James Bond movies supported by the UK & US military
We're talking about the gloomy vulture crowd that sits high in a dead tree, looking down with beady, hooded eyes, waiting to attack and peck away at anything that might bring them attention. Since the 25th James Bond film will be the first major motion picture released only in theaters internationally since the pandemic began, it qualifies.
I could write the prerequisite hit piece on a cinematic hitman myself, and tick off every single bloodless bleat. You've probably seen these Bond film bingo cards in your local mahi-mahi wrap. Just fill in all the squares as we go: The flicks hate women. They're too violent. They're too colonial. The #MeToo movement made 007 an outlaw. He's a dinosaur in this age of enlightened, obedient cis males. Bond should be a woman. Bond should be everything Ian Fleming and his film producers created him not to be. In short, James Bond movies simply don't fit in this 2021 world.
That last blank bullet might just become true – and I applaud the franchise for remaining a poor fit. The cowardice of the world that Bond-hating politicos and scribblers would create is matched only by its unavoidable boredom.
The most bizarre aspect of any anti-Bond missive in print or online – and it doesn't matter if it's leveled at 'No Time to Die' or any of the last 10 or 12 movies in the series, because the complaints are always the same – is that it always comes out before the film in question hits theaters. Before anyone outside industry insiders and film critics see the movie, the carrion crows already have their beaks in the Aston Martin's roof. The articles are so generic in their vitriol that they could be written years in advance, stored away on a Spectre server somewhere and unleashed in the weeks leading up to the latest Bond premiere.
Maybe I'm on to something there. I should get M to let me investigate that.
The attacks are just a way for a newspaper or online news site to generate some readership off the week's biggest entertainment story. Fair enough. Still, the silliest aspect of the attempted sabotage is that it always fails. No one decides to attend or ignore a Bond movie based on the complaints of some elitist clod in a virtual newsroom somewhere. If folks dig an espionage adventure film, they go. If they don't, they don't – and they're just fine. (I don't want to go to dinner with any of them, but they're fine.)
While Mr Kiss Kiss Bang Bang could set his Omega watch to these anti-Bond articles en route to earning his latest half-billion at the box office, we're now seeing a second political camp ripping into M's favorite agent from the other side of the spectrum. It's a click-grabbing ploy of conservative mouths to declare that the Bond franchise is doomed because it has gone woke.
Their only evidence for this preemptive complaint (because, again, the film hasn't premiered yet) is that the 'No Time to Die' trailer and promotional materials make it clear there are dangerous female agents taking part in the movie's action sequences. Evidently, this is supposed to mean Bond is somehow neutered or playing second sniper rifle to a girl.
It's a pointless worry, because there have been strong, aggressive and dangerous women in Bond films since 'Goldfinger' in 1964. Over the years, the man On Her Majesty's Secret Service partnered with multiple female agents of MI6, the CIA and the KGB. Those deadly ladies did their business like professionals – sometimes out-maneuvering 007, sometimes following his lead and usually ending up in bed with him.
In other words, Bond remained Bond, regardless of what female characters surround him. There's no reason these latest death merchants in dresses from 'No Time to Die' are any different from previous movie incarnations. Still, movie-centric pundits on the Right are tolling the bell for Bond's testosterone in a desperate race to find anti-woke fodder to drive hit counts and garner attention of their own.
It's a bad look for these conservative talkers when they get overeager to find something to whine about in popular culture. Criticizing the substance or politics of a film before it's shown to the public is the sort of reactionary, cultish complaint more associated with the progressive mind. It smacks of panic, as the keepers of the early complaints seem afraid the released product might be too popular and too strong to silence after it arrives.
The reason the cancel culture crowd is so quick to jump the gun barrel sequence in cases like this is their instinctive hatred of anything that amuses or entertains people in ways they don't approve of. They just can't stand seeing happy people enjoying something in popular culture that doesn't raise awareness for marginalized communities or weep for climate change. We're only allowed to consume media and entertainment that supports their never-ending cultural concerns.
So, to the conservative media commentators out there who are so eager to find a piece of the falling sky, I say, "Lighten up and back off Bond a bit, Blofeld." You'll have plenty to complain about in the realm of Hollywood missteps without looking to sanction franchises that aspire to that ever rarer artistic achievement – simple grown-up entertainment.
Put your politics down for a bit. Enjoy yourself. Your enemy agents can't.
If you like this story, share it with a friend!
The statements, views and opinions expressed in this column are solely those of the author and do not necessarily represent those of RT.
You can share this story on social media: