'For Facebook, they're clients with privacy rights': How Big Tech is letting predators get away with grooming online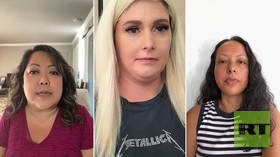 'Sex trafficking' conjures a vision of victims bundled by gangs into the back of trucks and driven across borders. But they're being bought and sold much closer to home too: on the internet. Survivors share their stories with RT.
Recent investigations have shown that Big Tech companies has been aware of online sex trafficking for years. According to the 2020 Federal Human Trafficking Report, 59% of online victim recruitment in active sex-trafficking cases in the US last year occurred on Facebook. "Despite Facebook's reputation as a less popular platform among teenagers, it was a more common platform for recruiting child victims than adult victims in 2020," the report revealed.
RT spoke with three US-based women about the seedy world of online sex trafficking, with its secret code words, manipulation, and victims sold to the highest bidder. Misty – who wishes to keep her full name secret – was joined by fellow survivor and now activist Chong Kim, and advocate and writer Gia Santos, who offers support to victims. All spoke of how deep-rooted the issue is, despite occurring in plain sight, and how little is being done to eradicate it.
Kim says she was sex-trafficked in the mid-1990s, by a guy she met online who was pictured wearing a uniform and whom she came to think of as her boyfriend: "He pretended to be in the US military, but never was. He told me he wanted to take me to Florida to meet his family. I ended up in Northern Nevada on a Native American reservation, where me and 20 to 30 girls were locked up in a storage unit."
Misty says she was targeted online, aged just 15, on the MySpace social networking platform. Fighting back tears, she explains what happened: "A musician from a band messaged me. He wanted to meet up. Unfortunately, he raped me. That evening, I received a message from an older, successful businessman, also on MySpace, claiming to be their manager. He knew everything that had happened – he knew we'd had sex and he knew I didn't want to. He told me he was going to protect me. He was going to be my daddy and make me feel safe – all the things you want to hear."
Misty says she was sexually abused by the "businessman", and, a couple of years later, was trafficked on Craigslist, a popular American small-ads website, by the father of her first child.
"More than anything, I wanted to have a family and please this man. He ended up pimping me out – and one of the men was the same 'businessman' who had been messaging me on MySpace. He and another successful businessman came to see me. It was pretty traumatic."
In truly horrifying circumstances, Misty endured a third stage to her nightmare. Now 20, she was "rented out" by her pimp. Incredibly, she says she ended up in that situation after meeting a woman at a domestic violence class, who invited her on a girls' weekend.
"I went, and her boyfriend was there. The next thing I know they're trafficking me on Craigslist too, against my will," recalls Misty. "I'm in a hotel and guy after guy is coming in to see me. I was afraid for my life – if I didn't do it, they were going to hurt me."
Not all about gangs and cartels
These sorts of situations are depressingly common. Most people are not aware that the practice of sex trafficking is usually not the domain of organised crime – instead, it's being conducted by opportunists preying on vulnerability.
Gia Santos, who co-founded Artists4Freedom, says: "Most people seem to think it's cartels, gang activity, organised crime... but the reality is it can be a boyfriend, a husband, a family member, a neighbour or the family friend who starts to groom these teens and older adult women who become exploited. It can range from being sold on the street to being advertised online for sex."
The immediacy of the internet has made it far easier for people to be exploited and sold online, Santos says. What makes things worse is that social media platforms such as Facebook appear to be unwilling to tackle the problem.
"Facebook often asks people to provide a court order, in the case of the female I helped, who was sold on Facebook in Mexico. Her case was very difficult, as her parents had searched for her for nearly five years," she says. "It was all delayed because Facebook said, 'This man has privacy rights – we can't just allow you or the police to look into his account.' They have their own regulations – even though it's free, everyone who uses social media is considered to be a client."
Also on rt.com
Facebook censors those who spread 'misinformation,' but looks the other way while pimps abuse children
Codewords and hashtags
Some people will likely think, how hard is it for the authorities to monitor posts advertising sex and act on them? But the situation is complex, as the traffickers use code words and hashtags to send messages.
Kim says she works with law enforcement agencies as an undercover agent, pretending to be a teenager in order "to catch predators" on social networks and gaming websites. She says one of the most common codewords to describe victims is "real estate" and another is the particularly insidious term "recycle". As she explains: "That means the girls are minors [ie, they're highly prized and can therefore be trafficked over and over]. Most of these predators will come at you as if they are a businessperson of some sort. They will watch you before they approach, then find something and think, 'That's going to be my plug-in', in terms of your vulnerabilities."
The codewords were something Misty noticed too. Her traffickers were careful not to use anything explicit in their online posts, as that would have prompted censors to remove their posts.
The irony is that Misty admits that, during this time, she looked good and, to the outside world, would not have appeared to be in sexual servitude. "I got no money, but I was taken care of, as in I'd get my nails done, my hair looked nice, I'd get clothes – just basic necessities. I didn't get any money to spend how I wanted. It was the clothes they wanted me to have, the nails they wanted, the hair they wanted – everything," she said.
Also on rt.com
Epstein victims' fund declared depleted after paying off 92% of 'eligible claimants' as remaining holdouts' options dwindle
'I'm going to kill you and your family'
Many might wonder why women like Misty remain with their traffickers and cannot just leave. But as she explains: "They say, 'I'm going to kill your family, I'm going to kill your child, I'm going to kill you. Nobody is going to miss you, nobody loves you'. There is violence, manipulation, psychological abuse and psychical abuse."
According to Kim, victims of traffickers are often vulnerable people who lack attention, so one of the tactics groomers use is "love bombing" their victims and "showering them with gifts".
"Once they have you, you become dependent on your trafficker," she says. "It's called Stockholm Syndrome. You have nowhere to run. And if you have children, they'll say, 'Do you want to see that little boy or girl grow up...?'"
Warning signs for parents
With the internet becoming ever more a part of our daily life, it seems there's no end in sight for online trafficking. One issue is that young people are often more adept with technology than their parents, who could struggle to spot that they've been lured into unsafe online activity until it's too late.
Santos, who has seen many such cases, advises parents to investigate any change in their child's behaviour, the arrival of more money than their child could feasibly make at a part-time job, and the derivation of any gifts, particularly phones.
She's of the opinion that if Big Tech doesn't become more proactive, then governments will need to step in. "The reality is it's not going to go away – social media is growing. There's a [tussle] going on [between] Facebook and the government wanting to monitor it – there are political issues," says Santos. "I believe Facebook needs to step up and regulate this. They have facial recognition, so they could easily work with law enforcement and missing-kids organisations. There is a lot more they could do – maybe expand their team in each country to monitor accounts and look into certain keywords and hashtags. If Facebook is unwilling to do that, I believe the government should regulate it."
'Screenshot, and don't be afraid to go to the police'
What's also urgently needed is a means to make it easier for victims to come forward and get help. Kim knows that isn't easy – she was branded a "whore" when she spoke out. She says that, in 2012, after the film 'Eden', inspired by her story, was released, she was accused of lying. She still worries about her safety, having gone on the record to tell what happened to her.
"I'm still looking over my shoulder and have to be very private about where I live – I have to take those extra steps. They smeared my name. A lot of survivors are discredited when they first speak out, so others don't want to."
Many survivors feel no one will believe them. Misty shares those concerns. This is her first time speaking publicly about what she went through. She admits that the trauma isn't over, even if she is now married to a "wonderful man" and a mother to four children.
"It's extremely painful," she explains. "Sometimes, day-to-day tasks are extremely gruelling. I just know not to give up, as it's important for my children to have me in their lives and for me to be the best person that I can be for them. A lot of the people that have hurt me appear in headlines or news stories. I have to see their faces, their names – sometimes, I don't know how to cope. I just keep on going, and hope and pray that someone will believe me one day."
To those women and girls trafficked online and still trapped in an awful existence, what would she say? "Document as much evidence as you can. If you can get screenshots of social media interactions or anything else online, screenshot it and save it," says Misty. "And don't be afraid to go to the police. I was afraid, but you need to do it."
Subscribe to RT newsletter to get stories the mainstream media won't tell you.
The statements, views and opinions expressed in this column are solely those of the author and do not necessarily represent those of RT.
You can share this story on social media: