A win for Social Democrat Scholz in German elections could be a shot in the arm for Europe's left after a decade on the sickbed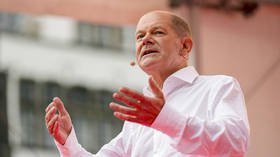 Germans are heading to the polls to replace Angela Merkel, but with her preferred candidate lacking charisma and voters wanting something new, a resurgent left is poised to score a rare win, just as everyone had written them off.
The German election this Sunday is painfully too close to call, because such is the confluence of opinion in Deutschland that, apart from the left and the right, everyone pretty much stands for the same thing. How to choose when everyone looks the same?
They love to talk of colourful coalitions in Germany, using the combinations of representative colours of their political parties based on the national flags of countries like Jamaica (black, yellow, and green) or Kenya (black, red, and green), but really they're all just shades of grey. The same, but different.
Unsurprisingly fiscally conservative, generally welcoming on immigration, and stridently pro-European, the major contenders are all fighting over the same slice of what's left in the political pie – and it's excruciating to watch.
On this week's TV debate the leaders competed to one-up each other by shining a low-voltage spotlight on their all-important eco-credentials, all claiming to either ride a bike at every opportunity, drive electric, or catch public transport – except for Olaf Scholz. The Social Democrat (SPD) election frontrunner admitted that being a jetsetting, security-detailed politician made it hard to pretend to be a planet-saving role model.
It's this small glimmer of honesty, which the Germans see as a sober realism, that has put Scholz's support on 25% – two points ahead of his nearest rival, the Christian Democrat Armin Laschet – just 48 hours before voters head to the polls.
And if Scholz does win – or calls the shots in the coalition horsetrading guaranteed to follow Sunday's result – it won't be just his supporters cheering with joy; social democrats across Europe will burst with euphoria.
Having spent the past decade in what looked like terminal decline, as the centre-right and rightwing populism took hold across Europe and beyond, if Scholz manages to dump the CDU after 16 years in power it would be just the tonic for the red heads of state in Sweden, Finland, Denmark, Malta, Spain, and Portugal.
Okay, he might be sharing the spoils with the Greens and the liberal Free Democrats, but a government from the left has not been in power in Germany since Gerhard Schröder's seven years as chancellor ended in 2005. If a week is a long time in politics, what does that make 16 years?
If Scholz does prevail, what might that mean for Germany and those niggling foreign issues? Angela Merkel has consistently supported the $11 billion Nord Stream 2 pipeline bringing gas from Russia, in the face of opposition from Ukraine, even convincing US President Joe Biden that the 98%-complete project was too far advanced to derail.
Also on rt.com
Talking tough on Russia but doing deals with Moscow, Merkel played both sides. Germany's next leader may be more confrontational
While campaign tough talk is one thing, and all the major candidates expressed reservations about the pipeline during TV debates, pragmatism is another thing altogether.
That pragmatic approach is likely to inform relations between Berlin and Beijing as well, with Scholz already a known quantity, having dealt with the Chinese in an earlier political incarnation as mayor of Germany's largest port city, Hamburg.
The real interest in affairs outside Germany is with its role at the heart of Europe. Merkel and French president Emmanuel Macron formed a formidable power couple, steering the EU in their preferred direction, but that dynamic is about to change as 'Mutti' departs the stage.
Once she leaves, France will be preparing to head to the polls early next year for presidential elections that are just as close to call as those in neighbouring Germany. Olaf Scholz no doubt believes Macron is a man he can do business with, and dropped by to say 'ça va?' while on the campaign trail. Marine Le Pen in the Elysee Palace would be something else entirely.
For those of us in the cheap seats, however, that is the match-up we'd just love to see. Sunday is just the first step towards realising that dream.
Like this story? Share it with a friend!
The statements, views and opinions expressed in this column are solely those of the author and do not necessarily represent those of RT.
You can share this story on social media: