'For months, with no vaccine, we fought fires. Now we're being criminalised and threatened with the sack if we don't get vaxxed'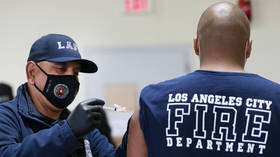 Hundreds of Los Angeles firefighters are defying mandatory Covid-19 jabs and taking legal action against the city. Their leader tells RT they won't back down – and warns the city may have to sack half of its firemen and women.
The city's Democratic mayor, Eric Garcetti, has mandated all city workers, including firefighters and police officers, be vaccinated by October 20, or face being terminated from their employment.
But Firefighters 4 Freedom – an avowedly apolitical group – is filing a lawsuit against that and fighting publicly for their members.
Founder and 21-year veteran John Knox, speaking to RT.com, warns it could lead to hundreds of firefighters being fired: "It's a huge concern to the public and they should be outraged this is going on. We're not walking away from our jobs, we're here to stay and do our jobs. If the city is going to push the issue, then they will have to terminate those individuals… that's on them."
There are approximately 3,500 firefighters in LA, with more than 500 signed up to the group. Knox believes that over half – around 1,800 – are either unvaccinated or unwilling to disclose their status due to privacy concerns.
One of their major gripes is that during the pandemic, the firefighters have worked flat out, risking catching Covid in order to protect lives and properties. "For the past 19 months with no vaccine and no whatever, it was just go out and do your job," says Knox. "Now we're being criminalised and told we're going to be fired if we don't do this, that we're a public safety risk. Why weren't we a public safety risk before? It's not ok for someone to tell me, or anyone else in this country, what you can and can't do with your body."
So far two LA firefighters have died from Covid-19: George Roque and Jose Perez.
Another facet of the argument is that crews answer calls unaware of the vaccination status of those they are rushing to help.
Knox says that inside stations, firefighters are not asking each other of their vaccination status either:
"One of the issues they are raising is the public needs to feel safe that you're vaccinated. Well, I have the same right, I'm a citizen. We have these things called Privacy Acts… when I come to their house if it's burning down, I don't ask them if they're sick. There is no question. I go in and do my job. If I feel unsafe, it's up to me to mitigate risk, we wear PPE… we have clothing that protects us, and we have respirators."
"Whether you're vaccinated or unvaccinated is not an issue for us, we still come and do the job."
Adding to the depth of feeling is most of the firefighters view their work not just as a job, but as a vocation. They do not want to stop serving and are committed to providing their emergency service.
Knox explains, "People call 911, we go out and assist them with whatever their needs are, whether their house is on fire, if there's been a shooting, if you're having a heart attack or if there's been a car accident."
"Me and my counterparts, we've taken an oath when we got hired to the constitution of the United States and to the state of California to protect and defend the public. I took that oath to help the citizens of Los Angeles and so far, for the past 21 years, I've done that and so has everyone else that's in our profession. We do it as that's what we like to do, to help people, so now to be told if you don't do this with your body that you're going to be terminated is just pure insanity."
According to Fighters 4 Freedom, there was no consultation about introducing the mandate, which requires City employees to either submit proof of vaccination or a weekly negative test. They feel it has been sprung on them and they are being portrayed by some as anti-vaxxers.
Knox maintains that it's actually about freedom of choice and respect for each other: "It has no bearing in my life, if that's the choice you chose [of being unvaccinated], it's none of my business. It doesn't change my opinion of you one way or the other. We have the ability to agree to disagree on things and should be able to have civil discourse with that. I don't care if you're vaccinated or not."
Similar campaign groups exist around America; the Los Angeles police force has Roll Call 4 Freedom, plus others such as Nurses 4 Freedom, 417 Freedom Fighters in Missouri, and Ohio's HealthCare Workers for Medical Freedom.
The disputes are taking a toll on the people who have to respond in critical situations and Knox admits that remaining positive is extremely important to their role.
"Morale is a fundamental part of the job, it's extremely stressful, we work long hours, multiple days at a time," he explains. "When people call 911 it's the worst day of their life, they don't know what to do. So we show up and help them through that problem, that creates stressors on our end because as soon as we're done with that, we get another call. Mentally, you have to be in a good place, so this takes a toll."
"If you're being told you have to do something against your will, it definitely creates a difficult situation with morale."
However, efforts are being made internally to keep the focus on the job. Knox reassured the public that there was no need for any concern that firefighters will not be completely professional, saying, "We're really good at compartmentalizing things. When that bell goes off, we pretty much drop everything and don't think about anything other than that emergency we're going to deal with. We have a goal, we have a focus and we need to have some sort of outcome. So all of our other problems, that gets left behind when that bell rings."
That path forward is unclear if the Mayor doesn't back down on his threat, a move that seems unlikely now that Joe Biden has strengthened calls for mandatory vaccinations among the American workforce.
Firefighters 4 Freedom plans to file its lawsuit against the city imminently, via its legal team, which includes Robert Kennedy Jr. It's uncertain if this may lead to a postponement of the October 20 cut-off for vaccination.
The city would face serious difficulties keeping its citizens safe if many of its firefighters refuse to comply with the mandate, and end up being fired. The Los Angeles metropolitan area has 13 million people, placing high demands on the emergency services.
Knox says few firefighters would walk away from the job because of the mandate, but would rather go through with their non-compliance: "I'm not going to quit and walk away from my career, I'm going to continue to show up to work until they drag me out of there or force me in some way to leave. This was never a condition of my employment. We're here for the citizens, we're here to help them."
The divide speaks to the crucial issue that has been raised by Covid-19: what right does the government or an employer have to dictate what medical treatment a worker must have? When does this encroach on basic individual freedoms, such as 'my body, my choice'? Is it fair or legal to sack the unvaccinated or to bar them from employment?
"People need to really understand this is much bigger than my job, much bigger than my career," warns Knox."People [need] to realise that freedoms are being stripped away… and we're here to fight for you and say 'No more, this is not going to happen'."
"There's always the talk of all inclusiveness and everyone has a voice. That literally was struck down with this mandate. There's been a wedge driven into society and it appears to me they've created division between vaccinated and unvaccinated."
"There is no other ideology in this other than freedom of choice. We're losing our civil liberties at a massive rate right now."
If you like this story, share it with a friend!
The statements, views and opinions expressed in this column are solely those of the author and do not necessarily represent those of RT.
You can share this story on social media: