I'm 39 & I'll happily take the AstraZeneca vaccine. With only a one in a MILLION chance of a fatal blood clot, I'd be mad not to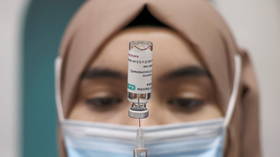 With 19 UK blood clot deaths linked to the AstraZeneca vaccine, Britain has decided to offer under 30s alternatives. As someone who won't get a choice, I can say categorically I have no problem taking it. Here's why.
"Absolutely." That would be my answer if asked whether I would take the AstraZeneca vaccine. And it's actually a decision I might have to make for real shortly.
The British government has decided that those under 30 should be offered an alternative, most likely either the Pfizer or Moderna versions.
I live in London and I'm in the first age bracket (30-39) that will not be afforded the choice.
The issue revolves around risk. The older you are, the more likely you are to die from Covid-19.
So as that risk falls, the chance of developing a blood clot becomes a greater concern.
There have been 20 million AstraZeneca vaccines administered in the UK and 19 blood clot deaths, which is a rate of 0.000095 percent. That translates to around a one in a million chance of a fatal blood clot. It's about the tipping point when a person is judged to be more at risk of mortality from a clot than Covid-19.
This is all very well on paper, but the reality is different. My issue is that Covid-19 is a communal thing; we're all in it together. Even if a person doesn't die of the virus, they can carry it and pass it on asymptotically.
And Britain has been hit hardest of any European nation with nearly 150,000 deaths. Simultaneously, it is also leading the way in the vaccine rollout with 37 million doses already administered. The majority of people have been protected by AstraZeneca's vaccine.
In my opinion, there has been too much 'citizen epidemiology' in the UK, and most of it from the younger generation. Personally, I know several people who've flown away on holidays during this ordeal because they aren't in a high-risk category. I've listened to many others complain about how everything has to reopen to restart normal life.
In London, from my experience, the most common rule-breakers and people who flout social distancing are again the under-30s. That dismissive attitude is one reason why Britain's battle with Covid-19 has been so harrowing.
Also on rt.com
As Lockdown 3.0 descends on Britain, the time for reason and argument is over. Only dissent will save us now
The major culprit has been Prime Minister Boris Johnson and his government, whose handling of the crisis has left a lot to be desired. But too many younger people have played fast and loose with the dangers.
Now, because of a minuscule potential threat, it feels like the under-30s are being accommodated because we can't trust them to follow medical guidelines and get the AstraZeneca jab. Hence why it's only them being offered an alternative. It's almost like the authorities have given up on them to do their civic duty.
There is no doubt that a tally of 19 deaths is a serious and tragic matter, and if anyone has a history of blood clotting issues, they should be ushered away from AstraZeneca's vaccine. But what about the contraceptive pill taken by millions of women? The NHS in Britain warns that it can lead to blood clots, while America's Food and Drug Administration states three to nine out of every 10,000 women will develop a blood clot.
In pregnant women, the rates are higher and estimated at between five to 20 per 10,000.
Clots also become more likely if someone is overweight or a smoker. Then there's deep vein thrombosis, which is a clot and a danger when flying. Experts predict DVT to occur in around one in 1,000 people, but anyone on a flight over four hours will see their risk increase two or three-fold.
What all these unrelated facts illustrate is that many activities or behaviours incur risk. Ill-health is a burden to all of society and sadly disproportionally affects poorer people, but Covid-19 is a leveller in some ways as it's so pervasive. We all share the same spaces, so we are each other's best form of defence, but also our most dangerous risk of infection.
That is why I feel it is everyone's civic duty to take an approved vaccine, whatever is on the label.
Doctors, nurses and scientists have all been working tirelessly to help those struck by Covid-19 and prevent more infections. Britain has witnessed far too many early deaths to start playing Russian roulette over which form of protection we take.
Our society is spoilt. Can you imagine ordinary people in comparatively poor nations, who are simply thankful for a square meal, refusing a professionally approved vaccine due to alarmists on social media whipping up fear and spreading conspiracy theories?
There is no big secret to debunk. A very small percentage of people took the AstraZeneca jab and developed fatal blood clots. But a massive number of people have died from Covid-19.
So, to countenance skipping vaccination until your desired brand is on offer is beyond selfish. You'll never know how many people you have infected if you do catch the virus. And you'll also be blindly ignorant to how many of those died and passed it onto others.
Casting doubt over things you don't fully understand is foolhardy and will only cause more misery. And that's why I can say with full confidence that if I am offered the AstraZeneca vaccine, I will happily take it.
Sure, there's an absolutely minuscule chance I may die from a blood clot. But even if I do, I'd still feel that morally, I made the right decision.
Like this story? Share it with a friend!
The statements, views and opinions expressed in this column are solely those of the author and do not necessarily represent those of RT.
You can share this story on social media: