Congrats to privacy-seeking Harry & Meghan, who've found their sanctuary on the cover of one of the world's most famous magazines

Charlie Stone
Charlie Stone is an author and journalist who has worked for the BBC, several national newspapers in the UK and international media.
Charlie Stone is an author and journalist who has worked for the BBC, several national newspapers in the UK and international media.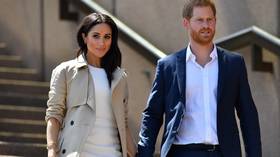 An exclusive photoshoot for Time fits the bill perfectly when you want to stay out of the limelight. But the hypocritical Sussexes will find out soon that there's a limit to the public's appetite for shameless self-publicity.
Happy Birthday, Prince Harry – 37 today. And here he goes again with Meghan, his missus, by his side: the Duke and Duchess of Woke... don't you just love 'em?
There's barely a day goes by when they're not in the news, yet – so they insist – part of the reason they ditched the UK and the Royal Family for West Coast USA was due to being bugged by the British press and crushed in the cogs of the royal machine. They wanted a bit more privacy, basically.
Righto, Hazza and Meg. Righto.
This week, the power couple are in the most private spot you and I could possibly imagine. Never mind a cave in the Rocky Mountains, they've decided to take refuge... on the cover of Time magazine.
Apparently, they're now among the top-100 most influential people in the whole wide world. You what? Why? What for? What have they actually done? Why Time's editors put them there, so I'm not exactly sure – although an exclusive photoshoot, (comprising seven different versions of that cover) and the promise of increased sales probably had something to do with it. But 'influence' – really? As far as I can tell, they were interviewed by Oprah and whinged about the royal family, and have since been relentlessly selling a brand: the Duke and Duchess of Sussex.
Getting that spot on the front of Time used to kinda mean something, didn't it? So I thought anyway.
But, man, check out the Time website. I dare ya. The write-up is as gushing as anything you will ever read in the pages of glossy magazines such as Hello! or OK! Maybe the editors at Time should add that obligatory exclamation mark you get in the titles of fawning mags, seeing as they're now in direct competition with the professional gushers.
"There's a famous TV interview with Harry, the Duke of Sussex, when he was an Apache helicopter gunner a few years ago. He's sitting close to an airfield in Afghanistan, commenting on some royal news, when there's a bang and a group of soldiers scramble behind him," Time's intrepid correspondent drools. "In one swift motion, he stands up, rips off his microphone and runs toward the action.
"That same sense of urgency drives Meghan, now the Duchess of Sussex, who has long been an active humanitarian and a powerful advocate for women and girls around the world. 'This type of work is what feeds my soul,' she wrote in a 2016 essay [for Elle magazine]. Springing into action is not the easy choice for a young duke and duchess who have been blessed through birth and talent, and burned by fame. It would be much safer to enjoy their good fortune and stay silent.
"That's not what Harry and Meghan do, or who they are… In a world where everyone has an opinion about people they don't know, the duke and duchess have compassion for the people they don't know. They don't just opine.They run toward the struggle."
Ah, man. Hang on two secs, I need to vomit... Hello! OK! Done. That's better!
That was written by some chef I have never even heard of called José Andrés, founder of the non-profit World Central Kitchen that provides meals in the wake of natural disasters. Do you reckon, maybe, that he likes the Sussexes, just a little? Could that be down to the sizeable donation their charitable foundation made to World Central Kitchen earlier this year, perhaps?
Also on rt.com
A cheesy new movie about Harry & Meghan is predictably awful, and a depressing glimpse into the vacuousness of them and US culture
Someone needs to tell Harry and Meg about the law of diminishing returns. Harry's mother, Princess Diana, was all over the papers for decades. But how many interviews did she ever do? Only one big in-depth one, for the BBC's 'Panorama' programme, in 1995. It was massive – almost 40% of the British population watched it. And, it seems she didn't even fully embrace that opportunity; she was tricked into it by a dodgy BBC hack every bit as unscrupulously as any bimbo was ever bullied into the pages of the News of the World.
It's the same as anything in life, no? The more and more you read or see someone, the less the appeal. If you eat a chocolate ice cream every day, then chocolate ice cream loses its lure. And this particularly applies to the Sussexes, seeing as they don't actually do a damn thing. There is no new Meg and Harry album coming out, and any films they make will doubtless only be about their wokeist selves. Meghan's first children's book, The Bench, was dreadful, as even my kids agreed. Mr and Mrs Sussex are travelling up and down an already well-worn furrow, and pretty soon it'll just become a rut.
Still, give it a decade or so after the Sussex market has truly been saturated, and there's always a show that also makes use of an exclamation mark: 'I'm A Celebrity… Get Me Out Of Here!'
They'll have any old has-been on there.
Think your friends would be interested? Share this story!
The statements, views and opinions expressed in this column are solely those of the author and do not necessarily represent those of RT.