I had to pinch myself when I heard the arch-capitalists at KPMG want 29% of senior staff to be from a working-class background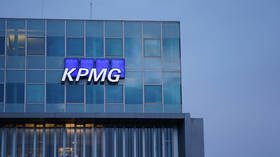 At last, an admission that Britain's class system is alive and well, and that excluding working-class people from the top jobs is not only bad for business, but bad for society.
​​When I read this week that accountancy giant KPMG plans to become one of the first major UK firms to set a target for the number of senior staff from working-class backgrounds, I almost fell off my chair.
Not because I think this is a revolutionary act, or that KPMG is some evil-doer capitalist seeing the error of its ways, but simply because they used the term working class. The group wants 29% of its partners and directors to come from a working-class background by 2030, which it defines as having parents with "routine and manual" jobs, such as drivers and cleaners.
Now, this is astonishing to me as a British sociologist and a working-class academic who is engaged in a constant daily battle to have it acknowledged that the British class system is not only insidious, embedded and very much alive and well in Britain today, but that the very terms themselves, working class and the class system, must be used.
Let me explain why. I have been on working-class watch for about twelve years, I'm a working-class sociologist, and so I have skin in this particular game. Over the past 20 years, I have noticed that use of the term 'the class system' has been unpopular in mainstream political and media discourse. It started in the Tony Blair years, when John Prescott, a working-class politician, was used by Blair and [one of his cabinet ministers] Peter Mandelson to connect with the great unwashed and announced that we were all middle class now.
Blairism was responsible for the erasure of class politics from the Labour Party and from wider politics in general. So much so that today's Labour politicians, and the leaders of large trade unions, have immense problems with even uttering the words "working class.' People like Labour leader Keir Starmer will use the term "working people" or sometimes "hard-working people," but never the working class – and I honestly think the well-remunerated columnists on the country's foremost left-ish newspaper, The Guardian, must have it written in their contracts, "thou shalt not say 'working class'."
Also on rt.com
The sorry story of the straight-talking boss forced out by his staff for the heinous crime of saying unconscious bias is 'crap'
And, yet, here we are this week and KPMG, an Anglo-Dutch multinational that has 227,000 employees in 147 countries, is proud to use the term. No wonder its announcement was front page news in The Times!
The firm's chair, Bina Mehta – who said she comes from a working-class background – announced that she was a "passionate believer that greater diversity improves business performance" and added: "Diversity brings fresh thinking and different perspectives to decision-making, which in turn delivers better outcomes for our clients."
I would never have thought that I would possibly agree with and approve of a decision made by such arch global capitalists, and yet I do. I think Mehta is absolutely right that lack of diversity in any industry or organisation means it becomes very quickly out of touch, self referential and irrelevant. Look at British politics or the British media as perfect examples of that – the British establishment, whether they are left or right, liberal or conservative, are uniformly middle class, mostly coming from private schools and elite universities like Oxford or Cambridge.
Sam Friedman and Daniel Laurison, colleagues of mine when I worked at the London School of Economics, wrote a book in 2019 entitled, The Class Ceiling - Why it pays to be privileged. Their research showed almost all of those occupying senior positions in law, business, academia, politics and the media were from middle- or upper-class backgrounds, and that the British class system is in better shape than it ever has been.
Social mobility has effectively stopped in this country – it is more important what your parents do for a living, and where you went to university, than any actual skill or talent you possess.
The news that an organisation like KPMG are not only acknowledging that the class system exists, and working-class people also exist, and are disadvantaged within it, is a great first step – and they are adopting policies to actually counter that disadvantage.
Also on rt.com
KPMG's UK chair resigns after demanding employees 'stop moaning' about Covid pandemic
This is truly remarkable and let's hope that other organisations and institutions that are traditionally closed middle-class spaces, and who do the work of gaslighting the working class into believing the class system does not exist and that the working class's perceived lack of achievement is their own fault, may also have a change of heart.
It's time they accepted that the British class system and the middle classes' own unearned and undeserved advantages are squeezing out innovation, interesting culture, media that people want to engage with, and politics that matter.
KPMG's move is to be applauded, but I do hope they find a way to make sure that their scheme is not undermined in the way initiatives like this often are. I can just see conniving British middle-class people combing through their family trees to find some dock worker or coal miner among their ancestors, or perhaps dropping a few Hs and adopting a working-class accent – they really are the world's experts at gaming the system to their own advantage.
Think your friends would be interested? Share this story!
The statements, views and opinions expressed in this column are solely those of the author and do not necessarily represent those of RT.
You can share this story on social media: