The sorry story of the straight-talking boss forced out by his staff for the heinous crime of saying unconscious bias is 'crap'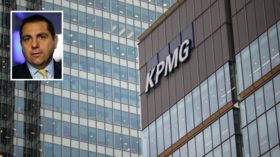 Can a boss tell his workers some home truths anymore? Apparently not, as KPMG's Bill Michael found out when his woke underlings complained about his comments on a Zoom call. Cue another spineless corporate cave-in...
The latest sacrifice at the altar of liberal intolerance is not some high-flying politician who misstepped, a clueless reality TV star out of their depth on social media or a fuzzy-wuzzy academic who won't apologise for history. Nope. It's Bill, from accounts.
Bill, our reluctant hero in this tale of cowardly cave-ins, is Bill Michael, the 52-year-old Australian who heads up the British arm of KPMG, one of the Big Four multinational accounting firms that raked in nearly $30 billion in worldwide revenue last year and has more than 200,000 employees across the globe.
Also on rt.com
KPMG's UK chair resigns after demanding employees 'stop moaning' about Covid pandemic
At least that was Bill's job until yesterday, when he was forced to step down from his £1.7 million ($2.34 million) role and replaced by two women – oh, the sweet, sweet irony – after complaints from his staff about comments he had made on a Zoom team call caused offence.
On that call, Bill not only had the gall to challenge one of the key tenets of woke orthodoxy – unconscious bias – but he also dared to tell his 1,500 underlings that they should seize control of their own lives and not play at being Covid-19 victims when there was nothing wrong with them.
Surely he was entitled to call out the shirkers? After all, he'd been hospitalised from coronavirus himself, and there is work to be done.
Taking advantage of the anonymity afforded by Zoom to allow comments during the video call, the vicious little staffers – humdrum accountancy graduates with master's degrees in woke – seized on the chance to attack their boss without fear of reprisal.
When he called unconscious bias "complete and utter crap", well that was it. "There's no such thing as unconscious bias?! Are you joking? Please do your research before just making such statements. Check your privilege," stormed one disloyal little wokelet on the financial services consultancy team.
Then Bill let slip that he'd had meetings over coffee with clients during lockdown. "He literally said, 'I know I'm breaking the law' to meet up with people during the pandemic," shrieked another hysterical bean counter. Err, "literally" he said no such thing.
So upset were the poor little Excel nerds that they couldn't concentrate on the rest of their boss's comments, which is a pity because they made for good advice.
He pointed out that many people felt that the coronavirus pandemic was something that was happening to them over which they had no control. He encouraged staff to take back control of their lives, to stop feeling like victims.
Also on rt.com
It's totally wrong to turn Covid-19 into a 'mental health crisis'
"You can't play the role of victim unless you're sick, and I hope you're not sick, and you're not ill. Take control of your life and don't sit there and moan about it, quite frankly." There. Bill has spoken. Gruff? Sure. But good advice all the same.
While Bill may have disappointed some of the worker ants with his leadership style, he did lead from the front. As part of his commitment to the role, he had already worn a 14 percent pay cut, more than many of his colleagues. He was entitled to show his frustration; after all, he was just another employee of the Anglo-Dutch multinational expected to do a tough job in unprecedented and trying circumstances.
No one would envy a boss trying to motivate a staff of thousands, largely working from home, into putting in a productive day while the higher-ups demand to know why everything is taking so long. And now this. Now they have Bill upsetting his staff, making it even harder to keep them focused on-task and the entire KPMG train on the rails, while the wokelords and their treacherous intolerant disciples smell blood.
KPMG has thrown Bill Michael to the slavering wolves so it can gorge itself on self-righteousness. He was an old- school boss at an accounting firm who dared to express an opinion over matters that had nothing to do with numbers or spreadsheets and was called out by his jealous and disloyal staff for doing so. His grovelling apology, it seems, was not enough to save him.
This disgraceful anonymous intranet trolling supported by boardroom cowards is now what passes for corporate life. Lord help us all.
Think your friends would be interested? Share this story!
The statements, views and opinions expressed in this column are solely those of the author and do not necessarily represent those of RT.
You can share this story on social media: