New York's flash floods are not a slam dunk for climate change action, but proof of America's inability to cope with bad weather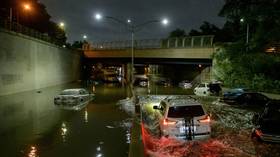 Hurricane Ida has been seized on by opportunists as proof we have to change our ways to address climate change. We would be better served, though, by improving the infrastructure to deal with extreme weather events.
In the past few days, four states in the eastern US have copped the tail end of Hurricane Ida. While the wind speeds may have declined since Ida hit the Louisiana coast, there has been extremely heavy rain in northeastern states that has caused flash flooding. At the time of writing, at least 50 people were thought to have died across New York, New Jersey, Pennsylvania, and Connecticut.
It's the second major burst of rain in recent weeks. On August 21, 1.94 inches of rain fell on Central Park in one hour as a result of Hurricane Henri, a record at the time. Yet that was beaten on September 1, when 3.15 inches fell in one hour. New York's mayor, Bill de Blasio, pointed the finger of blame at climate change. "A record set two weeks ago, another record set now, rainfall like we haven't seen ever before. This is the biggest wake-up call we could possibly get."
Ida was certainly a massive storm, with wind speeds hitting 150 miles per hour as it approached the Louisiana coast. More than 60 deaths were directly caused by Ida across the US. However, in terms of damage, Ida pales in comparison with Hurricane Katrina in 2005, which was slightly stronger, but caused more than 1,800 deaths, mostly in Louisiana and Mississippi.
The biggest difference between Katrina and Ida was infrastructure: in 2005, the levies that were designed to protect New Orleans failed catastrophically, causing large parts of the city to flood, overwhelming transport and communications as well as directly drowning many people. Afterwards, over a billion dollars was spent bringing those defences up to scratch, with the result that just 13 people died in Louisiana as a result of Ida.
This comparison points to the real cause of the damage from climatic events: the ability to prepare with proper early warning systems, well-built housing, resilient infrastructure, and good emergency responses. For example, a dozen people died in the borough of Queens in New York after drowning in basement apartments. There has been criticism of de Blasio for failing to warn people soon enough and to impose travel bans (De Blasio claims the meteorologists advising him were too vague about the scale of the rainfall).
Rather than climate change being the problem, America simply hasn't invested enough in its infrastructure, like drainage systems, to deal with such big bursts of rain. Climate change researcher Roger Pielke Jr. has noted that the New York sewer system is designed to accommodate a five-year storm – one with a 20 percent chance of occurring in any year – rather than less frequent but much bigger rainfall events. The scale of recent floods, he notes, is highly correlated with the state of the sewer system in different parts of New York City. As he puts it, local politicians have a huge incentive to blame climate change rather than long-standing failures to prepare. Activist scientists and climate campaigners, using the floods to demand broader climate action, are also providing politicians with a means to excuse their own failings.
Also on rt.com
The apocalypse facing humanity is not climate change, but the politicisation of lousy science
Indeed, it's not at all clear that there has been any increase in the number of hurricanes as global temperatures have risen. As author and commentator Bjorn Lomborg points out, "Contrary to common knowledge, the frequency of hurricanes hitting the Continental US has not increased over the period 1900-2020. The best fit actually trends slightly down." Moreover, deaths from natural disasters globally have plummeted over the past century, because as countries have got wealthier, they have more resources to prepare for these events.
Which all raises the question of how best to deal with climate change in the future. Climate campaigners want to spend trillions on eliminating greenhouse-gas emissions. Moreover, where there isn't a technological solution to cutting emissions, they want all of us to simply do less and consume less, with all the consequences for standards of living and economic development.
Yet these mammoth costs and illiberal restrictions won't stop the next hurricane or flood. At best, they will prevent these major climate events from getting a bit worse in the future. And the data isn't even that clear that climate change is to blame at all. Economic losses from disasters do rise, but only because we are wealthier – we have more stuff to get damaged. It may be counterintuitive, but rising economic losses are a sign of material progress.
Alternatively, we can learn lessons from these major climate events and spend more time and money preparing for them. For example, better drainage and sea defences help to reduce the risk of flooding, cost billions rather than trillions, and don't impact on wider economic growth and personal freedoms. De Blasio is right: storms like Hurricane Ida should be a "wake-up call" – not to give in to the misguided demands of climate campaigners, as he suggests, but to build more and better infrastructure to cope with inevitable bad weather.
Think your friends would be interested? Share this story!
The statements, views and opinions expressed in this column are solely those of the author and do not necessarily represent those of RT.
You can share this story on social media: