Cancellation of Roy 'Chubby' Brown shows there is no room for smiles in the woke's brand of killjoy politics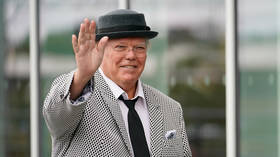 Comedy has become a fertile battleground for the cancel culture brigade. But even if humour is offensive, shouldn't it be an individual's choice to enjoy or ignore it, rather than have the taste police decree its unworthiness?
The North Yorkshire comedian Roy 'Chubby' Brown is about as anti-woke that you can get. So, it is not at all surprising that he has become the latest target of sanctimonious activists. Thousands of killjoys signed a petition demanding that his show in Sheffield, scheduled for next year, be cancelled. Sheffield City Hall promptly responded by calling off Brown's show on the grounds that his jokes were not suited to its venue.
It seems that targeting comedy has become a full-time occupation for a small army of moral crusaders who are committed to protecting audiences from being offended. Like petty totalitarian dictators, they simply cannot take a joke. Unfortunately, they can rely on cultural institutions like Sheffield City Hall or big tech companies such as Twitter to back their demand for shutting down objectionable comedians.
Back in May, the British comedian Lee Hurst provoked a furious reaction after posting an offensive joke about Greta Thunberg, the queen of the environmental movement. He tweeted, "as soon as Greta discovers c**k, she'll stop complaining about the single use plastic it's wrapped in." The tweet was swiftly reported, and Twitter responded by temporarily suspending the comedian's account.
Roy 'Chubby' Brown, like Hurst, makes off-colour jokes. Some of my mates are not entirely wrong when they use the word "disgusting" to describe his humour. You can't get lower than his festive gag: "Tampax have replaced the string on their tampons with a piece of tinsel... they say it's only for the Christmas period."
Nevertheless, his jokes stay with you, and sometimes you find yourself laughing at them despite yourself. Take his Paul McCartney poem: "We lay upon the grassy bank, my hands were all a quiver, I slowly undid her suspender belt and her leg fell in the river." Or: "Little girl gets lost in Tesco's, security guard asks her 'What's your mum like?'Little girl replies, 'Big c**ks and vodka.'"
Also on rt.com
John Cleese slams cancel culture's impact on comedy, says he'll explore 'absurdity' of PC-mad world in new show
Brown specialises in schoolboy humour, but then tens of thousands of people enjoy listening to his predictably dirty jokes. The expression "It's a joke" comes to mind, and until recently the idea of 'taking a joke' was seen as a sign of character, rather than as a threat to mental health.
But the term "It's a joke" does not exist in the inquisitorial world promoted by cancel culture. That is why, during the past decade, comedy has become one of the favourite battlegrounds for advocates of killjoy politics.
I still remember when the comic Bernard Manning was banned from appearing at the Weymouth Pavilion in 2002. At the time, the local council voted to cancel his show to avoid possibly placing the authority in breach of the Race Relations Act. It did not argue about the need to protect people from being offended, but hid behind the act.
Back in 2002, cancelling a comedian before they even opened their mouth was an unusual event. Today, it has become all too routine. It is a sign of the times that it is not only the disgusting humour of Chubby Brown that gets the attention of the humour police. Comedy is so extensively policed that even the slightest whiff of offence leads to a demand for action.
When you discover that 'Allo Allo!', that delightful 1980s hit comedy show about occupied France, gets an 'offensive content warning' about French and German stereotypes, you know that the officious censors are suffering from a humour bypass.
There must be a posse of devoted offence archaeologists digging up old television shows in search of 'inappropriate content'. That is why such well-known British comedies as 'Dad's Army', 'Fawlty Towers', and 'Blackadder' now come with a trigger warning. As a spokesman for the streaming service BritBox proudly explained, "Programming on the service that contains potentially sensitive language or attitudes of their era has carried appropriate warnings since our launch in November 2019, to ensure the right guidance is in place for viewers who are choosing to watch on demand."
Also on rt.com
So what if 'Paw Patrol' is 'copaganda'. Don't the woke want children to respect the police?
The use of the term "potentially sensitive language" is significant. Why? Because virtually anything that is said by a comedian can be deemed sensitive.
If 'Dad's Army' gains the attention of the sensitivity police, it is inevitable that Roy 'Chubby' Brown has to go.
There was a time when humour was a matter of personal taste and not something dictated by an official doctrine. But it is so important to our lives that we should not tolerate its policing by killjoy bureaucrats.
The good news is that humour cannot be killed off. You can cancel an individual comedian, but we still chuckle at off-colour jokes and look forward to the moment when we can have a laugh with our mates. Despite the best efforts of the woke, the demand for 'taking the p**s' ensures that we will subvert their attempt to turn comedy into an inoffensive and worthy enterprise.
Allo Allo… we will have the last laugh!
Think your friends would be interested? Share this story!
The statements, views and opinions expressed in this column are solely those of the author and do not necessarily represent those of RT.
You can share this story on social media: