ABBA's return is bad enough, but imagine if the rest of the 1970s was digitally recreated? It would be HELL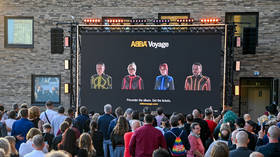 Swedish pop legends ABBA are back, with avatar versions keeping them sealed forever in their 1970s heyday in a new live show. For non-fans like me, this is a nightmare – and it's chilling to think what could be resurrected next.
I really can't overstate just how much I dislike ABBA.
Truly, their music actually physically hurts – the impact of an ABBA tune can be weighed and measured using a crap detector. That's similar to a lie detector, but instead of a lie, it records my disdain.
The opening lines of 'Dancing Queen' and 'Mama Mia' smack into me like a flurry of punches – never mind 'SOS', 'Voulez-Vous', or 'Knowing Me, Knowing You'… ah haa.
'Gimme Gimme Gimme', 'I Have A Dream', 'Waterloo', 'Super Trouper' – "soo-pah-pah, troo-pah-pah"... AAAAGH!
ABBA songs are what the worst singers in the world dial up from karaoke machines to 'sing' in late-night bars across the entire planet. I have had those monstrous ditties inflicted upon me by karaoke catastrophes from Manila to Moscow, Milton Keynes to Melbourne. For some reason, those bars are always within screeching distance of my hotel. It seems to be some kind of a law.
But at least ABBA – unlike, for example, U2 – had the decency to disband acrimoniously about half a million years ago. There was no chance of them taking to the stage again or – God help us – writing some fresh tunes. Nope, ABBA were history. Done.
Not anymore. They're back with a new album called 'Voyage', complete with new songs, and they'll even shuffle gently around the stage with those cheesy Swedish grins – digitally enhanced to be forever young.
Like Hong Kong Phooey and Scooby Doo, they'll be locked in as their 1970s selves until the end of time. Well, weren't the four members all lovers along the way – in one permutation or another? Maybe that was just a movie adaptation by another 1970s phenomenon, the golden age of porn. Those crazy Swedes and their liberal ways.
It'd be awful to be on stage with an ex, though, so at least their avatars might still get along.
Yes, Agnetha, Benny, Bjorn and Anni-Frid – ABBA, get it? – are set to return after four decades away with a new album in November and a stage show from May, complete with a 10-piece live band in a purpose-built arena in London. They're in their 70s now, but that doesn't matter these days – they won't have to move around at all. Their avatars were created after weeks and weeks studying their movements by – yes, of course – another hit from the 1970s: Industrial Light & Magic, the company created by George Lucas to do the effects on the original 'Star Wars' movie.
"It's been a while since we made music together," the band said in a statement. "Almost 40 years, actually. We took a break in the spring of 1982 and now we've decided it's time to end it. The main inspiration to record again comes from our involvement in creating the strangest and most spectacular concert you could ever dream of. We're going to be able to sit back in an audience and watch our digital selves perform our songs on a stage in a custom-built arena in London next spring. Weird and wonderful!
"We simply call it 'Voyage' and we're truly sailing in uncharted waters. With the help of our younger selves, we travel into the future. It's not easy to explain but then it hasn't been done before."
Also on rt.com
IBT rips into Rose McGowan-Oprah row with headline saying 'actress' is MUCH POORER than celebrity host she called 'fake'
Honestly, I reckon some pervert, an evil genius who is great with computers but has the worst cultural taste the world has ever known, is on the rampage. And he knows precisely what I dislike the most.
This sick dude is dead set on creating hell on Earth – a personal hell on Earth, tailored just for me. And that would most certainly include some ABBA songs in its soundtrack. I'd also be stuck in IKEA, following those arrows on the bloody floor around and around – forever. To an ABBA montage, a clumsy mash-up done by a bad DJ in a terrible nightclub: "Gimme gimme gimme a man after midnight... Money money money, must be funny, in the rich man's world… Waterloo, couldn't escape if I wanted to...'"
AAAAH-BBA!
Not that I have a problem with Sweden or Swedes, you understand. It's a wonderful place, and they're lovely people. I even had a crush on the blonde one from ABBA – I dunno which one is which A, to be honest – when I was about six years old.
But this high-tech return begs the question: what other phenomena from the 1970s and 80s are due for a digitally-enhanced comeback and cultural reboot? The screechy, high-pitched Bee Gees? Engelbert Humperdinck? Elvis in his porky period, stumbling across a Las Vegas stage just before he carked it on the toilet?
Maybe they could dig out the always irritating Barbara Streisand, or preachy pain-in-the-arse Jane Fonda? Bell-bottom pants, tie-dye shirts and male perms? The Ford Cortina and the Vauxhall Viva?
Or how about my least favourite politician of all-time, Maggie Thatcher? Could a Maggie avatar really be any worse than the actual living incumbent, Boris Johnson? That, honestly, is hard to imagine.
How about the return of those horrible tower blocks that were all over the place? Maybe a nice miners' strike? Or maybe that's a step too far. After all, Thatcher did get rid of the unions. And the mines, too, for that matter.
Well, as I believe somebody once said, "The Winner Takes It All…"
Think your friends would be interested? Share this story!
The statements, views and opinions expressed in this column are solely those of the author and do not necessarily represent those of RT.
You can share this story on social media: