Covid jab figures prove the EU is anything but united, with poorer countries left lagging dangerously behind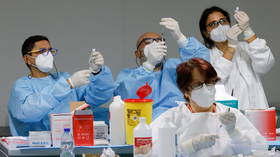 European Commission President Ursula von der Leyen boasts that 70% of the EU has been fully vaccinated. But this ignores the fact that 230,000 more deaths are likely by December, with the unjabbed in eastern Europe most at risk.
Lord knows the European Union could do with a win, so it's no surprise that the video of a beaming European Commission President Ursula von der Leyen is all over the place as she celebrates the news that 70% of the bloc's adults have now been fully vaccinated against Covid-19.
But first, a warning. If you suffer from seasickness then you'll need to drop a couple of hyoscine tablets before watching her Twitter short, because the poor woman constantly sways from side to side as she speaks as if standing on the deck of a cross-channel ferry experiencing a particularly heavy swell. It makes you want to grab for the rails and heave your lunch, such is the nauseating effect. Or maybe that's just me.
70% of adults in EU are fully vaccinated.I want to thank the many people making this great achievement possible.But we must go further!We need more Europeans to vaccinate. And we need to help the rest of the world vaccinate, too. We'll continue supporting our partners. pic.twitter.com/VxdvZlrwYv

— Ursula von der Leyen (@vonderleyen) August 31, 2021
That aside, if you need reminding, the EU's immunisation coronavirus rollout was a complete shower at the outset, an undignified, nationalist-driven scramble for any available doses, marred by infighting among members and shameless propaganda advocating one vaccine over another in a bid to undermine efforts elsewhere.
But before the EU bureaucrats start popping those champagne corks over managing to immunise 250 million people, it must be said that this it's not quite the success story that Frau von der Leyen wants us to believe.
What is immediately obvious with just one glance at the colour-coded maps accompanying the news is that those who are fully vaccinated reside wholly in the western nations of Europe. Vast swathes of the populations of Spain, France, Germany, Belgium and Italy have been double jabbed. Elsewhere, it's a very different story.
In Bulgaria, the rate of fully vaccinated adults is around 20%. It's 31.9% in Romania, 49% in Slovakia and 58.1% in Poland, while those figures are 72.5% in France, 70.6% in Germany, 76.7% in Spain, 82.4% in Portugal and 85.5% in Ireland, according to data from the European Center for Disease Prevention and Control.
While the people of Europe are all expected to unite under one flag, hum along to 'Ode for Joy' as a supranational anthem and pay tribute to the emperors of Brussels for continued access to their club, not all members are treated the same. There's tier one and, quite obviously, there's also tier two.
So there is a hollow ring to VDL's effort at statesmanship with the claim that, "We will only end this pandemic if we defeat it in every corner of the globe," because having her own house in order is what should really occupy her time as a matter of some urgency. With 1.3 million deaths across Europe from 64 million confirmed cases, there is still some way to go.
Also on rt.com
Lions, tigers & chimps: Detroit Zoo vaccinating 'at-risk' animals against Covid-19 with special jab
Of course, the wealthy nations of Europe should contribute vaccines to the Covax scheme, so the hard-done-by countries of Africa and elsewhere in the developing world can at least have a shot at beating Covid. But as a matter of priority, von der Leyen and her cronies should first make damn sure that Bulgaria, Romania, Slovakia and Poland – all fully paid-up members of the EU – have all the vaccine doses they need and the means of administering them to those people who want them.
What the EC president doesn't mention in her video is that Hans Kluge, the World Health Organisation Europe director, has flagged up the "deeply worrying" rise in infections alongside stagnating vaccination rates in the EU which WHO officials fear will lead to 236,000 more deaths in Europe by December 1.
The problem with that gloomy forecast is that it doesn't play so well on Twitter, no matter how slick the production values or who delivers the news. So best ignore it and trumpet that 70% figure. Maybe no one will notice what is left unsaid.
Think your friends would be interested? Share this story!
The statements, views and opinions expressed in this column are solely those of the author and do not necessarily represent those of RT.
You can share this story on social media: