Targeting Indian culture: US-organized conference 'Dismantling Global Hindutva' seen as bashing all who challenge neoliberal order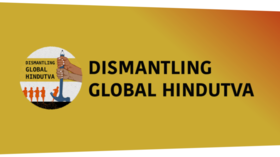 Uproar is growing over 'Dismantling Global Hindutva,' the upcoming conference co-sponsored by top American universities. According to some Indian experts, in trying to punch Hindus, the West just proves how narrow its views are.
"It is a dark time indeed to be a Hindu, a patriotic Indian, or an adherent to the truism of Hindu faith, history, and philosophical enquiry," Saurav Dutt, Indian-born political analyst and author, says, commenting on the conference, scheduled for September 10-12.
The three-day 'Dismantling Global Hindutva' conference lists departments of dozens of major American universities – including Harvard, Stanford and Yale, as co-sponsors. The 'About' section of the event's website starts with a bashing of the policies of the Indian government and the ruling Bharatiya Janata Party (BJP).
We have added many cosponsors since this initial announcement. For the full and correct list of cosponsors, please visit the website, link in bio. https://t.co/K9ZGFOQHN5

— dismantlinghindutva (@dghconference) August 29, 2021
"The fact that this has coincided with the rise of Narendra Modi and the BJP in India is not a matter of coincidence," Saurav Dutt says. "Indeed, opponents of Hindu, and Indian, personage, agency, and purposefulness have become considerably braver since this ascension; and now feel compelled to direct their ire towards anything resembling Hindu identity and faith; and this has played itself out to exhaustion through Western academia and its media fronts."
In his interview with RT, Dutt explained his view of the actual purpose of the conference.
"They purport to discuss a very difficult-to-explain concept such as Hindutva and Hinduism. But it's a smokescreen to what they actually want to talk about, which is to dismantle the concept of what Modi represents in modern India, a flourishing India," he says. "Their belief in Hinduism has moved into something that they feel compelled to define on their terms. I believe that they want to have a very unilateral and biased discussion about what troubles them, which is the ascent of Modi, the ascent of BJP and the ascent of an India that is proud of its identity, which is a thriving democracy and a pluralistic nation."
There is no pluralism on this panel, the very title of this event is disturbing – 'Dismantling Hindutva' – which even Hindus often have difficulty in defining, because it's such a fluid concept.
It is indeed a hard task to make a brief explanation of the term 'Hindutva'. For many, it is an ideology of Indian nationalism, and the organizers of the US conference see it exactly this way. The banner of the event shows a claw end of a hammer bringing down figures of members of Rashtriya Swayamsevak Sangh (RSS), the Indian right-wing organization founded a century ago and often mentioned as linked to Narendra Modi's BJP.
The conference website calls for clear distinction between 'Hindutva' and 'Hinduism.'
"Hindutva is a political philosophy styled after European fascism of the early twentieth century, an ideology that privileges a cult of personality and authoritarian leadership. By contrast, Hinduism is a term used to describe a wide range of religious practices and beliefs that are heterodox, and like the practices and beliefs of any major religion with hundreds of millions of followers, continuously under contestation, and often contradictory," it says.
Still, this manner of explaining things is worrying Indian journalists and human rights activists. The Hindu American Foundation (HAF) wrote a letter to the universities listed as co-sponsors, asking them to withdraw from the "partisan event related to politics in India."
"Dismantling Global Hindutva' is not only political & partisan. It veers into promoting Hinduphobia and anti-Hindu hatred in the activists and politicians it platforms, in the resources it promotes & in the reductionist definition of Hinduism it presents."https://t.co/YHdXtlPpfa

— Hindu American Foundation (@HinduAmerican) August 28, 2021
"DGH organizers describe Hindutva as a "political philosophy" in an attempt to distinguish the participants' critique of it from criticism of Hinduism and Hindus," the letter says. "But then they go on to deny the existence of Hinduism by reducing it to being only "heterodox, continuously under contestation, and often contradictory," rather than the coherent and diverse living tradition it is for its 1.2 billion adherents."
The foundation also called the universities to "ensure the safety and wellbeing of Hindu students, faculty, and staff" as well as to "provide support and protection to those who may feel targeted, threatened, or face hostility or harassment as a result of this divisive event."
Dutt agrees the event might pose a threat to the students.
"Indeed, this divisive event conveniently forgets the very real threat to Hindu students on college campuses, those who are targeted and report feeling under attack for opposing Hinduphobic depictions of their religion in the classroom and for opposing anti-Hindu hate on college campuses," he says.
'Ideas subverted by political programs'
Commenting on the situation to RT, New Delhi-based Professor Zorawar Daulet Singh, historian and strategist, said he believes that this "so-called conference" does appear "to target Indian culture and present the civilizational roots of India in a derogatory light."
"It is true that India has a plural political culture where different ideas are competing and trying to shape Indian identity. Hindutva is one of those ideas. Secularism is another idea. Indians for the past seven decades have been trying to establish a durable foundation for their nation," he says.
In the hands of politicians and political programs, these ideas have often been subverted and used for narrow ends such as winning elections. However, the roots of Indian civilization are built on aspects of Hindutva or Hindu culture that predates all these contemporary political contestations in India.
"In America, in the West predominantly, there is the vision of India which is very much pre-Modi, which is an ancient civilization which is trying to be a developing country," Saurav Dutt told RT.
"To the organisers of this grisly event, and those who are in lockstep to its prejudicial origins and academic bent, Hinduism and Hindutva is not an ever-evolving, coherent, and diverse set of ideologies that continues to grow but through their eyes is instead one that is intrinsically a problem – that it is a fascistic, partisan methodology that paints Hindus as inherently bigoted, dangerous, [as despisers of] others, particularly Muslims, and that is underpinned by dual loyalty.
"Now any event such as this should, in order to facilitate healthy debate and discussion, lay great store in political neutrality, to subject its own narrative to academic rigour and dissection. This event does not even pretend to amplify such a belief – it is a retrograde, despicably one-sided and laughably myopic means to demonise the modern-day Hindu."
Also on rt.com
Modern India at 75: Looking back at its history, British colonization & imperialism, and independence
Dutt also thinks that every attempt to criticize the conference would play on the organizers' hands. "There is going to be a backlash once the content of this event does come out, but all these Western media echo-chambers will use it as the means to defend themselves, to say 'this is exactly what we expected, and this underlines the importance of having more [debates like this],'" he told RT.
'Artificial enemy called Hindutva'
Sreeram Chaulia, professor and dean at the Jindal School of International Affairs in Sonipat, India, thinks that the problem lies in the way the West sees those who are going their own way. "The Western media and the intellectuals in the universities have a notion that India should be following the Western liberal path. Because it's not doing this, because it got a strong nationalistic leadership under Narendra Modi, they feel frustrated and angry," he explains. "Just look at the language – 'Dismantling Global Hindutva'. 'Dismantling' means they want to bring it down, and they think they can bring down the regime in India by spreading this relentless propaganda against us."
The problem is – nobody bothers. It's offensive for us and for our image internationally, but if you ask an ordinary person in India, they don't care. They are mostly concerned about economic issues and about doing well, and about coming out of poverty, and about India becoming a big power in the world, equal to China or equal to the US. These are so-called 'culture wars.'
Chaulia also believes that the concept of 'Hindutva' is twisted by the conference organizers to fit their interests.
"This term is supposed to mean politicization of religion to win votes in elections. But I don't think that's the case, because there are a lot of Hindus who vote for other parties. What they are saying, is that a lot of harmful and bad things are happening to Muslims, to Christians, to other religions, and within Hinduism, they are saying that there is a lot of discrimination of lower casts by upper castes, and all of this is being covered up by Mr. Modi in the name of Hindutva. So, I think this misreads the situation, there is more complexity and nuance in Indian society."
"The neoliberal order is inherently hostile to old civilizations and cultures," Daulet Singh adds. "Unless a political community has become totally subservient to the Western neoliberal concept of nationhood, states like India, Russia, Iran, China and others will always find it difficult to co-exist at an ideological level with the Western powers."
Also on rt.com
John Pilger: The Great Game of smashing countries
"Why there is no US' university conference – a big one – on political Islam and on jihad, and on radicalism that is fueling terrorist groups around the world?" Chaulia wonders.
"Instead of focusing on real security problems of the world, they are setting up a strawman, creating an artificial enemy called 'hindutva' and are trying to punch at it," he concludes.
Think your friends would be interested? Share this story!
The statements, views and opinions expressed in this column are solely those of the author and do not necessarily represent those of RT.
You can share this story on social media: