Russia to start year-round sailing on its Arctic sea route within 5 years – minister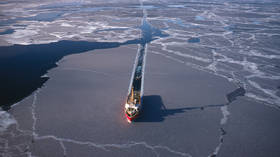 Construction of new ice-class vessels will aid in launching year-round navigation in the Northern Sea Route (NSR) within a five-year period, Russia's Minister for the Development of the Far East and Arctic Aleksey Chekunov said.
"The range of work of the NSR is constantly growing. I think we will sail all year round within a horizon of five years. The icebreaker 'Leader' and other new ice-class vessels should help us in this," the minister said in an interview with Russian business daily RBK.
Also on rt.com
Russia building most powerful icebreaker fleet, aims for year-round sailing on its Arctic sea route – Putin
He added that the Arctic Route will succeed as the world's new traffic lane only when a regular container line from the Far East to Murmansk or St. Petersburg is launched. According to Chekunov, the strategic objective is to maximize cargo operations by ramping up and boosting the efficiency of Russian shipping along the route.
"In that case, we will create a real alternative to the southern route," he said.
The NSR runs along the Russian Arctic coast and Siberia from the Kara Sea east of Novaya Zemlya to the Bering Strait. The transport lane falls inside Russia's exclusive economic zone in the Arctic region. The 5.5 thousand kilometre NSR is one of three transportation routes linking Russia's Far East with the European part of the country.
Also on rt.com
Russia wants to open its Arctic seas to international shipping
Earlier, authorities announced plans to renovate Russia's entire system of transport corridors by 2030 – including the operating railway route, which includes the Baikal-Amur and Trans-Siberian Railways, and a motorway connecting Russia's border with Finland to western Siberia.Under the ambitious plan, the Arctic route is expected to become a major trade artery.
The cargo being shipped through the lane is projected to exceed 80 million tons as soon as 2024. While it is the shortest passage between Europe and Asia, it is usually closed for several months due to the thick ice, but the fleet of new icebreakers escorting other ships could solve the problem of navigating it year-round.
For more stories on economy & finance visit RT's business section
You can share this story on social media: