It's hard not to be cynical about Airbnb's motives for housing 20,000 Afghan refugees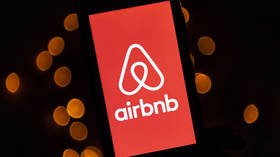 Airbnb's decision to pay for the accommodation of people fleeing Afghanistan is welcome – and somewhat surprising. The company has shown little interest in the impact its operational model has had on communities in the past.
Brian Chesky, the CEO of Airbnb, announced over Twitter this week that his company plans to house 20,000 Afghanistan refugees for free, thanks to the "generosity" of its hosts.
Starting today, Airbnb will begin housing 20,000 Afghan refugees globally for free.

— Brian Chesky (@bchesky) August 24, 2021
Now call me cynical, but this sounds a bit like reputational laundering from a platform capitalist whose business is known worldwide for encouraging landlords to rent out properties short term, mostly to tourists.
Airbnb has been criticised by many community groups around the world – especially those people who live in tourist destinations and global cities. They have long argued that Airbnb has caused landlords to let properties to passing visitors rather than local people. This has pushed up rents and left some communities fractured – after all, when many of the people in your area are on holiday, trying to conduct everyday life around them can be problematic.
This has led to a number of community campaigns putting pressure on local authorities to try and stop Airbnb operating in specific areas. In 2017, for example, the Raval area in Barcelona – a community traditionally made up of migrant families near the port – led a city-wide protest known as 'Tourists Go Home'.
Small businesses and families found it impossible to live everyday lives with partying tourists next door – and the success of Airbnb also had a knock-on effect, encouraging other landlords to profit out of offering their properties as short-term lets rather than homes.
However, the campaign in Barcelona was not solely about 'Tourists Go Home' – 'Refugees Welcome' was also a theme. Because this was not about Nimbyism, but genuine concern over housing shortages, poor landlordism, and out-of-control capitalism. Ultimately, it proved very successful, and led to the local authorities putting stricter rules in place over what properties could be signed up to Airbnb. A licensing system was introduced and talk persists of an outright ban.
During my own research in East London between 2014 and 2018, there were similar examples in my own apartment block. Out of seven properties, three of them were let out through Airbnb, with similar numbers on every block in the area.
Also on rt.com
'Biggest humanitarian crisis of our time': Airbnb to provide free housing to 20,000 Afghan refugees
The sound of wheelie cases put dread in the heart of us all – we knew it signalled another night of partying or tourists knocking on your door constantly trying to find out how to switch the lights or TV or water on. Despite our own 'Tourists Go Home' campaign, the local authorities had no interest in listening to residents, despite having more than 25,000 people on the housing waiting list and being responsible for socially cleansing many people out of the area – particularly women and children – because of a lack of suitable accommodation.
It's because of this that I'm sceptical of the motives behind Airbnb's public announcement and by Chesky's heartfelt words that his company felt compelled to step up because we are facing "one of the biggest humanitarian crises of our time." Just for good measure, he added, "I hope this inspires other business leaders to do the same. There's no time to waste."
Most of us agree with the sentiment that getting as many Afghan families into a place of safety has to be an international priority. But I can't get away from that nagging thought that the international bans on travel caused by Covid have prevented Airbnb from operating at its usual capacity, and this might be a useful time to show itself in a good light.
Also on rt.com
Afghan evacuee from Kabul detained for breaking house arrest in France after being surveilled due to Taliban links
Let's face it – this is an expression of humanitarianism from a platform that has previously bothered little about the global housing crisis and massive increase in landlordism. But don't blame me for being suspicious – it would, after all, be foolish not to expect the platform entrepreneurs to have noticed forced movement of people through war, economic movement and climate crisis, and sensed an opportunity.
Like this story? Share it with a friend!
The statements, views and opinions expressed in this column are solely those of the author and do not necessarily represent those of RT.
You can share this story on social media: