My farcical waste-of-time Covid isolation in the UK, where the rules are far too lax and no one checks if I'm actually complying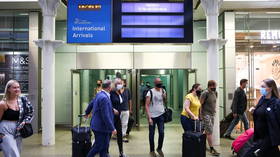 I came back from Paris to visit my family and have had to endure costly tests and quarantine, even though all the facts show that France should not be on the British government's 'amber plus' list anyway.
London: Day four of quarantine. So far, no one has called to check up on me. No one has knocked at the door where I am isolating to make sure I am there. But of course, they could at any time. Reading through posts on social media, there are plenty of people who have, in their words, been 'harassed' several times a day since making the journey to the UK from France, as I have.
I'm abiding by the rules, as quite frankly I don't want a fine. I'm lucky, as where I am staying is comfortable. I'm with a friend who I hadn't seen since before the pandemic, and she's making the fact that I am stuck inside much more pleasant. However, what strikes me is this whole situation is, well, to put it bluntly… a farce.
France was placed on a special 'amber plus' list by the UK government in a rushed-through, late-at-night announcement a few weeks ago. Concerns were raised in London about the prevalence of the Beta variant, originating from South Africa. This singled out France from other EU countries, causing tens of thousands of holidaymakers to choose between abandoning their vacations across the English Channel or quarantining for up to 10 days on their return.
For those, like me, who live in France, it was a blow, as it meant yet again that the hope of being able to see family and friends back home was still far out of reach. Then the French Embassy in London questioned the figures the UK government had used. So, too, did French ministers. It soon became clear that this 'policy based on science' was quite possibly flawed.
Also on rt.com
France slams 'discriminatory' UK quarantine rules as travelers must undergo isolation despite waivers for EU and US arrivals
I, like many other journalists, flagged this up. I retweeted the actual figures from the French Embassy showing the Beta variant had been steadily declining for several weeks in the country and was not a significant issue – by any stretch of the imagination. I contacted my local MP in the UK, asking them to raise the issue with the UK government. I contacted the Department of Transport, the Health Department, and the Welsh government, demanding they see some sense, but it was all in vain. Instead, I resigned myself to the fact that to see my family this summer, I would have to isolate.
Believe me, I wasn't happy about this, but otherwise it meant the holiday I had booked would have to be scrapped as the dates couldn't be moved. There would be no refund for this either. In addition to having to isolate, I would be looking at spending a cool few hundred pounds to take PCR and antigen tests, despite the fact I am fully vaccinated with a jab approved by the UK authorities. My only mistake, it seemed, was that I had the vaccine in France – which was, I might point out, the advice given to expats like myself by the UK government.
Then a crack of light at the end of the tunnel came, as reports circulated in the UK press that France was not only going to be removed from its amber plus nightmare, but the UK was also going to accept the EU digital vaccine certificate. "Hoorah!", I cried, and with bated breath awaited a confirming tweet from Transport Secretary Grant Shapps. Yet when it came, I was left a little more than frustrated. While my vaccine status was now verified, France was still being singled out.
"Discriminatory!" yelled France's Europe minister, hinting that there was more than a whiff of politics influencing the decision. It was hard to disagree, given that the UK continues to refuse to pinpoint exactly what the issue is, and where. Dominic Raab, the UK foreign secretary, took to the airwaves to admit the problem was with the Beta variant on the Island of Reunion… 5,800 miles away in the Indian Ocean. "It's not the distance that matters," he said, "It's the ease of travel between different component parts of any individual country." Later, Shapps smacked that down, adamant that the problem was in "Northern France". That sums up how muddled the reasoning has been.
Also on rt.com
My own country of Canada just kicked me out because my Covid immunity was acquired naturally and not from a vaccine
So, with that in mind, I headed to the UK to face my punishment. And it's here that it hit me just how pointless the rules are. After several checks at the Eurostar terminal, I was free to head into London. Once there, the rules give you enough flexibility to have an overnight stay before you arrive at your final quarantining destination. I also could have opted to have the PCR tests at a laboratory and travel there, though I didn't. I have the right to leave the place I'm isolating to send off my PCR samples, if there is no one else to do this for me. And as I am quarantining in England, I can also fork out extra cash to take part in the Test to Release scheme (I have). This is not available to those who go to other parts of Britain, such as Wales.
So, if I allegedly pose such a threat coming from France, why on earth are the rules so relaxed? It makes no sense whatsoever, like so many of the British government's strictures during the pandemic.
Also on rt.com
Britain's slow transformation into a biosecurity state may be more cock-up than conspiracy, but it's still dangerous
Apart from no-one knocking on my door to check if I'm obeying, I've not even received a phone call. Do they not like my French mobile number, I wonder? Why hasn't there been any attempt to verify that I am indeed isolating? A friend sent me a text saying, "It's a total money-making scam." At this point, with around £219 spent on tests, my bank account feels a lot lighter and I'm starting to see her point. I can't imagine how much of a nightmare this is for families who've been caught up in the chaos.
Covid has been a divider. It's shown us once again that those in positions of power, or who are well off, have the easier ride. Whether that's ministers or government aides who flout the rules, or those of us who can spare the extra cash to take the early release option. What has become clear to me is that while the UK government has repeated the rhetoric that its decisions are based solely around public health concerns, it's been ominously quiet about showing us the facts to back that up.
The statements, views and opinions expressed in this column are solely those of the author and do not necessarily represent those of RT.
You can share this story on social media: