The horrific beheading of a young female friend of a friend in Islamabad has finally made me understand why we need feminism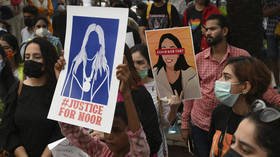 Noor Mukadam was beaten, shot and decapitated by her partner after she ended their relationship. I live in Britain, but it was the misogyny in the land of my fathers that made me think twice about gender equality back at home.
"What does it mean to be a feminist today?" someone once asked me. I answered, "I don't know", because, for a long time, I never quite identified with feminism.
While at university in Britain, I'd long witnessed radical, third-wave feminists dominating the campuses. Though they insisted they believed in gender equality, the movement seemed about anything but equality. The kind of feminism they espoused seemed as if it had nothing to do with women's liberation, but, instead, as if it were a leaderless movement concerned with victimhood and a hatred of men – and even of women – who did not succumb to their intersectional orthodoxy.
Feminists of the past actually believed in liberating women. However, this is not the case with today's feminism, which is alien to me. From bizarre subcultures that encouraged "period solidarity" to gross displays of body hair, it seems to have succumbed to unacceptable standards with which I'm uncomfortable. In my view, it's given the once noble movement a bad name.
I witnessed the third-wavers reduce important issues concerning women to not just virtue signalling but to mockery, to being mainly about women's bodies and looks, with contempt for men a central focus. My disquiet about all this led me, as a young Muslim woman, to distance myself from feminism overall.
Also on rt.com
Global mission led by Interpol sees over 280 human smuggling suspects arrested, 430 victims freed
However, this all changed after an extended vacation to Islamabad, in Pakistan, earlier this year, where I experienced stalking and harassment from a man I had previously trusted. I'd never experienced this form of abuse before, and it left me shaken, even frightened for my life. For the first time, I felt concerned for my wellbeing and safety.
No amount of blocking on social media, changing my phone number or even politely asking him to leave me alone would make him stop. It was as if he felt entitled to act in this creepy manner. "This is common behaviour here," explained one of my friends. Another exclaimed, "Do you understand what misogyny feels like now?"
I very quickly did understand. I realised that, in order to continue my holiday, I would have to be extremely vigilant and cautious about where I went and who I met. Luckily, I avoided anything else untoward, and felt somewhat relieved when I boarded the plane back to London.
My horror at what happened to me in Pakistan came flooding back a few days ago, however, when I found out about the shocking murder in Islamabad of Noor Mukadam, with whom I have many friends in common. Noor was the 27-year-old daughter of a former Pakistan ambassador and highly educated, beautiful and intelligent. She had been beaten up, shot and beheaded by her partner after she decided to end their relationship.
This horrific event happened in the same area of the same city that I had stayed in on holiday. Worst of all, it turned out that the killer and I shared some of the same friends. I could even have bumped into him at a social event during my stay. This sent shivers down my spine.
For the first time in my life this year, I had experienced misogyny, and soon after, learnt about an appalling case of violence against a mutual acquaintance that was deeply rooted in the hatred of women. I was devastated for Noor, and I thought long and hard about my prior distaste of feminism. I acknowledged that this needed to change. I'd found out, in a hard way, that the world is not as safe for women as I had thought it was, especially in a non-Western nation.
Also on rt.com
NO, Minister. A majority of Irish women have NOT been sexually assaulted
Countries such as Iran, Pakistan and Saudi Arabia are some of the most dangerous places in the world to be a woman. Britain, in contrast, where I've spent the majority of my life, is one of the best and safest places to be female, so perhaps it's no surprise I grew up not identifying with feminism. After all, I had never directly experienced misogyny here, and I had certainly never feared for my life.
Western feminists should realise just how bad it can be for women elsewhere and appreciate the freedoms they enjoy in the UK. Women in many other parts of the world would love to have their life. But I'm not so naïve that I don't realise there are problems here too. Harassment, stalking, abuse, violence and everyday sexism are very real issues that British women can and do face on a daily basis, as illustrated by the still far too high numbers of cases of domestic abuse and rape, and the horrifying murder of Sarah Everard this year in London. The results of a recent survey showed that 32% of us don't feel safe walking alone at night, compared to just 13% of men.
So, our fight as women must continue, everywhere. For the sake of victims like Noor and Sarah and too many others. I'm proud, and glad, to have finally become a feminist, even though I wish it hadn't come about as a result of those awful incidents in Islamabad.
But what I am is what you might term a 'classical' feminist. And what I won't become is one of the radical third-wavers. I don't – and don't want to – hate men, and I dislike radical feminism's dogmatic nature and its refusal to tackle real issues. That alienates women from all walks of life. However, I no longer reject the core values of feminism in its purest sense.
The women's liberation movement achieved amazing things in both the distant and more recent past, winning the right to vote, overturning legal obstacles to gender equality, and gaining reproductive and workplace rights. Those achievements have benefited women such as me today.
Also on rt.com
Harvey Weinstein, movie mogul who gave rise to #MeToo movement, pleads not guilty to sex-crime charges in California
What's more, classical feminism is focused on uniting men and women by rejecting intrusive interference. It believes that both men and women have a right to their personal freedoms. The problem with third-wave feminism is that it seeks out the unproblematic, complementary differences between us, such as our biology, and weaponises rather than celebrates them. Some third-wavers even champion the idea that men are a less valuable asset to society than women, and claim women are the dominant sex. Such radical ideas actually set the whole movement of feminism back, rather than advance it.
Classical feminism needs to make a comeback. It's a natural ally of both conservatism and libertarianism, and fights for equality and the real issues that concern the modern woman.
Think your friends would be interested? Share this story!
The statements, views and opinions expressed in this column are solely those of the author and do not necessarily represent those of RT.
You can share this story on social media: