France slams 'discriminatory' UK quarantine rules as travelers must undergo isolation despite waivers for EU and US arrivals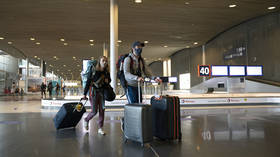 Paris has slammed the UK's decision to maintain quarantine measures for travelers from France, arguing that it is "discriminatory," as double-jabbed citizens across the European Union (EU) are able to forgo the requirement.
During an interview with news outlet LCI on Thursday, French state secretary for European affairs, Clement Beaune, expressed his condemnation of France's exclusion from the UK's waivers of quarantine requirements for fully vaccinated travelers.
"This is scientifically unfounded. It is a discriminatory decision … towards the French, because all Europeans, even from countries with more difficult health situations than ours — because of the Delta variant or something else – are not concerned, or no longer concerned, by the quarantine," Beaune explained.
The British government upholds that the decision to keep the 10-day quarantine for travelers from France is based on the prevalence of the Beta variant, which was first discovered in South Africa. However, Beaune has argued that such a worry is "excessive and frankly incomprehensible," stating that the Beta strain makes up just 5% of cases in France, mostly in the overseas territory La Reunion.
Also on rt.com
Double-jabbed US and EU travellers will no longer be required quarantine upon arrival in England from August
The minister's comments come after England announced on Wednesday the lifting of a quarantine requirement for double-jabbed travelers from the US and EU, from August 2. Scotland and Wales followed suit and lifted the quarantine requirement. However, France was the only country in the European bloc to be left off the UK list.
UK Transport secretary Grant Shapps said that the travel rules for France will be reviewed at "the end of next week."
France banned non-essential travel from the UK, on the grounds of the prevalence of the highly-contagious Delta variant, at the end of May. Britons arriving there were also required to undergo a week-long quarantine. Under current rules, fully vaccinated travelers from the UK are able to enter France for non-essential travel and may skip quarantine.
Like this story? Share it with a friend!
You can share this story on social media: