Masks off? Or masks on? A history of the CDC's consistently inconsistent advice on face coverings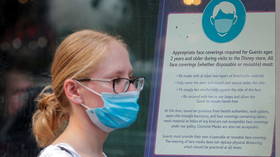 The US Centers for Disease Control and Prevention has stayed true to form by deciding that its current mask guidance – not to be confused with its previous and repeatedly revised guidance – needs to be reversed. Again.
It's a shame so many Americans do not appreciate the new rules concerning the use of face coverings among the fully vaccinated. After all, asking jabbed citizens to mask up after telling them they don't need to mask up, after suggesting to them that wearing two masks almost all the time would be even better, must be the best possible and most consistent public health policy under the current circumstances.
Enough, already: The historical record is self-explanatory. The CDC, together with America's trusted public-health bureaucrats, have always pursued evidence-based policymaking and have never once bowed to mass panic. The below timeline should finally put to rest all the feeble-minded moaning leveled against US health authorities during these trying times.
November 2004
The CDC publishes guidance in response to "questions about the role of masks for controlling influenza when suboptimal immunization of the public could increase the frequency of influenza infection" – a surprisingly topical issue, almost 20 years later.
Masks are not usually recommended in non-health-care settings, the advisory states. The CDC explains that, even though flu symptoms can take up to a week to appear, there is no apparent benefit from asymptomatic individuals wearing face coverings.
"No recommendation can be made at this time for mask use in the community by asymptomatic persons, including those at high risk for complications, to prevent exposure to influenza."
April 2009
The CDC issues recommendations for the use of face masks and respirators in areas where H1N1 'swine flu' has been detected.
"Information on the effectiveness of facemasks and respirators for the control of influenza in community settings is extremely limited," the agency explains. Face coverings should only be used when caring for sick individuals or in other specific circumstances, the CDC says, adding that "relying" on masks for protection in crowded settings is ill-advised. The health authority maintains this position throughout the duration of the pandemic.
February 5, 2020
As Covid-19 begins to spread across the globe, Anthony Fauci, director of the US National Institute of Allergy and Infectious Diseases and the chief medical adviser to the president, receives an email from a former senior US government official asking if she should wear a mask while traveling, as a precautionary measure.
He advises against it: "The typical mask you buy in the drug store is not really effective in keeping out [the] virus, which is small enough to pass through the material."
February 28, 2020
"CDC does not currently recommend the use of facemasks to help prevent novel #coronavirus," the public health agency tweets.
February 29, 2020
Americans begin to panic-buy masks, greatly irritating the nation's top health authorities.
"Seriously people- STOP BUYING MASKS! They are NOT effective in preventing general public from catching #Coronavirus," US Surgeon General Dr. Jerome Adams tweets. He adds that ordinary Americans should focus more on hand-washing and other sanitary measures, and let healthcare workers wear the masks – advice in perfect harmony with years-old CDC guidance. The tweet is later deleted, but the internet never forgets.
March 8, 2020
A month after the Trump administration declares a public health emergency due to the coronavirus outbreak, Fauci says in an interview with 60 Minutes: "There's no reason to be walking around with a mask. When you're in the middle of an outbreak, wearing a mask might make people feel a little bit better and it might even block a droplet, but it's not providing the perfect protection that people think that it is."
In keeping with longstanding CDC guidance, he stresses that masks should be reserved for healthcare providers and those who are ill.
March 29, 2020
Doubling down on his previous remarks, Surgeon General Adams underscores that his office has "consistently recommended against the general public wearing masks as there is scant or conflicting evidence they benefit individual wearers in a meaningful way."
(In case you're wondering, the name of the Twitter account has changed because there's a new Surgeon General.)
March 31, 2020
In an article dunking on Donald Trump's suggestion that Americans could wear scarves to shield their faces from Covid-19, NBC facetiously reports: "While the science behind whether masks can prevent a person from catching the coronavirus hasn't changed (a mask does not help a healthy person avoid infection), public guidance may be shifting." In the same article, the outlet stresses that there is "no scientific evidence that wearing face coverings would have a measurable impact on flattening the coronavirus curve."
On the same day, CNN reports that Fauci supports "broadening" mask use among the general public, provided there are enough face coverings for healthcare workers.
"Because if, in fact, a person who may or may not be infected wants to prevent infecting somebody else, the best way to do that is with a mask. Perhaps that's the way to go," Fauci declares, in a bold U-turn from his previous position on the matter.
April 2, 2020
The CDC's FAQ page about Covid-19 reads: "CDC does not recommend that people who are well wear a facemask to protect themselves from respiratory illnesses, including Covid-19. You should only wear a mask if a healthcare professional recommends it. A facemask should be used by people who have Covid-19 and are showing symptoms."
April 3, 2020
Americans are suddenly informed that facemasks should actually be worn by just about everyone.
As cities across the United States begin to lock down, the CDC advises Americans to voluntarily don cloth face masks, purportedly in a data-backed bid to help halt the virus. President Trump explains that the new guidance is prompted by concerns that seemingly healthy people are transmitting the disease: "You don't seem to have symptoms and it still gets transferred."
More than a decade of established public health policy goes out the window: The public should mask up. But not with medical-grade respirators – those are reserved for healthcare workers. Instead, people are urged to don cloth masks, which can be made at home in accordance with FDA manufacturing protocols.
The Masked War against Asymptomatic Spread of a Respiratory Virus – long regarded by the CDC as an unnecessary and futile endeavor – begins.
April 4, 2020
The CDC updates its FAQ page about Covid-19. Citing "new data about how Covid-19 spreads, along with evidence of widespread Covid-19 illness in communities across the country," the agency now recommends the use of cloth face coverings. They should be worn by "people older than 2 years of age in public settings where other social distancing measures are difficult to maintain." The CDC stresses that these new recommendations do not apply to people who are "unconscious."
May – December 2020
At the direction of the CDC, state and local governments begin to impose mask mandates. 'Karens' do battle with maskless grocery shoppers across the country. General chaos and deep paranoia ensue.
Pro-maskers and anti-maskers are now in mortal combat over the Asymptomatic Question. A smorgasbord of studies examining Covid-19 transmission cause further mayhem: Some researchers claim that asymptomatic spread is nothing to sneeze at, while other scientists struggle to identify a single case of asymptomatic transmission. The World Health Organization says that asymptomatic transmission is "very rare," but then backpedals and declares more data is needed.
An article in the British Medical Journal notes that the whole debate seems rather silly considering that PCR tests do not distinguish live virus and therefore cannot reliably identify "asymptomatic" individuals: "As things stand, a person who tests positive with any kind of test may or may not have an active infection with live virus, and may or may not be infectious."
February 10, 2021
The CDC publishes a study of its own claiming that two face masks – colloquially known as "double masking" – can reduce an individual's exposure to coronavirus particles.
However, the agency notes that the findings do not mean that Americans should wear two disposable masks at the same time. Instead, the data points to why "wearing a well-fitting mask is so important."
Everyone is very impressed, but by now masks are not in fashion. Millions of vaccinated Americans, who'd been told that getting jabbed would give them unprecedented protection against Covid-19, begin to wonder why they are being nudged to put on another mask instead of being encouraged to take off the face-covering that they're already wearing. Patience, little lambs.
Also on rt.com
UNVACCINATED diners only: California restaurant says it's having fun watching 'heads explode' over mandatory no-vax policy
March 8, 2021
Finally: Fully vaccinated Americans don't need to wear masks when meeting indoors with close friends and family who have also been jabbed, the CDC announces. Vaccinated individuals are still warned against traveling or gathering in large groups.
April 27, 2021
The CDC says that fully vaccinated people can forgo masks at small outdoor gatherings. However, masks are still recommended when attending large outdoor events. Vaccinated individuals should also limit nursing home visits to "compassionate care situations."
May 13, 2021
Americans who are fully vaccinated against Covid-19 do not need to wear masks or adhere to social distancing rules indoors or outdoors, except under certain circumstances, the CDC announces.
CDC Director Dr. Rochelle Walensky describes the policy shift as an "exciting and powerful moment."
July 9, 2021
Fully vaccinated teachers and students don't need to wear masks inside school buildings, the CDC says, in updated guidance for schools.
July 21, 2021
Fauci tells CNBC that "the broad overall CDC recommendation is that if you are vaccinated, you are protected and you don't need to wear a mask indoor or outdoors." He then suggests that people living in areas with a "high level of transmission" should mask up anyway.
"If you want to go the extra mile of safety, even though you're vaccinated, when you're indoors, particularly in crowded places, you might want to consider wearing a mask," he says, seconds after citing CDC guidance stating the exact opposite.
July 27, 2021
Citing the spread of the more infectious Delta strain, the CDC recommends that fully vaccinated Americans living in areas with "substantial or high transmission" of Covid-19 should once again resume wearing masks indoors.
The agency also says that masks should be required of all staff and pupils at K-12 schools. Vaccinated individuals should wear face coverings when around family members who have compromised immune systems, or children who are too young to get the shot, the CDC further advises.
Heads down, masks up
So there you have it. As this modest historical survey demonstrates, the CDC, Fauci, and the entire US medical establishment have shown tremendous bravery as they diligently pursue this week's rendition of The Science. Evidence can change over time. But only with masks does it seem to turn on a dime.
Americans live in the best of all possible masked worlds, and they have Anthony Fauci and the CDC to thank for it.
Subscribe to RT newsletter to get stories the mainstream media won't tell you.
The statements, views and opinions expressed in this column are solely those of the author and do not necessarily represent those of RT.
You can share this story on social media: