Israel is in meltdown over the 'terrorism' of Ben & Jerry's stopping sales of its ice creams in the occupied territories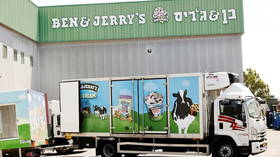 The brand's decision has driven political leaders into a frenzy, who accuse it of 'anti-semitism' and 'a new form of terrorism'. Their hysterical rhetoric reflects their fears that other large businesses will follow its lead.
As if it were something out of a satirical soap opera, Israel's political elite have come out in force against the existential threat of the "anti-Semitic" ice cream brand, but none of what is being said by Israeli leaders is to be taken as a joke. According to Israeli Prime Minister Naftali Bennett, the stand by Ben and Jerry's will have "serious consequences, legal and otherwise, and that [Israel] will act aggressively against all boycott actions directed against its citizens".
Israel's President, Isaac Herzog, even went as far as saying that Ben & Jerry's is engaging in "a new form of terrorism". While Israel's Foreign Minister, Yair Lapid, has compared the action to a form of anti-semitism and vows to contact states in the US which have enacted unconstitutional anti-BDS (Boycott, Divestments and Sanctions against Israel) laws, to try and get those states to punish the company.
So it is clear that Israel is taking the move very seriously, but what does this all actually mean? Well, for some 700,000 illegal Israeli settlers, living in occupied East Jerusalem and the West Bank, they will no longer be supplied with products from Ben & Jerry's. Practically however, if Israel allows the sale of the ice cream to continue at all, those settlers could just simply drive in their cars – some for no longer than about 10 minutes – in order to enter Israel and buy it.
Unlike Palestinians, who suffer through military checkpoints and roadblocks, needing an ID or permit to travel into Israel, settlers have VIP access to Israel. Settlers don't have to struggle like Palestinians; they simply drive into Israel as if there is no difference between the occupied territory and the occupying state where they hold citizenship.
Also on rt.com
Netanyahu tells Israelis 'NOT to buy' Ben & Jerry's ice cream after company stops sales in 'Occupied Palestinian Territory'
So in plain terms, nothing will really change immediately for settlers, other than having to buy different types of ice creams, or alternatively take a drive to get their Ben & Jerry's. Funnily, former Israeli Prime Minister, Benjamin Netanyahu, who is an arch opponent of boycotts, said on Twitter, "Now we Israelis know which ice cream NOT to buy", which is a clear call for a boycott. So in Netanyahu's eyes, it seems that boycotts are anti-Semitic, unless Israelis do them against their political enemies, then they are completely fine.
The real reason behind Israel's aggressive approach to combating the Ben & Jerry's move is not to do with the government truly believing that the ice cream company is anti-Semitic or is committing terrorism. Instead, Israel is looking to set an example for other companies, who may potentially be looking to follow suit, of how much chaos such a step could cause them.
Importantly, the act by the ice cream franchise is not an act of singling out as many Israeli critics have claimed, using this assertion as a means of framing the decision as based in anti-Jewish prejudice. In fact, the brand has been well known for backing many left-wing and human rights causes, including an endorsement of the Black Lives Matter movement.
Israel's status in East Jerusalem, the West Bank and Gaza Strip is considered unanimously, by the opinion of UN member states, as being an occupation of Palestinian lands. Under international law, the occupation is considered to be illegal, rooted in the 1974 United Nations General Assembly resolution 3314, which was the first to assert the illegality of "any military occupation, however temporary".
On top of Israel maintaining an illegal occupation, it also commits various other crimes, including the transfer of its own population into those territories. Article 49 of the Fourth Geneva Convention states clearly that, "The Occupying Power shall not deport or transfer parts of its own civilian population into the territory it occupies".
Also on rt.com
'Are they going to bomb Vermont?' Israel gets skewered after claiming Ben & Jerry's ice-cream boycott is 'new form of terrorism'
Most recently, UN Security Council Resolution 2334 in 2016 reaffirmed that "Israel's Settlements have no legal validity", so when Ben & Jerry's decided that selling in these illegal settlements is against their values, what they essentially meant to say is that they value international law.
What Israel now fears is that more international companies will now decide to take the step to stop doing business in illegal settlements built on Palestinian land and that this will be a blow for the likes of PM Naftali Bennett, who believes the Bible grants him the right to that land.
If Ben & Jerry's do not give in to Israel's pressure, they will at the very least continue to face considerable attacks, which may or may not be enough to hold other companies back. But as Israeli politicians try their very best to go on the offensive, they may have instead made themselves laughing stocks, rather than intimidators, for claiming that a delicious ice cream brand is the world's newest terrorist group. Al-Qaeda flavour, anyone?
Think your friends would be interested? Share this story!
The statements, views and opinions expressed in this column are solely those of the author and do not necessarily represent those of RT.
You can share this story on social media: