Is the US using the Uighurs' 'forced labour' issue to undermine the Chinese on trade?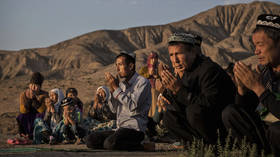 America has been keen to point the finger at China over alleged human rights abuses in Xinjiang. But its silence on abuses elsewhere in the world makes it legitimate to ask if there is another agenda at play.
On Tuesday night, the US State Department published a new 'advisory' warning that "businesses and individuals that do not exit supply chains, ventures, and/or investments" in China's Xinjiang autonomous region "could run a high risk of violating US law" and accused Beijing of "genocide and crimes against humanity" in the region.
This comes after the US blacklisted 14 Chinese firms, accusing them of being complicit in human rights abuses of Uighur Muslims. The logic seems to work on the premise of guilt by association, simply assuming that all businesses – including even American ones – are complicit in forced labour there.
Joe Biden's administration has made forced labour one of the primary issues of his presidency. It's a noble cause and one few can disagree with in theory. But its obsessive focus on China seems to ignore other crises around the world, such as the reported 6,500 who have died in 'forced labour-like conditions' during construction for football's World Cup next year in Qatar. I don't see any US politicians calling for a boycott of this event.
Of course, forced labour is heinous and unethical and should be vehemently opposed where proven. Yet there remain significant questions concerning the US motivations regarding these alleged practices in China.
First of all, what are the claims being based on? The case for the prosecution should not be overlooked. Those who highlight allegations of it in China point towards state-funded labour programs whereby Uighur workers are recruited to work in various industries around the country.
The allegations first emerged in a report authored by the Australian Strategic Policy Institute, a hawkish think tank which is funded by the US state department and various arms manufacturers.
Also on rt.com
The West has no right to preach to Muslim countries about human rights in China
However, many of the claims that there is forced labour are put forward by those who cover the story and there is no direct, objective proof that it is taking place. As a defining example of this, the BBC's John Sudworth put together a report on this subject earlier this year where he looked at China Central Television's own coverage of recruitment schemes for Uighurs, where officials went from door to door.
The Chinese view is that these programs alleviate poverty and recruitment is consensually contracted, as opposed to coerced. The footage showed that it was a voluntary scheme. But as you can imagine, critics do not accept that premise easily.
Given the ambiguity, it seems clear that forced labour allegations, whether true or untrue, are being put forward as a means to an end by the US government in advancing economic competition with China.
The strategic thinking behind such is a process Noam Chomsky described as "manufacturing consent" – deliberately orientating experts to influence public opinion towards a given narrative and generating moral capital as part of a move to legitimise support for policies which would be otherwise costly to make in normal conditions.
In this case, by aiming to discredit sectors of China's economy by associating them with Uighur abuse – often without definitive proof – the US has sought to incentivize decoupling.
But there are many problems with the US-led Xinjiang narrative. First of all, after Donald Trump's administration left office, State Department lawyers concluded that Mike Pompeo's designation of genocide in the Xinjiang autonomous region was built upon flawed evidence and not decisive. But the Biden administration chose to embrace the designation anyway.
The White House narrative has also strangely played to a protectionist tune. The Biden administration has unusually continued to describe forced labour not so much as an 'ethical' concern but as an 'unfair' economic practice – generally recognised as code for 'China is beating us at trade'. It's also been used as a means to try to discredit Beijing's trade with other countries – such as an attempt to block the EU-China investment treaty.
The emphasis of the Xinjiang issue also seems to shift in accordance with whatever priority the administration is seeking regarding China and its own domestic agenda. For example, the Uighurs were cited by the Trump administration while discrediting Chinese technology firms, including Huawei and Hikvision, in order to legitimise sanctions upon them. Then when Biden assumed office and began talking about manufacturing green technology at home, the accusations turned towards use of forced labour to make solar panels.
Also on rt.com
Beijing blasts 'irresponsible' US provocation after Washington rejects China's 'unlawful' maritime claims in the South China Sea
Each time, the US did not decisively prove the allegations, but varnished the narrative on the guilt-by-association basis. The goal is not so much to prove these abuses definitively, but to discredit China. The claims have also often been used to indiscriminately attack certain western companies based in the region without any proof – such as Volkswagen – again showing the opportunistic dynamic.
In this case, the debate concerning forced labour in Xinjiang falls into several spheres. Firstly, there is the dimension as to whether state-directed labour programs recruiting Uighurs truly constitute 'forced labour' or not. This depends on the political viewpoint and assumptions of those advocating it.
There is also the extent to which the US is utilizing these allegations in order to advance a more comprehensive policy of containing China, as seen by the jump from sector to sector depending on which area of US national interest is concerned.
It would help Biden's cause if he focused on instances of forced labour in other countries and regions too. Yet conspicuously, he has not done so. Therefore, is it an unreasonable argument that the emphasis on Uighur forced labour is inseparable from the broader dynamic of US-China competition?
Think your friends would be interested? Share this story!
The statements, views and opinions expressed in this column are solely those of the author and do not necessarily represent those of RT.
You can share this story on social media: