Confronted with the fact their policies are ruining US cities and killing thousands, Dems give the usual reply: 'Shut up, racist!'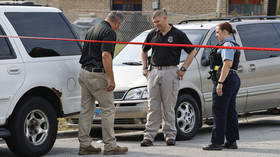 Don't believe your lying eyes – the bullet holes, bloody shooting scenes and crying mothers. Don't believe the stats or what the police say. The leaders of America's big blue metropolises say there's no crime surge on their patch.
And here's one of the most predictable parts of the gaslighting: If you dare to say that violent crime is rising, and especially if you suggest that it's scary and out of control, you're a flaming racist. Of course. Might as well don the white hood.
That was the message on Sunday from Kate Chatfield, a senior director in San Francisco District Attorney Chesa Boudin's office. "Husbands are 'scared for their wives' – your reminder that the 'crime-surge' crowd shares the same ideology as 'The Birth of a Nation,'" said Chatfield, who has since taken her Twitter account into hiding. She was responding to a message by San Francisco native Michelle Tandler, who had said her friends were all considering leaving the city because of crime, which has caused parents to fear for their children and husbands to be "scared for their wives."
Tandler made no mention of skin color. Chatfield apparently inferred that, because the concerned citizen was talking about crime, she must have meant acts committed by non-white people. This proved, once again, that leftist, race-baiting whites are the most racist people on the planet. 'The Birth of a Nation' is a 1915 silent movie that the Washington Post called "the most reprehensibly racist film in Hollywood history."
Crime is apparently a touchy subject in the San Francisco DA's office, and in DA and mayoral offices in Democrat-run cities across the US. Lawlessness is rampant, and people can't help but notice. Even CNN acknowledged on Wednesday that more than 850 people were shot, including at least 233 fatally, while Americans celebrated the Independence Day holiday weekend. In Chicago alone, some 100 people were reportedly shot, and 19 were killed. Thirteen children and two police officers were among the injured.
Homicides nationwide jumped 25% last year, according to preliminary government data. A Council on Criminal Justice report on 32 major US cities showed that murders rose 24% from 2020's torrid pace in this year's first quarter alone.
It's easy to see why Democrat politicians don't want to be confronted with news of this trend. The 13 largest US cities are run by Democrat mayors. Out of the 25 biggest cities, only two have Republican mayors. Playing the race card is a sign of the desperation among Democrats to deflect attention away from their failure to perform government's most basic role: protecting citizens.
Chicago Mayor Lori Lightfoot bristled last Friday when a Newsmax reporter questioned whether she believed, as she had said previously, that crime was falling in the city. She insisted that violent crime was "trending down" and denied the reporter's assertion that there were race riots in Chicago last summer. She also stood by her comment in an interview last week that "about 99%" of the criticism against her was motivated by the fact that she's a black woman.
More than 2,000 people have been shot in Chicago this year, and the city is on target to have its deadliest year in more than a decade.
New York Mayor Bill de Blasio, in explaining last Friday why he wouldn't be using any of the Big Apple's $6 billion in new federal aid to fight rising violent crime, said that tactic was meant for more troubled cities. Shootings in New York have more than doubled since 2019, but city officials decided to restore only about $200 million of the $1 billion that was cut from police funding in 2020.
San Francisco, which hasn't had a Republican mayor since 1964, is among the most spectacular Democratic failures. What was once perhaps America's most beautiful big city has been turned into what former president Donald Trump might call Haiti: a s***hole.
The local NBC News affiliate reported happily last December that one positive side effect of the Covid-19 pandemic was that complaints of feces in public places were down 24% from a year earlier because fewer people were on the streets. Over a seven-month period, there were only 15,656 poop reports. Yup, there were only 15,656, which was a three-year low. There were fewer used syringes reported, too.
Unfortunately for residents, San Francisco's lawlessness issue goes beyond drug needles and public defecation. Theft and assaults are so rampant and brazen that retailer Target said last week it's now closing its stores in the San Francisco area at 6pm each day, rather than 10pm. Walgreens has closed several stores in the area altogether, and ordered its security guards in those still trading to refrain from engaging with shoplifters.
"For more than a month, we've been experiencing a significant and alarming rise in theft and security incidents at our San Francisco stores, similar to reports from other retailers in the area," a Target spokesperson told a local media outlet. "With the safety of our guests, team members, and communities as our top priority, we've temporarily reduced our operating hours in six San Francisco stores."
On Monday, a group of thieves was caught on video in broad daylight running out of downtown San Francisco's Neiman Marcus department store with armfuls of designer purses and other luxury merchandise.
And, along with New York City, the San Francisco Bay Area is one of the focuses of this year's surge in anti-Asian hate crimes. People of Asian descent – some in their 80s or 90s – have been punched, stabbed, and kicked in unprovoked attacks. An 84-year-old Thai immigrant was killed in January, when a 19-year-old black man charged at full speed from across the street and rammed him.
Interestingly, the Asian hate-crime story has lost its legs in mainstream-media land, perhaps because most of the perpetrators don't fit the narrative of a white-supremacy crisis.
If it seems like criminals are running roughshod, stealing, or maiming with impunity, it's because they are. A man arrested last month for stabbing a 94-year-old Asian woman in San Francisco's Tenderloin neighborhood had been released from jail nine days earlier. His rap sheet included a long list of burglary arrests and an alleged homicide. He was arrested five times last year and was being monitored with an ankle bracelet at the time of the stabbing, after being released by a judge. One local man was arrested for car theft at least 14 times in 18 months.
Boudin, who was elected DA in 2019 with financial backing from an associate of billionaire George Soros, has called for "rapid decarceration," including a plan to reduce San Francisco's jail population to around 600 from 1,100. On taking office, he stopped pursuing harsher sentences for most repeat offenders and gang members – a practice he called racist – and quit prosecuting some offenses, such as prostitution and public urination, altogether.
Soros, by the way, has helped get radical DAs elected in major cities across the US. One of the candidates he bankrolled was Philadelphia District Attorney Larry Krasner, who preceded Boudin in stopping the prosecution of many crimes. The city has had 285 homicides so far this year – up 36% from the same point in 2020.
Also on rt.com
Philadelphia July 4th revelers sprayed with about 100 BULLETS during fireworks show as major US cities again hit by gun violence
Amid San Francisco's collapse in public safety, Tandler is far from the only resident who is thinking about moving. A poll commissioned by the San Francisco Chamber of Commerce showed that more than 40% of residents planned to move away within the next few years. Eight in 10 cited concern that crime has increased, and nearly that many said their quality of life has deteriorated.
As one measure of supply and demand for living in San Francisco, the current rate to rent a 20-foot U-Haul truck next Saturday to move from the Bay Area to Nashville, Tennessee, is $4,823. The same rental in reverse will cost $2,255.
Boudin isn't alone in his apparent favoring of the criminal class over the law-abiding taxpayer class. Democrats around the country have pushed for defunding police and putting more criminals on the streets. Baltimore prosecutor Marilyn Mosby stopped prosecuting such crimes as drug possession, prostitution, and public urination last year during the pandemic, then made the policy permanent in March. A group of business owners in Baltimore, one of America's most violent cities, threatened last month to stop paying their local taxes and fees because of increasing "chaos and lawlessness."
So, what's behind these policies that clearly make citizens less safe and destroy their communities? Is the pro-crime vote that big? Is pandering to Black Lives Matter and pretending that racism explains everything a sustainable strategy?
Boudin is the son of Weather Underground terrorists who later joined the similarly violent May 19th Communist Organization and were imprisoned for murder when he was 14 months old. Weather Underground, which conducted a bombing campaign targeting government facilities and banks in the 1970s, had the express goal of overthrowing the American system.
Perhaps Boudin aims to help finish the job his parents started. Soros has promoted global governance and open borders, and called for "reforming" capitalism. He infamously told Newsweek in 2006, "The main obstacle to a stable and just world is the United States."
Whatever the endgame might be, America's metropolises are being destroyed on purpose and in broad daylight. So, shut up, racist, and look the other way.
Like this story? Share it with a friend!
The statements, views and opinions expressed in this column are solely those of the author and do not necessarily represent those of RT.
You can share this story on social media: