America is doing a pretty good job of undermining its own democracy – it doesn't need any help from the Iranian media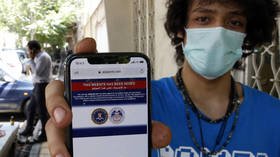 The ethnic and political strife we've seen recently in the US is a product of its own making. The Iranians may be clever, but I don't think outlets such as Press TV can stoke that, so why has Washington seized their websites?
In a blistering effort to support "freedom" in Iran, the US authorities recently seized the web domains of its international media networks Press TV and Al-Alam, along with those of a host of other outlets. Of the 36 seized, 33 were operated by the Iranian Islamic Radio and Television Union (IRTVU), allegedly controlled by the Islamic Revolutionary Guard Corps' (IRGC) Quds Force, which the US designated as a foreign terrorist organisation in 2019.
Also on rt.com
3 signs the 'maximum pressure' campaign against Iran isn't working
In an official statement from the US Department of Justice issued on June 22, Washington accused the websites of violating US sanctions and of targeting the US with disinformation campaigns and malign-influence operations. Technically, under the current sanctions regime, it is illegal for US citizens, US companies, and foreign or non-US companies with US subsidiaries to conduct business with the IRTVU or the IRGC.
Iran, for its part, referred to the move as a "systematic effort to distort freedom of speech on a global level and silence independent voices in the media."
Curiously enough, the US decided to time this particular attack on the Iranian-backed media barely days after Iran's recent election, which, let's be honest, had a pretty abysmal voter turnout. So, what message is the US trying to send to the president-elect, hardliner Ebrahim Raisi? Could it be the US sticking up a giant middle finger to Raisi, following his recent calls for it to lift all of its sanctions on Iran and recommit to the Joint Comprehensive Plan of Action?
If the US is attempting to send a strong message to Iran, it will no doubt be heard loud and clear. Not only will it not be lifting sanctions against Iran's government and associated entities, but it will be strictly enforcing them for as long as it can.
As the Jerusalem Post has noted, perhaps this recent measure by the US has been a long time coming, and well deserved too. If Iran continues its reign of media terror with complete impunity, the consequences could be dire, given its online media strategies of attempting "to get Americans to be more positive about Iran" and even "to fear war with Iran." Two wild and unspeakable notions, of course.
However, in all honesty, I'm not sure what the Post is referring to when it says that, sometimes, Iran's goal is to "cause ethnic strife to generally weaken the US and provoke embarrassing incidents which the Islamic Republic can then point to in rejecting American criticism of its authoritarian system."
If we're talking about ethnic strife within Washington's domestic borders, I'm reasonably certain the US creates this all on its lonesome, and has done so for centuries. And if the Iranian media publicizes cases of ethnic strife in the US, as far as I'm concerned, that's just reporting the news, isn't it?
Until I see sufficient evidence, I'm not convinced Iranian-backed media outlets are playing a key role in disseminating disinformation across the US aimed at undermining American democracy. Indeed, the United States seems to be doing a pretty good job at undermining its democracy itself, without any foreign interference. It's the same nonsensical argument that various powerful institutions levelled at Russia for years, following the election of Donald Trump. And Russia didn't elect Donald Trump – the Americans did that all on their own.
Also on rt.com
Even if Biden lifts sanctions, Iran under no illusion over lengths US will go to to derail its leadership
I also couldn't help but notice that, as part of its crackdown, the US also seized the domain name of Palestine Today – a website that reflects the views of groups such as Hamas – barely weeks after the gruelling Israel Defense Forces aerial bombardment of Gaza. I also find it odd that, if we're talking about the freedom of the media and "malign-influence operations" – that, during said campaign, Israel bombed a building that housed media personnel from Associated Press and Al Jazeera, and faced almost no consequences for having done so.
The US also seized Bahrain's LuaLua TV, a channel run by opposition groups, which maintains offices in London and Beirut. We now have less chance of hearing an alternative take on news coming out of Bahrain, other than the Saudi-backed official viewpoint. This is despite the fact that, according to Amnesty International, Bahrain has no independent media, as "all locally based newspapers and broadcasters support the government and are owned and/or managed by people close to the government." But the US still loves supporting freedom, democracy and human rights.
As can often be the case, when the magician is showing you his right hand, you might want to keep an eye on what his left hand is doing. When tech companies such as Google and Facebook led a mass purge in 2018 to shut down more than 800 pages and accounts for engaging in "inauthentic behaviour" and "spamming", it just so happened that, in the process, they also conveniently shut down a handful of pages that documented police brutality and expressed anti-war sentiment. I have no doubt the powers-that-be did shut down a number that violated their policies, but that doesn't mean that all the others deserved to be taken off air too.
All I'm saying is that, while it's a significant move for the US to seize a pro-Iranian website as prominent as Press TV's, we may not want to be so quick to downplay the significance of its removing the lesser-known outlets that have also been caught in its crosshairs. For all we know, they were the real target and outlets such as Press TV merely the scapegoat.
Like this story? Share it with a friend!
The statements, views and opinions expressed in this column are solely those of the author and do not necessarily represent those of RT.
You can share this story on social media: