There IS a way for disgraced UK ex-minister Matt Hancock to redeem himself in the eyes of at least the woke public, but it's grimy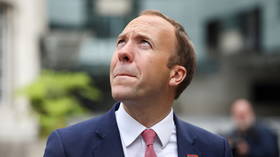 Former health chief Matt Hancock's more cringeworthy "hidden talents" have landed him in an epic political sex scandal, thanks to the Sun's scoop. But can another of his talents spring him back into favour?
In a week in which he found himself at the epicentre of an ever-worsening sex, security and social-distancing storm, some of the MP for Newmarket's special abilities have been laid bare for all to see. The British public is now all too aware not just of Mr Hancock's assignations with erstwhile aide Gina Coladangelo, but also of his dubious "moves," which comes as a surprise, given that another little secret of the 42-year-old father-of-three is his penchant for grime music.
Yes, you heard it right: Matt Hancock loves grime.
Back in 2017, when Hancock was culture minister, he wrote a column for the Times extolling the virtues of the sub-rap genre in glowing terms.
"From classical to pop, punk to grime, the UK's music is loved all over the world," he cooed. "It hardly needs saying that this dominance is down to the ingenuity and creativity of British artists. So it is hugely important that music reflects the diversity of modern Britain."
He continued: "For example, as a fan of grime music, I know our amazing urban music makes a massive contribution to our creative industries. The sounds of Skepta and Lady Leshurr are making waves across the world."
Also on rt.com
UK Health Secretary Matt Hancock resigns after Covid rule-breaking kiss caught on camera
In 2016, Hancock praised Mercury-winner and three-time BRITs nominee Skepta in the Mirror for his "go-getting nature" after meeting the grimester at the Mercury Prize after-party. "I've just met Skepta," he gushed, "why wouldn't I be here? We listen to it in the back of the ministerial car."
But when asked to name his favourite Skepta track, he reportedly turned to his aide, saying: "Jonathan, help me out here." The aide apparently responded, "Shutdown," which curiously contains the line, "We don't listen to no politician." What Jonathan didn't make clear, however, is when Hancock was kicking back in the ministerial whip if he referred to his aide as "my n*****".
Nevertheless, Hancock did wax lyrical that Skepta "tells a story of his background, but the thing that excites me is he can break through" adding: "I don't like to wallow in poverty. I think wherever you come from, you can make it."
Given the disgraced ex-minister's understanding of "urban" music and the plight of the inner-city black man, if any of this is to be believed, he is the perfect person to lead a commission on the use of racist language in popular culture, education and public life in general, given the extent to which the N-word punctuates every other bestselling grime, trap or drill track these days. It's got to the stage that even one of my children's former geography teachers found himself under investigation, and in the press, the other week for using the N-word in a lesson while trying to explain the pitfalls of pronouncing "Niger."
Perhaps having to deal with the ambient sound of students mumbling "N-this" and "N-that" while listening to rap music through their earbuds made him break the fourth wall between the anything-goes world of grime and the heavily legislated realm of the classroom, as how one confuses Niger (pronounced, as the Mail helpfully pointed out, as "nee-zher") with the N-word is anyone's guess. It's not as if a French teacher would use the C-word in class to avoid any confusion over pronouncing Le Comte de Monte-Cristo. The N-word is problematic because its historically casual use in English literature, and now popular culture, has deemed it acceptable. It's not.
Which is why it's easier to purge American classics such as The Adventures of Huckleberry Finn, To Kill a Mockingbird and Of Mice and Men from the British school education system than deal with the contentious use of the N-word in those texts. Why? Because these novels bring nothing to the table regarding contemporary discourses on race and offer only a hackneyed view of the past. If anything, Othello, most likely written in 1603, is a far more sophisticated text from which to openly discuss "identity politics" than works published over 300 years later simply because Shakespeare was a genius and Mark Twain, Harper Lee and John Steinbeck weren't. As my mother used to say, "Always get the best you can afford." As the world's fifth largest economy, the UK should be able to stump up nothing but the best, educationally.
Hot on the heels of Mr Bad Education comes Jamie Oliver's purging the term 'Kaffir lime leaves' from his recipes following concerns about the K-word's historically racist connotations in South Africa. The announcement last week to drop the term is of course a commercial rather than pro-woke move. Nevertheless, Oliver has form when it comes to his product lines and race. Back in 2018, he was accused of "cultural appropriation" after launching his microwaveable "Punchy Jerk Rice," which led Labour MP Dawn Butler and others to take to Twitter, natch, and give him a good steaming. "Your jerk Rice [sic] is not ok," the MP for Brent Central tweeted. "This appropriation from Jamaica needs to stop."
Also on rt.com
What about his Italian? Jamie Oliver accused of 'cultural appropriation' over Jamaican jerk rice
Now, I'm not one to tell anyone what to cook, or how to cook it. In fact, I've been toying with my own range of hot n spicy Caribbean pie and mash recipes for a while. (Curry goat pie with sweet potato mash and brown stew gravy, anyone?) But in the Age of Woke, processed food brands emblazoned with genial, old time Negro "spokescharacters" such as Aunt Jemima and Uncle Ben just don't cut it. This week, following a decision made after the murder of George Floyd in 2020, Aunt Jemima will be rebranded in the US under the name, "Pearl Milling Company". Last year, FMCG giant Mars rebranded Uncle Ben's as "Ben's Original" and dropped the avuncular image of grey-haired, dark-skinned Ben in the midst of the Black Lives Matter movement, which ad mag Campaign reported was due to "long-standing criticism that the brand name and imagery perpetuate racial stereotypes."
If foodstuffs aren't bad enough, alcohol branding has also become contentious, with the likes of Plantation Rum embarking on a post-George Floyd rebranding exercise, while Captain Morgan, Admiral Rodney, Pere LaBat and Negrita Rhum all facing the criticism for either their associations with the slave trade or questionable branding.
Just as previous generations have forced Volkswagen, IBM, Coca-Cola, Kodak, Hugo Boss and pharmaceutical giant Bayer, among others, to account for their collaboration with Nazi Germany, the so-called "woke mob" is likewise putting pressure on companies, organisations and individuals today to account for branding, language and attitudes still rooted in anti-African cultural stereotypes and borderline racism, which affects young people's ability to navigate society, without fear nor favour, and markets, sectors and industries to go about their business without being "cancelled" because of ignorance, a "moment of madness" or wilful stupidity. We all make mistakes. We all deserve a second chance. There you go Matt. Get involved in the struggle. You're welcome.
Like this story? Share it with a friend!
The statements, views and opinions expressed in this column are solely those of the author and do not necessarily represent those of RT.
You can share this story on social media: