'The Reason I Jump' is a stunning film (& not just for parents of autistic youngsters) that leaves us all asking 'what's normal?'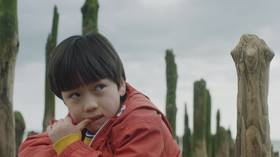 The new documentary on five autistic teens is a revelation offering unparalleled insight into the condition in a way that has never been captured before and should make everyone, even parents like me, rethink their view of autism.
In just 82 minutes of his just-released documentary, The Reason I Jump, director Jerry Rothwell contributes more to understanding autism for parents, like myself, who have children affected by this infuriatingly puzzling condition, than the busload of experts we have met over the last 20-odd years.
Focusing on the lives of five autistic teenagers, The Reason I Jump is, at the same time, both familiar and revelatory as it shines a light on the vastly different developmental paths taken by the quintet – Armit, Joss, Ben, Emma and Jestina – in India, the UK, USA and Sierra Leone, respectively.
In terms of addressing autism, it is a Louvre-worthy masterpiece compared to pop singer Sia's finger-painting flop, Music, which came out earlier this year.
Based on the book of the same name written by now 23-year-old autistic Japanese author Naoki Higashida when he was just 13 – and subsequently accused of being neither the author nor autistic – the insights in The Reason I Jumpare not only explored through the documentary's amazing subjects but it is clear that this is only a part of a much greater understanding we are just beginning to discover.
At one point, the film's narrator, as Higashida, explains, "Inside my head there isn't really such a big difference between what I was told just now and what I heard a long, long time ago.
I imagine other people's memories are arranged continuously like a line. My memory is more like a pool of dots, memories are all scattershot and never connected in the right order. The trouble with scattered memories is that sometimes they replay themselves in my head as if they've only just taken place and the emotions I felt originally come rushing back to me like a sudden storm."
Is this what those inexplicably tumultuous mood swings, outside the range of any regular hormone surges, have all been about with Elvi, my own 19-year-old daughter?
In Broadstairs, Kent, Joss's father compared what went through his son's mind as a slideshow of memories over which he had no control. They could be joyful or terrifying and were all mixed together. How must that feel?
Also on rt.com
As the father of an autistic child, I'm appalled by Sia's movie Music. It shows she knows nothing about this remarkable condition
Meanwhile, when Armit's mother in India surrenders her efforts to make her daughter act 'normal' she unlocks a seemingly boundless artistic energy that results in a gallery full of beautiful, vibrant paintings of Armit's observed world.
Within some shared experiences there are these moments when potential is identified and unleashed to flourish.
In Arlington, West Virginia, the parents of lifelong friends Ben and Emma, are given a last shot at unlocking their voices by speech therapist Elizabeth Vosseller who addresses their struggle to communicate by spoken word in terms of it being a gross motor skill.
"Many people who are autistic know what to do but their brain can't get it to their body," she explains.
By introducing simple letter boards to the two teenagers they learn to spell out their observations and their feelings letter-by-patient-letter by having something to anchor their words. When not using the board, Emma's constant, rapid babble echoes my own daughter's speech. I was shocked as I've never heard it used by anyone else before.
And while Emma looked frustrated and distracted, continuously pushing a noisy battery-operated toy, when asked her thoughts on the letter boards, she replied by spelling out, "We could finally tell each other how we felt." Everything else going on as she did this was her condition, Emma was alert and responsive behind it all along. Astounding stuff.
It was a light-bulb moment for me and maybe explains why my Elvi, albeit with a rare genetic condition accompanying her autism, has always had a huge gap between her own understanding and her ability to express herself. What appears on the surface is not a clear reflection of what is going on underneath.
The beautifully shot camerawork, with individual close-ups of the five revealing the non-stop flurry of anxiety, puzzlement, deep focus, affection and unbridled joy that overwhelms many autistic youngsters offered more than a flash of recognition from my own experience. So too did Amrit's tender kisses for her mother, Joss's meltdown potential, Ben and Emma's tics and quirks and Jestina's brilliant smile.
While not all those who care for these neuro-diverse teens spoke of negative experiences, the parents of Jestina were certainly facing the toughest challenge, convincing a suspicious community that viewed their daughter as a devil or a witch, that she too was a valuable member of society.
At a meeting near their home in Freetown, Sierra Leone, to support parents of other children with disabilities, one distraught mother of a young daughter says, "People tell me to dump her in the river so I can get peace."
Filmmaker Rothwell then rolls out the heavy artillery; archival audio of 'experts' branding the neuro-diverse as psychotic, defective, demonic and, from a Nazi propaganda film, an evil professor-type declares, "We call upon a merciful destiny to liberate these regrettable creatures from their existence without life." Not all these comments were 80 years old.
It isn't often that a documentary exploring neuro-diversity manages to navigate its topic with such humanity. There's no mawkish sentimentality, no self-pity, no finger-pointing and no victimhood.
And it is accessible and engaging in a way that the important written work of experts like Prof Simon Baron-Cohen might not be to those with no autistic offspring of their own. Baron-Cohen has encouraged us to see 'normal' and 'different' as neuro-typical and neuro-diverse respectively and it's a helpful distinction that avoids any sort of awkwardness or ambiguity.
Also on rt.com
Abandoned children with special needs are dying by suicide at record rates during lockdown. I fear for my disabled daughter
Higashida's narrator concludes, "I used to think it would be the best thing if I could live my life like other people but now even if somebody could change my autism I would choose to stay as I am. For me, you see, autism is normal. I can't be sure what your normal is even like."
Well, our 'normal' struggles to see anything outside our own common experience as different and therefore wrong. We can, however, only hope that attitude is changing and I'd like to think The Reason I Jump will be pushing that change.
Think your friends would be interested? Share this story!
The statements, views and opinions expressed in this column are solely those of the author and do not necessarily represent those of RT.
You can share this story on social media: