North Korea wants to talk with the US… so expect it to cause some trouble to attract Biden's attention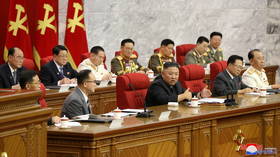 With North Korea struggling economically, Pyongyang is seeking relief from sanctions, and is keen to negotiate with the Americans. Don't be surprised if it resorts to provocations to get Joe Biden to come to the table.
At the latest meeting of North Korea's ruling Workers' Party of Korea, Kim Jong-un spoke about the challenges facing his country. During a series of speeches, he acknowledged the economic difficulties it has faced, given it was almost completely cut off from the entire world for most of 2020. But he also stated that it had to prepare for both "dialogue and confrontation" with the United States.
Although Pyongyang famously came to loggerheads with Donald Trump in 2017, later facilitating a series of summits, Joe Biden has seemingly not made North Korea a priority since taking office, despite pushing allies to commit to the country's complete denuclearisation.
Of course, such a policy is a non-starter for North Korea; it will never denuclearize. The persistence of the idea is merely a political correctness in Washington circles, as opposed to a serious objective.
Despite this, Pyongyang does in fact want to negotiate to some extent, and has chosen to be patient for the past six months. Given its economic troubles, North Korea ultimately wants to attain relief from sanctions, while clinging on to as much of its nuclear capabilities as possible. In other words, it is seeking a de-facto acceptance of the country's weapons programme.
Also on rt.com
North Korea's food situation 'getting tense' due to typhoon, says Kim Jong-un, 'malignant virus' also an issue
But with Washington's position apparently so rigid, how exactly can this be achieved? The US seems happy to persist with tough sanctions for now. And this is why trouble may be on the horizon.
While North Korea's diplomatic strategy appears at first glance to be irrational, reckless and unpredictable, it is in fact tactical, Machiavellian and long-termist. It is a country that plays a very small hand with incredible shrewdness and does not give up until it gets what it wants. Nor does it, in any circumstances, voluntarily capitulate to US demands.
How is this possible? And how does it do it? North Korea's attitude to foreign relations is an extension of its 'Juche' ideology – roughly translated it means 'self-reliance' – which constitutes a strategic roadmap for the state in pursuing its objectives. Juche is derived from Marxism-Leninism, but rejects the premise of dialectical historical materialism in favour of emphasizing a theory of self-agency and struggle in the pursuit of independence.
It is more an ideology of sovereignty, and a product of North Korea's perilous security situation. It advocates struggling to achieve things on one's own terms against the odds, as opposed to accepting domination and subjugation from others, even if that means suffering short term costs to pursue long term goals.
Also on rt.com
North Korea's theft of $300m isn't a sign of desperation, but an indication it'll do whatever it takes to have nuclear weapons
This is the impetus of the country's nuclear programme, which is the lynchpin of national sovereignty and survival of the regime. It is arguably the only thing which has stopped the US from pursuing regime change, especially in the early 2000s before the world was multipolar.
On this premise, North Korea's strategy is to progressively secure the status of its nuclear programme by demonstrating more political will, endurance, and determination than the US, slowly maximising its capabilities and making negotiations more and more difficult.
This may come in bursts of huge provocations, as was seen with nuclear and intercontinental ballistic missile tests in 2017, when Trump sought to implement maximum 'pressure' on the country.
Alternatively, there is the option of lesser missile tests, other weapon development, simple patience and the quiet advancing of new capabilities, without incurring new sanctions or a backlash, which has largely been the position since 2019. As it became obvious a breakthrough with Trump had become impossible, Pyongyang made the decision to wait for him to depart the scene as his foreign policy priorities shifted elsewhere.
Also on rt.com
Kim Jong-un's growing nuclear wish-list for North Korea spells trouble for Joe Biden
Now, it's time to test the water with Biden, and who knows what lies in store? Pyongyang may want to talk, but it won't go begging cap in hand to him, because this would be a demonstration of weakness. Instead, it is likely to resort to provocations of some sort in order to draw him in and gain his attention. This may involve a missile test or some other form of destabilizing action which forces the US to take a position. Whatever it decides, one thing is clear – it will not be ignored under any circumstances.
Earlier this year, North Korea revealed comprehensive ambitions to develop nuclear submarines. This itself was a diplomatic signal to Washington, and a sign of how Pyongyang will aim to advance its capabilities if Biden does not take any meaningful action towards diplomacy. In any scenario, a show of toughness will always precede a willingness to negotiate. If Biden seeks to respond with pressure and confrontation, North Korea will respond in kind.
While this is unlikely to escalate to the Trumpian level of tensions seen in 2017, and nor in this case will China be so willing to help, it will certainly test Washington's resolve, because Pyongyang, as it always does, will make the situation difficult. Messages like what we have just seen from North Korea are never issued without thought or planning. We can only wait and see what happens.
Think your friends would be interested? Share this story!
The statements, views and opinions expressed in this column are solely those of the author and do not necessarily represent those of RT.
You can share this story on social media: