As Greta's NZ followers declare their 'racism', it's clear that showing white guilt is more important than saving the planet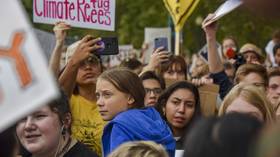 Acknowledging white privilege now appears to be the number one priority in woke etiquette, if the bizarre decision by Auckland's School Strike 4 Climate chapter to announce itself racist and disband is anything to go by.
That woke politics is divisive is a bit of an understatement. The politics of cultural identity feeds on itself to the point that some of its members adopt customs that resemble the practice of self-flagellation associated with ancient religious orders.
In New Zealand, the Auckland chapter of the Greta Thunberg-inspired climate movement has decided to disband itself for being 'racist'. Until now, the Auckland fan club of Greta has enjoyed considerable acclaim for organising an 80,000-strong demonstration during the global 2019 'School Strike 4 Climate' protests.
However, the woke members of this group realised that they had a serious problem – they were white. And in the contemporary era, the state of being white comes with a health warning.
Accordingly, the Auckland chapter of School Strike 4 Climate announced in a Facebook post that it had decided to stop all activities because of its racism. It acknowledged that "it has been a racist, white-dominated space." It apologised for taking the initiative on climate change without regard for the aspirations of people of colour. It noted that it has "avoided, ignored, and tokenised BIPOC voices and demands, especially those of Pasifika and Māori individuals in the climate activism space."
In the vocabulary of New Zealand woke, 'BIPOC' is the acronym for 'black, indigenous, and people of colour', while 'Pasifika' refers to people who identify with the Pacific islands.
Apparently, the Auckland chapter of the climate movement was previously denounced for providing an exclusive home for upper-class white kids. It seems that the issue of skin colour trumped the green commitment to campaign for saving the planet. The problem with the kids organising the protests of Auckland was that they were too white. Consequently, their skin colour disqualifies them from playing a leading role in the climate protest movement.
There is something disturbing and revolting about the way a group of white youngsters, who were apparently totally committed to a cause, have decided to leave the field of battle because they have internalised the language of white privilege.
If they were genuinely concerned about racism, they could have offered to reorganise their so-called "white dominated space" to one that was equally welcoming to everyone on the planet. But in an era of identity politics, that is not possible. Instead, an informal regime of segregation prevails and white people are expected to metaphorically whip themselves and play the role of a quasi-religious penitent.
It is important to realise that the Auckland chapter's confessional about its racism is just another form of virtue signalling. Having done their bit to save the planet, they have decided to demonstrate their awareness by acknowledging their white privilege. In a sense, what they have done is the functional equivalent of the mortification of the flesh undertaken by medieval Christian monastics. Through the act of whipping themselves, the former members of Greta's global chapter are signalling their commitment to educate themselves and rid the world of the scourge of whiteness.
Also on rt.com
Meat-eaters rebel after Greta Thunberg says world is 'f***ed' unless we adopt plant-based diet
Acknowledging white guilt has acquired a quasi-religious quality. It serves as a gesture that is akin to chanting 'forgive me father for I have sinned'. However, unlike in the case of a genuine religious quest for forgiveness, this gesture has an entirely performative character. It is unlikely that the posh kids that inhabited the "white inhabited space" of Greta's chapter actually believe that they are racist. But since it is all about the performance of abasement, that's not the point. Through their performance, they have demonstrated that they are 'aware' and prepared to observe the finer point of woke etiquette.
The question is, will the all-too-obviously white Greta follow suit? Will this global symbol of identity culture submit to the diktats of abasement and repent of her sin of being white? Watch this space for the unfolding drama of infantilised woke politics.
Like this story? Share it with a friend!
The statements, views and opinions expressed in this column are solely those of the author and do not necessarily represent those of RT.
You can share this story on social media: