'The Return: Life After ISIS' shows Shamima Begum has regrets, but no remorse. It's time we heard less from her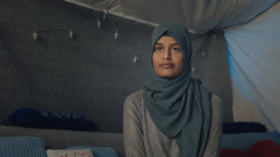 A new documentary provides a fascinating insight into the lives of jihadi brides in a refugee camp in Syria. What to do with them is a problem, but it's clear rehabilitation is not an option for Britain's most famous IS recruit.
"I was just a dumb kid who made one mistake." Shamima Begum thinks she was a normal teenager. Wearing a baseball cap, skinny jeans and white t-shirt, looking – and sounding – every inch the trendy young Londoner, she tells interviewer Andrew Drury that she was simply "really naive" when she left Britain to join Islamic State (IS, formerly ISIS) aged 15.
Let's face it, we all did dumb stuff when we were young. I took up smoking and nicked a lipstick from a posh department store. As for being 'really naive'? Well, getting drunk and cycling home the wrong way down a dual carriageway probably wasn't a great idea. But running away to join a murderous, jihadist cult? Sorry Shamima, that's not relatable.
Having travelled to Syria seemingly on a whim – "I didn't want to be the friend that was left behind" – Begum now wants to come home, 'pretty please'. Does she deserve a second chance? This question lies at the heart of 'The Return: Life After ISIS',a new Sky documentary featuring several jihadi brides including, alongside Begum, the US' Hoda Muthana and Canada's Kimberly Polman.
Writer and director Alba Sotorra Clua spent two years filming in the Kurdish-run Al Roj refugee camp in northeastern Syria, which is now home to around 64,000 stateless women and their children.
The women tell their own stories over a period of many months. Begum is 19 when filming begins. She speaks about her unhappy childhood and her inability "to distinguish between fake and real news" online. It could have happened to any of us. Except, it didn't. Many people have unhappy childhoods, but don't run off to join terrorist groups. When we are duped online we send tweets we later delete.
It is not at all clear that Begum – or the other women interviewed – appreciate this difference. As recently as two years ago, Begum refused to condemn the Manchester Arena bomber and she has previously spoken of being unfazed at the site of severed heads. And yet now she tells us, "I personally don't think that I need to be rehabilitated, but I would want to help other people be rehabilitated. I would love to help." From severed heads to helping rehabilitate others in just two years? Begum has no idea what rehabilitation means.
It seems to me that rehabilitation would require at least two things: acknowledgement and remorse. Begum, and the other women filmed, show no sense of either. Allowed to speak unprompted, there is little discussion of the horrors of IS. Clua resorts to inserting photo montages into her documentary to remind us of the atrocities these women were aligning themselves with.
None of the women interviewed shows remorse for the brutal slaughter of Syrian and Iraqi citizens or the Yazidi women enslaved and raped. What we hear instead are their own stories of struggling in the final days of IS and in the refugee camps. They don't have remorse, but regrets – and the regrets only kicked in when events turned against them.
We see Begum crying when she discusses the death of her three children; she says grief made her contemplate suicide. We are asked to feel sorry for a woman who has shown an incomprehensible lack of compassion for others, yet Begum thinks only of herself. She says she has swapped a hijab for jeans, "because it makes me happy. And anything in this camp that makes me happy is like a lifesaver." It's just a shame the Yazidi women were not offered the same opportunities for self-care.
Begum is clearly as well versed in the language of therapy as any British schoolgirl who has sat through lessons on mental health. We know she's a fan of Kanye West and the sitcom 'Friends'. From her accent to her appearance, from her narcissism to her one-time loathing of the UK, whether we like it or not Begum was made in London. This does not excuse her actions and neither does it mean she deserves to return. But her existence, along with the 64,000 other residents of the Al Roj refugee camp, poses a problem for Syria and the Kurds in particular. We have washed our hands of Begum, but we are leaving the Kurds to deal with our mess.
Also on rt.com
UK Supreme Court denies ISIS bride Shamima Begum right to return to fight for her citizenship back
Then there are the women's children. In the final days of IS, the children were reportedly so hungry that they resorted to eating grass. Their mothers apparently told them there would be chicken waiting for them in paradise. Presented with a meal on arrival at the refugee camp, they asked if they were now in heaven.
But there's a reality to this too. One boy is filmed swinging from a metal pipe and shouting to his friends, "Jihad is an important thing!" He continues, "No one can hurt you…if you are a jihadi, you will go straight to paradise." Despite all the talk of rehabilitation, these brutalised children have learnt this propaganda from somewhere. What happens when they reach adulthood? The problem of what to do with Begum, and all the other women in the camps, is not going away any time soon.
I don't think Begum was simply a dumb kid who accidentally swallowed fake news. She has no claim to our sympathy now. Her 'pretty please' does not convince me to let her back into the UK, even for a lengthy period in prison.
Incredibly, as we saw in the rush to compare Begum's teenage 'mistake' to tweets sent by suspended cricketer Ollie Robinson, some in the UK seem keen to present Begum as a hapless victim of circumstance, a young woman more sinned against than sinning.
The same people claiming Ollie Robinson was "just a kid" at 18 and should be forgiven are the very ones who demanded 15 year old school girl Shamima Begum be stripped of her British citizenship because she "knew"what she was doing. Racism and double standards from the Right again

— #SocialistSunday (@socialistsunday) June 7, 2021
She is being used to beat an 'uncaring' government and as a litmus test for the 'racist' masses. Bringing Shamima home would play into their hands. We need to hear less from Begum – for her sake as much as ours.
Think your friends would be interested? Share this story!
The statements, views and opinions expressed in this column are solely those of the author and do not necessarily represent those of RT.
You can share this story on social media: