By only suspending Marko Arnautovic for one game, the message European football has sent is: 'It's ok to be racist to Albanians'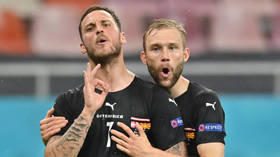 The Austrian forward hurled racial slurs at players of Albanian heritage during a match at Euro 2020 and has been banned for just one game. Would the punishment have been so minor if the players abused had been black?
There can hardly be a soul alive who isn't aware of taking the knee and its significance. While it was spurred on by a reaction to anti-black discrimination, it was a sign that equality isn't universal. It began several years ago with NFL star Colin Kaepernick and swept through the sporting world, even politicians and world leaders did it. Some still continue, even though many feel it's meaningless and controversy reigns over if it should be continued. Some even claim it is part of a Marxist political coup.
At the current European Football Championships, England were booed by a section of their own supporters for doing it, but the players have vowed to continue. France had been doing it, but didn't at their last match. Belgium took the knee before playing Russia, who didn't.
Also on rt.com
Ukraine edge past North Macedonia to earn first Euros win in nine years as more penalties missed
The gesture has been as debated as the sporting action, with the booing England fans chastised as racist by some in the media. But the worst case of actual racism at the tournament has been virtually ignored. It came courtesy of Marko Arnautovic, who plays for Austria but has Serbian roots.
After scoring against North Macedonia, he hurled slurs at two of his opponents; Gjanni Alioski and Egzon Bejtulai. The actual wording of his insult has had different translations, but essentially was a disobliging reference to the players' mothers and, more importantly, used the racist slang term for an Albanian, 'šiptarsku'.
In addition, Arnautovic flashed a gesture, which in some regions notably North America is a White Power sign. However in fairness, other parts of the world interpret it as a general insult a way to suggest someone is homosexual, or even just to mean "OK".
That doesn't deflect from the unacceptable conduct and use of racist language.
The Austrian captain, David Alaba, seemed to realise how bad the strikers 'celebration' was going and actually tried to put his hands over Arnautovic's mouth to shut the striker up. For Arnautovic's part, he denies using the slur saying: "I am not a racist. I have friends in almost every country and I stand for diversity. Everyone who knows me is aware of that."
Along with the footage where he can clearly be seen yelling something, further proof is that European football's governing body UEFA issued a one-match ban and is continuing to investigate the incident. And they don't do that for profane language or insults about players' mothers, both of which are commonplace on the field.
But the real scandal is the lack of media attention being paid to this incident.
Also on rt.com
'Out of this world': Delightful De Bruyne returns to down Denmark in emotional Euro 2020 meeting in Copenhagen
It has only received scant coverage in the mainstream media. Prior to the tournament a Czech player called a black opponent "a monkey" and rightly received the maximum punishment of 10 games, and there was still an outcry that even that wasn't harsh enough.
So why has another racial insult been given a far lesser sanction? It appears that because the cause of black players has become a cause celebre the authorities feel they have to prove they are in tune with the mood of the times.
But with no spotlight or social media campaign, they showed that equality isn't really a priority for them. It seems that the Albanian diaspora aren't high enough up the public victim food chain for UEFA to take stern action when their heritage is insulted.
The football and sporting community should also take a long, hard look in the mirror. So many wanted to shout from the rooftops about respecting black figures in sport and calling for bans for any fans caught chanting racist slurs.
Yet they have all disappeared when these two guys faced outright xenophobia on the pitch.
The only reason for the muted response to this depressing situation is that, plainly, it isn't fashionable to be Albanian. A parallel exists in Europe around the Roma and Gypsy communities, who regularly face overt racism but no high-profile voices fight for them.
If any player at Euro 2020 is caught using the n-word to describe a colleague, they would be hung, drawn and quartered. They would almost certainly be kicked out of the tournament. Sponsors would run for the hills, their club would dissociate for fear of losing commercial contracts and also to escape the stain of harbouring a racist.
For Arnautovic the opposite is happening, he's set to sign a contract to join Italian club Bologna. Would any team be doing the same if he'd called a black player the n-word?
The double standards are shocking. What example does it set for children? Don't abuse black people but you can make jibes at other races if you want.
Where are his teammates? Do none of them want to dissociate from a racist in their midst? And what about the Austrian government, are they simply pleased that it hasn't created a storm and hope to sweep it under the carpet?
Also on rt.com
'F*ck VAR!' Finland fans vent at disallowed goal, Russians rejoice after Euro 2020 meeting in St. Petersburg (VIDEO)
What matters with racism and discrimination is not following millions of others who are objecting. Anyone can be a follower. Actually combatting discrimination is about leading and taking a stand, not just a knee, even if they aren't popular or fashionable. Anyone who takes a knee is a hypocrite for not roasting Arnautovic publicly. Anyone who doesn't take a knee should be equally appalled.
Racism isn't just a black and white issue, it is far more pernicious and complicated than that.
Like this story? Share it with a friend!
The statements, views and opinions expressed in this column are solely those of the author and do not necessarily represent those of RT.
You can share this story on social media: