Sell these people a piece of blue sky: NFTs, virtual reality and the ruling class' latest con job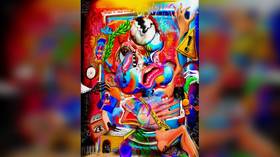 The rise of NFTs proves there's a sucker born every minute and herds of con men lining up to sell you the Brooklyn Bridge. But few can afford 'normal' art anymore – is fetishizing ownership really the next best thing?
The possibility of financial upward mobility is dead for all but the highest earning Americans in 2021, smothered by voracious private equity firms that have apparently tasked themselves with keeping young and poor people from being able to afford that starter home that's key to building equity. But capitalist vultures haven't given up, and their newest mission – enacted through market-making companies like auction houses Sotheby's and Christie's – involves selling people the idea of art, even if they have no room for actual art in the cramped spaces they call home and wouldn't be able to afford it if they did.
Also on rt.com
'I have nothing': Imprisoned software guru John McAfee says his crypto fortune is gone
Auction houses aren't just selling NFTs (non-fungible tokens) – digital works entered into the blockchain – for exorbitant prices. In some cases, they're netting prices higher than the 'real' artists in their stable. Sotheby's sold a heavily pixelated cartoon head for $11.8 million earlier this month, while rival auction house Christie's convinced someone to take home a busy digital collage for $69 million – not only a shock within the NFT sector, but the third largest sale by any living artist.
Some NFT cheerleaders insist that purchasing the assets is no different from holding on to a concert ticket or other pieces of memorabilia – that they're "experiences" buyers are eager to permanently own, even if, as is the case of NFT-ed memes and digital art, they have to share that 'experience' with an unlimited number of other people who didn't choose to pay for it. Others admit to rank speculation, acknowledging they're buying the token in the hope that it increases in value.
The images also generally remain available to the public, meaning that unlike the purchase of real art, NFT ownership doesn't even carry the bragging rights that come with owning something expensive and unique.
Sure, you could invite your friends into your NFT home to show off your purchases in a fictional universe where you aren't stepping over 10 roommates to get to your bedroom. Self-described artist Krista Kim recently sold some poor sucker a 'virtual house' for $500,000, presumably with plenty of wall space to display all the NFT 'art' they can buy. But the dubious lure of being able to hold meetings in a garishly-colored temple to turpitude can hardly be worth half a million dollars. Sotheby's and Christie's may be able to keep a straight face when describing the tokens as "a new flowering of human creativity," but don't expect your friends and family to be so impressed.
The rapid rise of NFTs seems directly tied to the fundamental uncertainty wrought by last year's total economic collapse. Millions lost their jobs and millions more felt the creep of planned obsolescence breathing down their necks as activities like schooling, making music, even having sex migrated online. Many haven't paid rent in months. Next to such chaos, the volatility of cyber assets like bitcoin seems suddenly tame – only that crypto's valuation is too high to get in on the ground floor. Enter NFTs – another blockchain-based asset that investors are convinced will increase in value as the world wakes up to its potential – whatever that is.
With NFTs, anyone can say they "own" a publicly available object (Jack Dorsey's first tweet, the Mona Lisa, etc), but paying millions of dollars for the 'privilege' of sharing what is often a cheesy or jokey digital object with the average internet user, who stumbles across the image, never knowing someone, somewhere, actually paid for it, seems to defeat the purpose of owning a fancy-looking, famous, or otherwise jealousy-inducing item. It's redolent of the old eBay scam where you think you're buying some hot new electronic item for a great bargain, only to realize upon receiving your package that the listing's fine print revealed only the box was for sale.
On the other end of the financial spectrum, the NFT phenomenon smacks of people with too much money trying to find a novel way to entertain themselves even as human innovative capability spirals downwards. Buying a limited edition pair of sneakers in digital form, so the buyer can never wear them, is only a step away from the practice of buying a limited edition pair of sneakers in real life, also with no plans to wear them. But reducing humanity to such humiliation (surely we can afford real sneakers?!) rubs humanity's faces in the ever-widening income gap with the suggestion there's an entire community of people with so much money they've run out of things to do with it.
Telling any NFT evangelist/addict their dream of cashing in on these "assets" is little more than hot air – literally, in the case of the Brooklyn man who sold his own farts for $85 on the blockchain – is unlikely to snap them out of it, as like most collectible obsessives, the more they buy, the more they depend on those purchases going up in value in order to justify the financial outlay in the first place. But then, even film director Alex Ramirez-Mallis – the man behind the fart sale – testified to the ridiculousness of the endeavor. And one can only speculate on whether the Pentagon is so hard-up for cash that it has to auction off NFTs to pay for Space Force, or whether it's just trying to make NFTs "cool" for another demographic.
Also on rt.com
'Tell me this isn't real': US Army strikes again with cringe horoscope social media ad
Of course, the NFT "market" is only picking up where conventional art left off. Artist (?) Salvatore Garau auctioned off his 'Io Sono' (Italian for 'I am') – an 'invisible sculpture' accompanied by nothing more than instructions to place it in a private home in an unobstructed five by five foot square – for $18,300. What the statue lacked in substance it made up for in artistic bloviation, as Garau waxed poetic about the statue channeling both religion ("don't we give shape to a God we have never seen?") and science (arguing the "nothing" making up his sculpture illustrated the Heisenberg uncertainty principle because "that 'nothing' has a weight").
The American Dream has finally come to an end, and the powers that be seem to realize the only way they're going to keep the population from rising up is to pacify them with meaningless tokens like NFTs (pun intended). The buyer may be reduced to renting a pod in a leaky tenement, but as we've been repeatedly told for the last 18 months, owning things does not have a place in humanity's future. In the immortal words of the World Economic Forum –"You'll own nothing, and you'll be happy."
Like this story? Share it with a friend!
The statements, views and opinions expressed in this column are solely those of the author and do not necessarily represent those of RT.
You can share this story on social media: