Why Beijing loves portraying India as a mere pawn in America's Cold War with China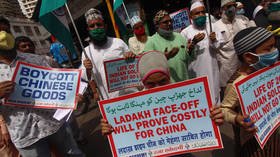 Beijing is keen to depict India as a White House lackey in the US' ongoing anti-China campaign. By accusing America of instigating disputes between the two, it denies India any agency and lets China portray itself as blameless.
Love is in the air
Love seems to be in the air in Indo-US relations. The two nations now seem to be closer than ever before – geopolitically as well as militarily. Ever since the West started to consider India a 'rising power' in the early 2000s, the political elite and media there have loved being praised by the Americans.
For the US, India serves the key purpose of hedging against China. Yet, its usefulness to the American agenda is often weighed down by its own liabilities – over-promising and under-performing, in everything ranging from manufacturing to innovation. The US sees India as little more than a market for weapons and consumer goods and a key ally in its geopolitical crusade against China, showing it off as a trophy wife at every opportunity.
Yet, India remains reluctant, not willing to fully commit yet. This is in large part due to its inertia and legacy of being a traditionally non-aligned nation, because much of India's current political elite is unashamedly pro-West.
Also on rt.com
Chinese media releases dramatic footage of last year's deadly border clash with India (VIDEOS)
Outside the glare of the media, diplomacy has proceeded at pace. The much vaunted '2+2 Ministerial Dialogue' between India and the US took place in New Delhi in October last year. The two nations signed the Basic Exchange and Cooperation Agreement for Geo-Spatial cooperation (BECA) – the last foundational agreement of the 2+2 dialogue.
This was the latest in a series of agreements signed over the past few years: The General Security of Military Information Agreement (GSOMIA) signed in 2002 (with its extension the Industrial Security Annex (ISA) agreed in 2019), the Logistics Exchange Memorandum of Agreement (LEMOA) signed in 2016, and the Communications Compatibility and Security Agreement (COMCASA) in 2018.
The alphabet soup is indicative of a broader strategic context: the Indian and US militaries are now closer than ever before. For India, the advantages go beyond China. The agreements will enable information sharing between the US and India on an unprecedented scale, including satellite imagery and geo-spatial data in border areas. This will help with surveillance and reconnaissance on its disputed borders, which India has no shortage of, with China, Pakistan, and Nepal. (Its decades-old dispute with Bangladesh only got resolved in 2015, 41 years after negotiations began).
Also on rt.com
India's army chief calls China & Pakistan a 'potent threat', but hopes for 'peaceful solution' of border dispute with Beijing
The enemy of my enemy?
China is miffed by all this. The way Beijing sees it, India is just another US stooge, co-opted by the Americans in their anti-China campaign. The US is using India against China as a mere mercenary to prevent its rise – and India is simply too stupid to realize it. "New Delhi should avoid being roped into a geopolitical trap," roared Chinese tabloid Global Times in a hawkish article. "India should not be instigated by the US," it brayed in another.
Since the ongoing India-China border standoff began in early 2020, China's state media have been consistently pushing this narrative. While one would have expected the jingoistic Global Times to peddle this line, even the more restrained publications are also pushing it. There seems to be a concerted effort to portray India as a mere US agent against China, or at least warning India against becoming one.
This is hardly surprising. Depicting your enemy as being directed by a third party against you is a common geopolitical trope. It's similar to how India often accuses Nepal of being used by China.
The way China sees it, if there is a dispute between it and India, it is either India's fault or the result of American provocation. China, obviously, can never be to blame.
Two factors help explain this trope's attraction. The first is that it diverts attention away from your own share of the guilt. Secondly, it helps take away agency from your enemy and portrays it as acting on behalf of someone else.
Also on rt.com
India is now copying China's model of 'cyber sovereignty' – and the West is slowly following suit
Infrastructure for me, but not for thee
Beijing has repeatedly indicated, via its think tanks and state media and recently via official statements, that infrastructure building and military deployment are the "root cause" of the current tensions. Yet, China has itself built numerous roads and military installations on its side of the border. After spending decades saturating its border defenses with useful roads and infrastructure, China now seeks to deny India the opportunity to do the same on its side. No wonder it has been pushing India for a mutual freeze on border infrastructure development for years, a proposal that India has sensibly rejected.
China also refuses to officially exchange maps and demarcate the Line of Actual Control or the LAC in Ladakh (the site of the current standoff). The mere act of LAC demarcation – in essence a temporary border like the LOC (Line Of Control) that India shares with Pakistan – would not prejudice either country's territorial claims. After all, both India and Pakistan claim territories beyond their side of the LOC.
Demarcating a temporary border will ensure that China would not be able to bring up old claims, such as the Galwan valley, which India says it hadn't mentioned in bilateral discussions since the 1950s. It will mean that patrols don't cross over each other, and each side sticks to its side of the line (the current murderous standoff was caused by the clashing of the two sides' patrols). In other words, it will ensure that standoffs like the current one do not take place at all.
China has offered no concrete explanation for the refusal. But Indian analysts speculate that Beijing wants to keep the dispute alive so that it can keep 'nibbling' territory (something China also accuses India of doing). According to former Indian Foreign Secretary Vijay Gokhale, the only rational explanation is that "the nibbling is the other way around. It is the Chinese who are nibbling away, it is we who say 'Let's stop this by clarifying the LAC,' and the Chinese don't want that to happen, because they want to keep on nibbling away."
Another likely reason for China's portrayal of India as a pawn revolves around taking away agency from India and avoiding its legitimate grievances. Depicting India as a US pawn allows Beijing to portray its activities not as reactions to China's actions, but simply as part of a wider plot against it. India can then be painted as an irrational actor going against its own interests – solely at the behest of the US. Consequently, China itself can then be depicted as blameless in the entire affair.
This also has the added advantage of exaggerating one's own importance: that India is simply arrow fodder for the US in the 21stcentury Great Game between the two powers.
This denial of agency to India is unwittingly encouraged by Western and Indian pundits too. The standard rhetoric has been that 'Beijing's belligerence has driven India into Washington's arms', as if India decides strategic alliances overnight based on an incident at the border. Both Chinese and Indian pundits interpret India's actions – or lack thereof – for their own agenda.
None of this means that the US is a saint. It is a war-mongering, savage regime, having killed millions upon millions of innocent victims globally since World War II in every corner of the planet – the most aggressive, trigger-happy, barbaric military state in the world today. It also doesn't mean that India's own share of the blame in letting the border dispute fester for over 75 years should be ignored.
Also on rt.com
China announces disengagement with Indian forces along disputed border
Yet, perspective matters. By thinking that Indo-US relations are solely tied to India-China relations, China exaggerates and over-estimates its own importance. Indo-US ties were already on an upward trajectory before the Galwan valley clash. It's not that the Indian government suddenly woke up on the night of the clash and decided to jump into US arms.
Its tilt toward the US will ensure that China keeps looking over its shoulder. There's a difference, though, between signing military agreements with the US for one's own national interest and taking its side on everything. At a strategic level, India's interests would be best served by playing the two powers against each other and taking advantage of their rivalry for its own gain, rather than openly picking one side and shutting off all options with the other.
The arc of Indo-US relations bends toward closer ties, but it's unlikely to end in an anti-China military alliance. There's little possibility that India will become a full-fledged treaty ally with US bases on its soil, or transform into a permanent US aircraft carrier like Japan or Australia. For now, that will have to remain America's dream – and China's nightmare. All the more reason for India to keep both guessing.
If you like this story, share it with a friend!
The statements, views and opinions expressed in this column are solely those of the author and do not necessarily represent those of RT.
You can share this story on social media: