The G7's Build Back Better spending plan to rival China's Belt and Road Initiative is a glorified PR stunt that's destined to fail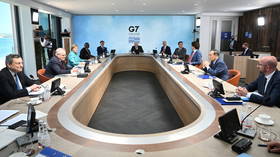 At first glance, the West's proposal for a global infrastructure investment programme similar to China's looks impressive. But its intention to use private finance makes it impossible to take seriously.
As might have been expected, the weekend's G7 summit saw a particularly strong focus on China. Among the pledges was an apparent bid to counter Beijing's Belt and Road Initiative (BRI) – a massive transcontinental infrastructure and investment portfolio – with an 'alternative' proposed by the West.
Titled 'Build Back Better' the plan saw the G7 leaders pledge to help fulfil the infrastructure needs of the developing world under the auspices of containing China, and proposing to do with private sector money.
Beijing was quick to hit back at the meeting's increasingly anti-China tone by making the point that a small bloc of nations does not dictate global policy.
Also on rt.com
China's Belt and Road could bring true diversity and beat back cultural imperialism
In reality, the G7's so-called 'alternative' isn't really an alternative at all – it's better described as a glorified PR stunt that fails to appreciate the structural factors that have underscored the success and appeal of the BRI in the first place. What is being proposed ultimately comes nowhere near it.
First of all, it's important to examine what the BRI is, and why it's so important. Beijing's project has been the subject of many misconceptions and misportrayals in the mainstream media, where it's misleadingly been referred to as a "debt trap". This is a flawed discourse that considers it purely on expansionist terms, claiming Beijing deliberately saddles poorer countries with debt with a view to gaining geopolitical leverage.
In reality, the BRI is a project that stems from China's thinking since the Mao era of a 'global south', underscoring ties with such countries as a form of 'solidarity'.
From the 1960s onwards, Mao's 'Three Worlds' theory sought to navigate the conflict between the US and Soviet Union by pitching China as the leader of the non-aligned 'post-colonial world' – a set of nations across Africa, the Middle East, Asia and Latin America that had recently gained independence and sought to sustain their own sovereignty in the face of the Cold War.
Also on rt.com
China's Belt and Road is the way for Europe and Asia to cut colonial Western ties and prosper
This laid the foundations of China's relationships with these countries, and with it came a set of principles and norms, including territorial integrity, national sovereignty and non-intervention in internal affairs.
The BRI is consequently being marketed by China as a form of 'development solidarity' with the global south. Using its own vision of economic globalization, the initiative seeks to integrate countries across multiple continents through massive infrastructure investments in an attempt to develop a common development path, as well as serve China's own strategic needs.
Its popularity stems from fact that China does not attach 'political strings' to the investments, allowing nations to get ahead without making concessions to Western governments and institutions who have used development finance in the past to enforce vast political and economic changes.
In doing so, it has been able to leverage the BRI as a hierarchical project, by coordinating multiple state companies and banks without bureaucratic frills. This has given it devastating efficacy with little liability for coordinating governments, even if the West argues this has been problematic in terms of 'regulation'.
On that note, it should be self-explanatory why the West will be unable to offer a serious alternative to it. First, the G7 countries want to use private finance, but have not pledged a penny upfront themselves, because the key motivation behind private investments is the potential to make a profit. Who is going to invest billions in high-risk projects in poor countries – in the way the BRI has – such as the Democratic Republic of the Congo, or Pakistan? Or even enemy states like Iran?
Also on rt.com
Is America hoping its withdrawal from Afghanistan makes that war-ravaged country China's problem now?
This does not mean the West is capable of nothing. Japan, for one, has a credible private infrastructure portfolio that could be used to agree railway contracts. But can be it done in the same fast, effective and politically visionary way that China has demonstrated?
The China-Pakistan Economic Corridor, for example, is a grand scheme to radically revise Pakistan's economy altogether, despite obvious risks. While the West might push to finance some ad hoc projects here and there, it simply lacks the will – and the capacity – to create a superproject on the scale of the BRI. Plus, would the West be so willing to compromise on 'values' and 'standards' to get things done?
One notable aspect of the White House briefing of the proposal is that it acknowledges there is not even a coordinated regional focus or organization between the involved powers. This cannot compete on any level with a single state utilizing its political system to readily coordinate all resources so easily towards specific goals.
And so, the conclusion, at this stage, is obvious: the Build Back Better Initiative is promising a lot but hasn't presented any feasible way of delivering on its aims. The project is not taking seriously the implications and challenges of building infrastructure across the developing world, and seems simply to be another way to oppose China.
The BRI is not some malicious quest for global domination, but rather the extension of China's longstanding relationships with the developing world. This, combined with the machinery of the Chinese state, means what is being proposed is never going to be an 'alternative' in any conventional understanding of the term.
If you like this story, share it with a friend!
The statements, views and opinions expressed in this column are solely those of the author and do not necessarily represent those of RT.
You can share this story on social media: