Why does Joe Biden feel the need to tell people in other countries what to do, even when he can't get Americans to obey him?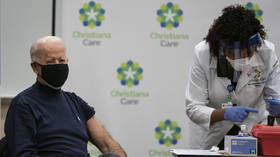 Joe Biden followed a time-honoured presidential tradition of meddling in another country's affairs by urging UK teens to get vaccinated. His 'advice' is galling, not least because the US is likely to miss its own vaccine targets.
Joe Biden was supposed to be a new broom for America after the chaotic reign of Donald Trump. He hinted he would provide a break from US presidents of the recent past, with their penchant for ordering invasions abroad, talking down to other countries, and deploying missile-laden drones to foreign lands.
Not long after taking up residence in the White House, Biden said, "I'm announcing additional steps to course-correct our foreign policy and better unite our democratic values with our diplomatic leadership."
That seemed to suggest he would cease the tradition of ordering countries to dance to Washington's tune.
However, the promise was clearly an empty one, as was seen earlier this week when Biden followed Trump's playbook by firing off an insensitive tweet: "Folks, the Delta variant — a highly infectious COVID-19 strain — is spreading rapidly among young people between 12 and 20 years old in the U.K. If you're young and haven't gotten your shot yet, it really is time. It's the best way to protect yourself and those you love."
Folks, the Delta variant — a highly infectious COVID-19 strain — is spreading rapidly among young people between 12 and 20 years old in the U.K. If you're young and haven't gotten your shot yet, it really is time. It's the best way to protect yourself and those you love.

— President Biden (@POTUS) June 8, 2021
Folks? Is that how he refers to another nation's sovereign people? Should we expect Boris Johnson to open his next speech in America with "Howdy partners?"
That aside, the arrogance of Biden's tweet is brazen. Frankly, it's none of his business what's going on in Britain.
Boris and his government have made a complete mess of the response to the pandemic, but the one saving grace is that they have rolled out the vaccine programme as well as anyone.
A hi-tech nation like Japan is scrambling around with only four percent of their population vaccinated, whereas 75 percent of Brits have received at least one dose, and more than 28 million have had both.
Then there is Biden's vow to have reached 70 percent of people vaccinated across the US by July 4, Independence Day. The rate of doses administered has slowed significantly, meaning it's likely the target will be missed. Chief Medical Advisor Anthony Fauci has said: "I believe we can, and I hope we will. And if we don't, we're going to continue to keep pushing."
That's a typically diplomatic answer and of course, a lot of misinformation is being spread to cause people to doubt the safety of the internationally approved vaccines. But that doesn't change the facts; Biden hasn't got his own house in order, so why is he handing out diktats to Brits?
We're all aware of the Delta variant, and BoJo's government has been quick to introduce its own policies to deal with it, such as adding certain countries to the red list, so travellers must quarantine on arrival.
Also on rt.com
UK travel ban over new strain of Covid-19 is the start of vindictive EU's Brexit backlash against Britain
But again, that is immaterial, as it simply isn't Biden's role to be handing out medical advice to the UK.
It's just another example of the inherent arrogance of American leaders, who have no shame about jumping into matters unasked.
Barack Obama stuck his oar in on Brexit. Donald Trump had his say on pretty much everything. They continually fail to recognise that their interjections only cause most people to recoil. In this case, the lecturing of an elderly US president is unlikely to convince a single person to get the jab. Indeed, with some it's not hard to imagine it may have the opposite effect.
America's understanding of its place in the hearts and minds of the global population has continually been misplaced, and Biden is making the same mistakes. Even worse, social media means the public receive his words unfiltered, making it even more important that he uses it carefully.
And one other thing worth considering was the timing of the tweet. It was sent shortly before Biden made his first trip abroad as commander-in-chief, with his destination being England for the G7 summit.
Was this an unsubtle attempt to remind everyone that even though Britain and Boris Johnson are the hosts, he is the Big Dog?
BoJo should pull the 46th president aside and tell him to wind his neck in and stop pontificating. We don't need America's leaders telling us what to think and do. Britain is a small but relatively prominent nation, so if Biden feels he has legitimacy to tell our people how to behave, it's a safe bet that other countries will get the same treatment. So, let's hope the other G7 leaders give his collar a tug, because another nation-building zealot is the last thing anyone needs.
Joe, you're the president of the United States of America. Nowhere else. It would be worth remembering that.
Think your friends would be interested? Share this story!
The statements, views and opinions expressed in this column are solely those of the author and do not necessarily represent those of RT.
You can share this story on social media: