UK travel ban over new strain of Covid-19 is the start of vindictive EU's Brexit backlash against Britain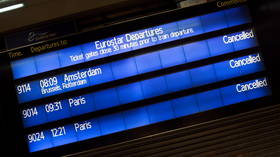 Shocked Brits are panicked as the country has become a pariah state, sealed off from Europe, because of a new strain of Covid. It feels like political point-scoring by nations still unhappy about the UK's decision to quit the EU.
In a crisis, you discover who your real friends are. And Britain knows for sure that it has 27 fewer mates than it used to – as the countries of the European Union have stabbed it in the back.
The nation that once had an empire on which the sun never set is gripped by panic. With a Brexit deal still not finalised, and tensions running high, the apparently rapid spread of a new strain of coronavirus has caused chaos.
The sorry tale began with Belgium and the Netherlands banning British flights. France then joined in, closing its border with the UK for 48 hours from Sunday night, meaning no lorries could travel across the Channel. Ferry and rail travel was halted for anything other than unaccompanied freight.
Norway (which is not in the EU) and Ireland suspended all flights until December 31, while Bulgaria extended that until the end of January.
Even the land of the mercenary, Switzerland – another that is not in the EU, but is generally happy to do anything for a quick buck – cut off the UK.
The port of Dover in Kent is the cork in the bottle. Operation Stack is underway there on the M20 motorway, as thousands of lorries are now lined up, essentially turning it into a giant parking area. The nearby Manston Airport is being readied to take up to 4,000 lorries to ease congestion. Hauliers are being advised to go home and await news. But for all those drivers not from the UK, that isn't an option. They face a grim time living permanently in their cabs.
There's still ample food on the shelves across the country, but that won't be the case indefinitely. A spokesman for supermarket chain Sainsbury's said: "If nothing changes, we will start to see gaps over the coming days on lettuce, some salad leaves, cauliflowers, broccoli and citrus fruit – all of which are imported from the continent at this time of year." While we can all get by without lemons, it won't be long before staple goods are under threat.
The flow is blocked in only one direction but Andrew Opie, director of food and sustainability at the British Retail Consortium, explained, "While goods can enter from France, few haulage firms will be willing to send trucks and drivers across to the UK without a guarantee they can return to the EU in a timely manner."
There's also the UK's financial prosperity to consider. The travel ban and blockade and their implications saw the value of the pound drop relative to the dollar and euro, while the FTSE 100 fell three percent. The stocks of British Airways' owner IAG fell nine percent and Rolls-Royce slumped by 12 percent.
The financial markets have been buffeted by a double whammy of Brexit and the EU pulling up the drawbridge. Some Remainers are standing tall in their ivory towers, shrugging their shoulders as if to say: "What did we expect to happen?"
There is merit in that standpoint, but not in this instance. The pandemic is a 'learn-on-the-job' process for governments. This new strain isn't a byproduct of shady scientists in England messing about in a bio-lab. And we're not back in Wuhan; the UK authorities haven't tried to sweep the new strain of Covid-19 under the carpet. So, a degree of understanding from nations who are supposed to be friends would have been welcome.
Also on rt.com
UK's new Covid-19 variant could be causing 'up to 60% of coronavirus infections in Wales' – Deputy CMO
For all their many blunders in dealing with the pandemic, the UK's leaders acted quickly to shut down a whole swath of the country by placing it into a newly created Tier 4 on Saturday at midnight.
That included London, the most influential and powerful city in Western Europe. Paris, Frankfurt and Zurich can all lay claim to be vital financial centres, but London is where the real action happens – so Prime Minister Boris Johnson knew it would be painful to shut it down completely.
That also explains the reaction of the EU and its cronies. It's part jealousy and part bitterness.
And the harsh and unforgiving nature of their actions smack of administering a lesson to the 'ungrateful' Brits.
'You don't want to be in our club anymore? Well, sort out this mess on your own, you're no longer one of us'. They are sacrificing basic humanity for the image of the almighty EU.
It's also serving as a warning to other countries, namely Italy and Finland, where anti-EU campaigns are underway: if you step out of line, then you will be similarly vanquished.
It's a horrible state of affairs and allows the likes of Nigel Farage to claim they were right about the bullying EU all along.
Less than a year ago, French President Emmanuel Macron issued a gushing public letter to the British people talking about "mutual respect" and "powerful ties between our two countries," but he couldn't wait to cut us down to size with glee, via the blockade and travel ban. The goodwill was flushed down the toilet as soon as his letter was published.
Like so many in the EU, he seems to relish indulging in petty point-scoring. It is an organisation that places the idea of unity on a pedestal, but only in relation to itself – not the wider world.
Instead of waiting to find out more detail about this apparent new strain of Covid-19 and taking a considered decision on what the correct course of action should be, our former EU colleagues have slammed the door on Britain in an instant. It feels like they couldn't wait to do so, and the consequences will be dramatic.
Rod McKenzie, policy director at the Road Haulage Association, said: "It's only 48 hours, but the French ban will have a devastating effect on the supply chain."
Even if this blockade is eventually lifted, the countries of the EU are being outed as wolves in sheep's clothing. They are exacting revenge for Britain daring to push Brexit negotiations to the wire and attempting to squeeze out the best deal possible.
British people are disgracefully being held hostage simply to make a political point, and this is only the start – it's bound to happen again. The battle lines have been drawn, and we've all been warned. The gloves are off...
Think your friends would be interested? Share this story!
The statements, views and opinions expressed in this column are solely those of the author and do not necessarily represent those of RT.
You can share this story on social media: