The desperation of Greece & Hungary to deter illegal migrants perfectly shows the failings of EU border force Frontex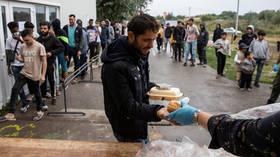 With Frontex not operating in Hungary, and Greece asking Turkey to take back migrants, a core weakness of the border force has been revealed: political dilution of its mission is distancing it from countries that need its support.
On Monday, the European Court of Auditors (ECA) released a well-publicized report on the activities of Frontex, the EU's border agency, claiming that it has been deficient in fulfilling its mandate of dealing with the migration problem affecting the continent. Chief auditor Leo Brincat stated, "[Frontex staff] have increased their mandate without really analyzing their performance or the impact of their work."
Less widely reported was that the release of the ECA findings coincided with an important, official Greek statement suggesting a way to improve the operational effectiveness of European border agencies, including Frontex: by enforcing the obligation for asylum seekers to apply for asylum in the first safe country of entry they reach after fleeing their homeland.
In the case of many migrants reaching Greece from the Middle East, that country is not Greece, but Turkey. In a joint release classifying Turkey as a safe country for migrants seeking asylum, Greece's foreign and migration ministries stated that in Turkey, a Muslim-majority country, migrants to Europe – many of whom are Muslim – "are not in any danger...due to their race, religion, citizenship, political beliefs or membership in some particular social group."
Athens is referencing the main directive governing EU asylum procedures, which lays out explicitly that Member States may refuse asylum applications when a non-EU country "is considered as a first country of asylum for the applicant" or "a safe third country for the applicant," where the applicant is free from persecution and where the applicant has "a connection…on the basis of which it would be reasonable for that person to go to that country."
Also on rt.com
The migrants keep coming as EU border agency is ROASTED by auditor… but don't worry, its staff of thousands & €1bn budget are safe
Turkey presumably meets these criteria, especially for Muslim migrants who have been there before crossing into the EU – and, with similar justification, Jordan and the Arab countries of the Gulf region would qualify, as Muslim-majority countries with sizable economies.
As Greece has tightened its strictures on migration due to geographic proximity and sheer bitter experience of being on the frontline, Hungary – long a magnetic pole of nationalist-federalist disputes within the EU – has been implementing broadly the same policies out of a consistent distinction drawn between illegal and legal migration.
Back in 2015, when hundreds of thousands of Muslim migrants were entering Germany after having transited one or more European countries where they ought to have lodged their asylum claims, Hungarian Secretary of State for International Communication and Relations Zoltán Kovács said, "This is mass migration on an unprecedented level of which only a small segment, according to statistics and our experience on the ground, is a refugee crisis."
According to the UN's Convention and Protocol Relating to the Status of Refugees of 1967, which theoretically forms the basis for determining who can legally apply for asylum, a refugee is defined as anyone who, "owing to well-founded fear of being persecuted for reasons of race, religion, nationality, membership of a particular social group or political opinion," is outside his or her country of origin and cannot reasonably expect decent treatment there. These criteria do not include the use of violent upheaval as a pretext to seek economic opportunity elsewhere, nor do they include hopping from one safe European country to the next, more in pursuit of enhanced economic opportunity rather than an immediate end to supposed persecution.
As Kovács confirmed at the time, the illegal migrants Budapest sent out of the country were part of this category of economic migrants rather than genuine refugees, having already transited one or more safe countries – including Greece, Serbia, and Macedonia – on their way to Hungary, which likely would have been a stopover on their way to Germany.
Also on rt.com
Migrants will keep coming from Libya to Europe in huge numbers unless the EU rethinks its misguided foreign policy
Budapest's decision to deport thousands of these migrants – termed "pushbacks" by those opposed to the measure – has also met with rebuke from the EU's Court of Justice. A warped ruling in December 2020 declared Hungary's rejection of illegal migration at the Serbian border illegal, and the decision led Frontex to suspend its operations in Hungary – and hence its funding for Hungarian border control – in January 2021.
The irony of an EU border agency flush with cash punishing a country for doing its own part to uphold that agency's mission of border protection was not lost on Prime Minister Viktor Orban's government. Where European Commissioner Ylva Johansson praised Frontex's politicized decision due to Hungary allegedly "not complying with [migrants'] fundamental rights and EU law," Secretary Kovács referenced the fact that the EU fundamental rights needing protection are rights enjoyed by legal EU residents, which are threatened by illegal migration: "We'll continue to defend the Hungarian people, and the country's — and EU's – borders."
The suspension of Frontex activity in Hungary has put the agency in a quagmire of contradictions, as its official distancing from Hungarian deportation operations stands awkwardly next to accusations that it tacitly allowed such operations when present there, while carrying out "pushbacks" of its own in the Aegean Sea near Greece.
Even the ECA's Brincat has affirmed, albeit obliquely, this disconnect between Frontex and national priorities, remarking in his recent press conference that "member states feel that, not only are they not being given sufficient backup by Frontex, but that Frontex is draining their resources."
But Frontex is draining resources – unable to carry out its mission decisively as some EU Member States are attempting to do, nor to offer firm flanking for these border control measures at the national level – because the 2019 regulation serving as its updated charter is a mess of vague compromise statements.
Also on rt.com
Spain's go-it-alone strategy in migrants' dispute with Morocco shows why EU's armed frontier force faces struggle for credibility
One clause in particular states that "the extended tasks and competence of the Agency should be balanced with strengthened fundamental rights safeguards and increased accountability and liability, in particular in terms of the exercise of executive powers by the statutory staff." It is emblematic of the false dichotomy between robust border protection and fundamental-rights protection that the document posits, when in reality these two components can and should reinforce each other.
Deterring illegal migration as Hungary and Greece have done does not damage the fundamental rights of the EU – instead, this measure arguably defends such rights, by protecting European asylum systems from abuse by those not meriting asylum, so that full attention can be paid to those migrants who may genuinely merit it.
The situation is acute. Citing Covid concerns, Turkish authorities have already refused Greece's demand to take back more than a thousand failed asylum seekers who originally came through Turkey. This does not, however, make the Hungarian and Greek responses on the ground any less correct. Nor should it take attention away from the potential for Frontex to be a genuinely helpful agency – if it is deployed correctly as a true ally of frontline member states.
The agency ought to assist EU Member States' attempts to implement EU migration policies consistently. But it cannot so long as its mission is diluted by politicized falsehoods on fundamental rights and "pushbacks." If Frontex continues the precedent set with Hungary, where it eventually refuses support for a country because of that country's orthodox enforcement of EU migration controls, it will stifle discussion on rigorous asylum procedures and an honest listing of safe non-EU countries of asylum – two areas of clarity which are essential for a cohesive EU migration policy.
Like this story? Share it with a friend!
The statements, views and opinions expressed in this column are solely those of the author and do not necessarily represent those of RT.
You can share this story on social media: