China rails against 'provocation' as American senators fly into Taiwan on a military plane & promise to donate 750,000 vaccines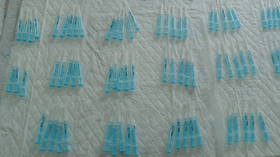 The visit "may trigger an escalation of tensions" with Taipei and Washington, Beijing warns, after the senators, two Democrats and one Republican, met with the island's president, handing her a vital political boost.
On Sunday, three US senators briefly visited Taiwan in a military aircraft in a move which angered China. Although they did not leave the airport and stayed just three hours, they met with President Tsai Ing-wen and carried the announcement that Washington would donate 750,000 Covid vaccines to the island.
It comes at a crucial movement for Taiwan, as it battles a bad outbreak of Covid-19, something it had largely avoided for the past year. This has taken its toll on support for Tsai, with her popularity plummeting to below 50% for the first time since her re-election last year.
Beijing responded to the situation by branding it provocative and "salami-slicing" towards independence, accusing Washington of undermining regional stability. "The Taiwan authorities know that they are taking a risk and may trigger an escalation of tensions in the Taiwan Straits," warned the Global Times, a newspaper owned by the Chinese Communist Party.
The move by the United States pushes against China's red lines on Taiwan, but it ultimately may only be a gesture, albeit one of significance amid a war of words between Taipei and Beijing in which both sides have accused the other of politicizing the pandemic for their own gain.
After a year of making jibes against China and presenting itself as a 'model' for pandemic management, the island is now on the defensive and its political fortunes are wavering, leaving Taiwan on the defensive.
The timing of Washington's support in turn is not a game changer, but is ultimately designed to give the island the political space to avoid capitulating to Chinese vaccine support, which was offered in far greater numbers, but would come at a political price of humiliation for Tsai.
At the heart of the Taiwan issue lies an unresolved dispute and conflict of identity surrounding the island's destiny. Following the aftermath of the Civil War in 1949, the island housed the rump state of the former Republic of China, whose name it still bears, but more than 70 years of separation has refined its political identity and led many to perceive it as an independent country.
In contrast, Beijing sees the island as a renegade province that has been broken from China through the influence of Western powers, and its reunification from the mainland is perceived as inevitable one day, part of the "great rejuvenation of the Chinese nation" in undoing historical injustices.
America's growing confrontation with China has inevitably placed the Taiwan issue as one of the biggest flashpoints in the world. This has emboldened the ruling Democratic Progressive Party (DPP), which favours formal independence in contrast to the more traditionally pro-China KMT.
From 2019 onwards, the crisis in Hong Kong, the pandemic, and a tidal wave of anti-China sentiment espoused by Western media and politicians, practically rendered President Tsai invincible, allowing her to storm to re-election in early 2020. This was buffered by the fact Taiwan had initial success in keeping out Covid-19 and used this to attack Beijing and present itself as a model to the world under the mantra of "Taiwan can help."
Beijing was for a long time rattled by this and, as the Trump administration subsequently upped support for Taipei, including increased visits, lifting diplomatic restrictions, and more arms sales, responded with an ever-increasing series of air incursions in an attempt to stop the bar from shifting further.
However, as the saying goes, a week is a long time in politics. By last month, Taiwan's political fortunes began to waver as the island suddenly experienced a spike in Covid infections, which was exacerbated by poor contact tracing, testing, and organization, catching them off guard.
For the first time in her second term, Tsai faces a political problem that cannot be solved by blaming China. She has nonetheless sought to scapegoat them for the failure to procure enough vaccines, accusing Beijing of interfering with a BioNTech deal, but this hasn't stopped the leak in her support.
The mainland media returned fire by accusing Tsai of putting politics before people's lives by refusing to buy Chinese vaccines. Seemingly cornered, the US and Japan have responded by donating their own supplies for the island's 23 million people. The move might be symbolic, but from the point of view of the Biden administration, the symbolism is significant. It illustrates continuing support for the island and is effectively bailing Tsai out from a political pitfall.
Beijing is not happy, especially with the senators visiting on a US Air Force C-17 Globemaster transport plane, yet it is probably more confident time is on its side. It is significant that since the virus crisis on the island began, China has stopped or at least dialled down its air incursions, recognizing that doing so might allow Tsai again to rally public opinion behind her.
This could tone down or delay any response, but the Global Times has nonetheless branded this visit "the most serious provocation that the White House has made to the Chinese mainland over [the] Taiwan question since US President Joe Biden took office."
So what will happen next? As long as domestic political circumstances are turning against Tsai, Beijing is likely to strategically bide its time and hit back at a calculated moment as opposed to impulsively lashing out. The old logic of "never interrupt your enemy when she is making a mistake" probably applies here.
The statements, views and opinions expressed in this column are solely those of the author and do not necessarily represent those of RT.
You can share this story on social media: