That Trump is struggling to find a new platform shows how strong Big Tech's monopoly is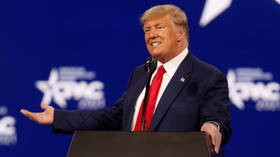 Like me, you may have no love for Donald Trump and think Silicon Valley was right to give him the boot, but the fact that a former president, a genius self-publicist, cannot even get a blog off the ground is a little odd.
Donald Trump's spokesperson announced on Wednesday that the former president's blog – a space where he shared statements after being banned from the major social media platforms – was to be permanently shut down, presumably because it failed bigly to gain traction. Trump's team has hinted that he may join another platform willing to host him, or develop his own network, but those will likely not have anything like the reach of his infamous Twitter account.
Trump is not the most tech-savvy person in the world, and has surrounded himself with a host of unremarkable people, so one might be tempted to say that it should come as no surprise that he was an unsuccessful blogger. But he's a former president, he has a huge following and, if nothing else, is great at selling himself, so the fact he couldn't get this off the ground in any meaningful way is strange.
Also on rt.com
Facebook to stop exempting politicians from censorship, building on Trump ban – reports
Now, just to clarify, I am absolutely in favor of the way Trump was censored by some media outlets, and even advocated for social media de-platforming him in April 2020, at the height of his disinformation tirade about the pandemic.Trump's statements during his Covid-19 press conferences verifiably led to people dying or, at best, ending up in the hospital, and clearly the 'big lie' about election fraud he boosted on Twitter incited the riot at the US Capitol on January 6. Media outlets, whether they be traditional media or social media, have a duty not to promote disinformation that leads to citizens being harmed.
That said, the fact that the former president has been so thoroughly censored, having been de-platformed from social media, should serve as proof, whether you agree with Trump or not, that social media has become too powerful and we're poised on a slippery slope. This is not partisan framing that there's some liberal conspiracy to silence conservatives (after all, leftists are always censored more), but rather that the literal entry cost to create a social media following outside of the major platforms is pretty much insurmountable because of Big Tech's monopoly.
Might this therefore be the time to seriously consider reining it in? I think so, and I've made this case before. Taking on Big Tech would actually help bring the country together. First of all, America's growing inequality – accentuated by Big Tech's consolidation of corporate power – is undoubtedly the main destabilizing force in society. Second, Big Tech is profiting from creating echo chambers that further this destabilization. Since pretty much everyone intuitively understands this is the case, it could well be a unifying issue in a time of otherwise bitter polarization.
According to a September 2020 poll by Data for Progress, 65% of American voters think the economic power held by Big Tech is a problem for the economy, while 70% think it wields too much political power. And that's despite those same Americans widely using these platforms, with their powerful opinion-forming, information-filtering and lobbying capabilities.
Few issues in the US engender so much agreement, which shows why it's crucial not to fall into partisan traps when dealing with what is a genuinely bipartisan issue of global importance. Contrary to some conventional beliefs, the US is objectively the world's leader when it comes to disinformation, and American social media platforms are fueling polarization and destabilization around the world.
Also on rt.com
Facebook Oversight Board upholds Trump ban, but says it was 'inappropriate' for site to make suspension indefinite
It's also key to remember that both of the major US political parties have allowed this problem to fester. American technology, throughout its entire history, has run parallel with the federal government, including the military and intelligence agencies such as the CIA. Every administration, including even Trump's and now Biden's, have gone into battle to protect Big Tech's interests in some way or another. So, we're talking about a systemic issue that has nothing to do with a personality bias for or against any particular politician.
Whether it's how successfully Trump has been censored, or how widespread the Wuhan Covid-19 'lab leak' conspiracy theory is becoming in the US with social media's blessing, Big Tech is extraordinarily powerful in shaping both public opinion and the general political consciousness. The federal government needs to step in before it's too late – because even though Trump deserved the boot, now it's Big Tech that needs a timely kick in the pants.
Think your friends would be interested? Share this story!
The statements, views and opinions expressed in this column are solely those of the author and do not necessarily represent those of RT.
You can share this story on social media: