The migrants keep coming as EU border agency is ROASTED by auditor… but don't worry, its staff of thousands & €1bn budget are safe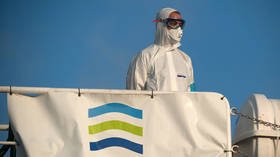 An EU auditor's report should sound the death knell for Frontex after finding its shortcomings 'especially worrying'. But with 10,000 staff and a rapidly rising budget, there's no turning back – no matter how dysfunctional it is.
The damning auditor's report into the European Union's overreaching border force, Frontex, has urged the brakes be applied to its astronomical growth, fuelled by a budget of nearly €1 billion and staff target of 10,000 in just over five years' time, because the agency is just not up to the job.
🎙️"Frontex's tasks at the EU's external borders are essential for the fight against cross-border crime and illegal immigration. ➡️ Nevertheless, #Frontex is not fulfilling that duty effectively. This is especially worrying at a time when is being given more responsibilities."

— European Court of Auditors (@EUauditors) June 8, 2021
Any other institution found to be so lacking in transparency by an officially appointed auditor would be lucky to survive. But this is an EU institution, and normal rules do not apply. An auditor's toxic report is no reason to panic. After all, as the man who compiled the document for the European Court of Auditors, Leo Brincat, himself points out, "We are not saying 'scrap Frontex' but definitely Frontex is often its own worst enemy."
The 80-page ECA report said Frontex had still not met expectations from the crackdown on illegal migration and cross-border crime it was tasked with in 2016, and until it delivers on those burning issues, it is in no place to deal with added expectations that were mandated in 2019.
Having detailed at length the agency's extensive shortcomings in its relationships with member states, with computer systems, data entry, staffing, reporting, and in providing any clear idea about how or where it is spending its monstrous budget, Brincat's blithe assessment of the extent of the problems is surprising.
Also on rt.com
Spain's go-it-alone strategy in migrants' dispute with Morocco shows why EU's armed frontier force faces struggle for credibility
Because he does say that the report's findings about Frontex were "especially worrying at a time when it is being given more responsibilities."
Surely, now is the time for the EU to cut its losses and admit, as Brincat suggested, that Frontex had bitten off more than it could chew? Take the billions of Euros and give them to the nations to the south of Europe that desperately need staff, equipment, intelligence and support to deal with asylum seekers attempting sea crossings from Africa.
After all, dealing with the Continent's external borders was the whole point of Frontex. If it's failing at that, then it has no reason to exist, other than to provide a place to sit during the day for all the staff at its Warsaw headquarters.
As for the enhanced duties that it was loaded with in 2016 – dealing with illegal migration and cross-border crime – even Brincat seemed surprised at the lack of progress, saying, "On the aspect of cross-border crime, the situation was even more worrying because we found that the information exchange framework had not even yet been established."
So what has Frontex been doing for five years? Well, it seems a lot of bigging itself up. As the report notes, the agency "communicates extensively about its activities".
"This meeting recognised the role Frontex has played to assist Greece at its borders, helping to deal with the large numbers of migrants, as well as combat cross-border crime. We're committed to supporting Greece," said Executive Director Fabrice Leggeri. https://t.co/uc8FTevZAxpic.twitter.com/dCxtb0ZR2u

— Frontex (@Frontex) May 21, 2021
However, it is not so keen at reporting on efficiency and costs, rarely analyses its performance or impact and in its joint operations with EU member nations, fails to look at "the real cost" or defining who does what exactly.
"Frontex does not differentiate between the results of its own support and those of national activities undertaken in the normal course of duties by the host Member State," the audit found. Maybe taking credit for the work of others is why Madrid recently made it clear it did not want help from Frontex in dealing with a surge of migrants attempting to reach the Spanish enclave of Ceuta in Morocco.
Reading through the full report, it is clear the problem is that Frontex has simply become too big, too quickly, without bothering to fully engage with the member states it needs to have on board if there is to be any hope of it delivering on its mandate.
Also on rt.com
With child refugees disappearing by the thousands, the EU is again allowing a migration-related taboo explode into a crisis
In 2006, its budget was just €16 million. In 2027, it will be more than €900 million. Currently, its operational staff number is 6,500. In 2027, that will be 10,000 people. EU countries deserve a lot more for their money.
Frontex was established in 2004 to monitor Europe's external borders after the Schengen Area agreement did away with internal borders for the 26 countries that signed up. It was a straightforward plan that has spiralled out of control, amassing a huge budget, thousands of staff and an overwhelming ambition to dictate to member states how they should police their own borders. It is just itching to send in its armed and uniformed rapid response teams to trample all over a nation's sovereignty.
It is another unloved, unwanted and unnecessary European institution that grew bloated and out of control by being fed a constant diet of money and ambition. If it vanished tomorrow, Frontex would be missed by no one. But sadly, that's not the way the EU works.
Think your friends would be interested? Share this story!
The statements, views and opinions expressed in this column are solely those of the author and do not necessarily represent those of RT.
You can share this story on social media: