I lived on the tropical island where a British billionaire's daughter-in-law allegedly killed a cop. Trust me, it's no paradise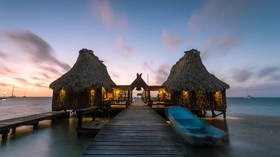 The policeman's mysterious shooting, while he was with the woman on a moonlit dock late at night, shows even those living the life of luxury can lose it all in an instant. I'm not surprised at this bizarre turn of events at all.
The strange circumstances surrounding the fatal late-night shooting of a police superintendent, allegedly by the daughter-in-law of a UK billionaire with whom he was 'watching the moon', have caught the imagination of people across the world, but on this beautiful tropical island, the bizarre and the brutal are never too far away.
As a former long-time resident of Ambergris Caye, a sun-soaked stretch of sand, mangroves and coconut palms in the Caribbean Sea 16 miles (25 kilometers) off the mainland of Belize, Central America, nothing that happens there would surprise me.
So, when I heard of Canadian businesswoman Jasmine Hartin's arrest over the death of police superintendent Henry Jemmott, it was not a case of 'but that sorta thing never happens there'. And even once the facts began to emerge – that the 38-year-old was the partner of megabucks Tory party donor Lord Ashcroft's youngest son, Andrew, that she and the superintendent, 42, were enjoying the moonlight alone together on a dock at 1am after an evening of drinking together, that she was giving him a shoulder rub and accidentally shot him in the head with his own gun, that the dead man fell on her and so she pushed his body into the water – it was still not that surprising.
EXCLUSIVE: Canadian socialite Jasmine Hartin 'cussed out officers and demanded special treatment' behind bars https://t.co/7pr2aO7fDK

— Daily Mail Online (@MailOnline) June 2, 2021
After all, this is the place where, once, on a visit to a police station, I couldn't help but admire the flourishing marijuana plant on a windowsill. Where a local family used to buy chickens from the supermarket to feed a 15-foot-long (4.5-meter-long) crocodile that visited their front yard each evening watched by spectators, like me, sitting in golf carts. They might have lost two dogs to the insatiable beast, but no one messed with the kids at school. Unusual things elsewhere are commonplace on Ambergris Caye.
The incident marks the first murder of the year in San Pedro, the island's only town, which, since Covid-19 struck and lockdown was imposed, has seen a drop in crime, recording just one murder last year: the slaying of Marisela Gonzales, for which her husband, David, was later charged.
There were still plenty of other crimes, however, and even a bizarre case in which disciplinary action was meted out to a female San Pedro police officer who was caught on CCTV helping herself to a prisoner's belongings.
There were two separate armed robberies in just one day in September; in November, there was the spectacular bonfire of more than 220 pounds (100 kilograms) of seized drugs, including marijuana, cocaine and ecstasy tablets; a former San Pedro policeman was charged with rape of a minor; three fishermen were remanded in custody for an attempted kidnapping, burglary and wounding; and all this on top of the usual seizures of cash proceeds from drug-dealing, the items taken illegally from the offshore marine reserve, and the deportation of border-jumpers and US felons who regularly turn up in town looking to lay low.
Nevertheless, 2020 was quiet, particularly when compared with the year before, which saw a total of 12 murders on an island of just 15,000 citizens – which was part of a 30% reduction in crime compared to 2018.
While the tourist brochures paint an alluring picture of 'No shoes? No shirt? No problem!', San Pedro is actually a hustling, traffic-choked Central American town. As on many Caribbean islands, once you stray from the bars, restaurants and colourful shops of the beachfront, what my Belizean friends call 'Second World' poverty stares you straight in the face. It's an unsettling and stark contrast to the carefree, cocktail-enhanced, hammock-swinging hedonism the tourists enjoy.
Also on rt.com
Arrest in Spain of software genius John McAfee could spell the end of my former island neighbour's wild escapades
Ambergris Caye is a well-known drop-off point for the drug cartels of South America on the way to Mexico and further north, and plenty of funny money – and drugs – washes around in the local economy, so it pays to stay alert.
Away from prying eyes, to the north of the caye, which extends around 28 miles towards the Yucatan Peninsula, criminals go about their business unmolested, trafficking drugs, smuggling contraband among the mangroves and even settling scores – as the two bodies found in a shallow grave a few years ago would suggest.
Popular American singer-songwriter Jimmy Buffett is a regular visitor to San Pedro, He's currently building a 'Margaritaville' resort named after his 1977 hit and aimed at enticing island dreamers from the US to invest in a condo in paradise – and no doubt he'll have plenty of takers.
It's the same idea that Jasmine Hartin and her partner Andrew Ashcroft had with the beachfront resort they run. But, unfortunately for them, their tropical dream has turned into a nightmare. A policeman is dead. The daughter-in-law of a rich, powerful man with extensive business interests in Belize is being held responsible, and the authorities are under intense scrutiny to ensure justice is not only done, but is seen to be done.
To holidaymakers, the Caribbean lifestyle is all about lazy days, wide smiles and sand between your toes, with a ready drink to hand. For those who live there all year round, alarming encounters with the darker side of life in the tropics are all too often unavoidable.
Like this story? Share it with a friend!
The statements, views and opinions expressed in this column are solely those of the author and do not necessarily represent those of RT.
You can share this story on social media: