David Schwimmer's Sky sitcom 'Intelligence' is not just terribly unfunny but also naked propaganda for GCHQ and the NSA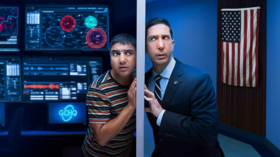 The second season of Intelligence dropped this week, picking up where the first left off. Schwimmer plays a brash, offensive NSA officer who is sent to GCHQ, setting off a culture-clash inside the world of bulk data collection.
While the show is a tedious rehash of 90s sitcom clichés featuring Schwimmer digging into his bag of tricks and coming up very short, its much more important function is perception management for mass surveillance agencies.
This isn't mere speculation – both Schwimmer and his co-star, the show's creator Nick Mohammed, have given numerous interviews talking about their contact with officials from GCHQ, where the show is set, as well as from the NSA.
Also on rt.com
New World Mordor: Amazon and New Zealand's Lord of the Rings deal lays bare the 'idyllic' nation's role in global surveillance
A few weeks ago, Schwimmer and Mohammed appeared on Graham Norton's chat show to promote the new season, as well as the Friends reunion. Norton, a seasoned investigative reporter and never one to shy away from potentially controversial questions, asked Schwimmer about the NSA reaching out to him regarding the show.
Schwimmer responded, "I'm sure the NSA has probably been tracking me for years!" He added, "It was the publicity person that wanted to check in on what we were doing. It was more GCHQ actually, that Nick met with some of the representatives."
Mohammed took over, explaining to Norton, "Once it was announced that we were doing a show about GCHQ naturally they've got a press department and a concern about their appearance, but as soon they knew that we were a silly sitcom and not a whistleblowing drama, they relaxed a bit."
GCHQ sent two representatives to meet with Mohammed, and they played a 'good cop, bad cop' routine where one of them never said anything but simply stared and took notes of the meeting. The other spook provided Mohammed with family-friendly details about the GCHQ choir, and how they have bake sales, to help mould the cosy image depicted on Intelligence. Mohammed concluded, "They've actually been very supportive, and they're such a great organisation."
This is the latest in a number of admissions that Schwimmer and Mohammed have made about the role of GCHQ in providing support to the first TV series ever set inside the spy agency. In one interview to promote the first season Schwimmer said, "We hope that everyone at GCHQ is as excited about this series as we are. I presume they were aware of this series being green-lit way before we ever were."
Adding to the suspicious atmosphere around the 'comedy', in another promo piece our duplicitous duo were asked if they'd had any feedback from GCHQ and Mohammed confirmed they had been in touch, saying "They're excited to see it, I believe." Schwimmer quipped, nervously, "We hope they are, know what I mean?"
The pair have extolled the virtues of the British state's metadata collectors and repeated their hopes for approval from the spymasters. In a previous interview with Norton, Mohammed emphasised how important he considers GCHQ to be, describing them as "a slightly less sexy version of MI5 and MI6". He went on, "In terms of how they're portrayed in films and things, they're sort of quite action-y whereas GCHQ are doing a lot of data crunching and hugely important work for national security."
Also on rt.com
'Anne Boleyn' is so dull that the lead's race is the only thing worth discussing… as intended
In a promotional spot, Schwimmer added, "Importantly, we hope they really love it because, you know, we wanna celebrate the work they do and while his character is quite inept and my character is quite reckless, everyone else – in fact, predominantly women in the rest of the cast – everyone else is incredibly competent and capable and doing the good work that GCHQ does every day."
When asked why GCHQ offered their support to Intelligence, Schwimmer answered, "It was really important to us, and I think they just wanted to make sure we weren't going to be making fun of the work they actually do, day in and day out, to protect this country and others."
At a red carpet event before the first season premiere, Mohammed explained both his inspiration for the show, and his desire to use it to manipulate public perceptions. The showrunner said, "I like the fact that GCHQ is – rightly so – shrouded in mystery so there's quite a lot of artistic license so you can play with that as a writer, playing with people's perceptions of the place."
In yet another interview he explained how this worked in terms of shaping the tone of Intelligence, saying, "Obviously we don't want to dwell on things like atrocities because it's a comedy. Without it ever getting too bleak or dark, we just try and find the lighter moments within that. We do occasionally reference real or semi-real events and crises, but it's played in the background quite a lot. The humour comes from the social interactions of these people."
Schwimmer elaborated, "We really hope they love the show because we are fans of GCHQ and we want to celebrate them in the show. It's pretty clear that everyone else is really capable at their job, and that they are doing good work, hard work and necessary work and it is very successful. While we are the screw ups of the bunch everyone else is pretty much on top of their game."
The Friends star summed up, "We always want GCHQ to come off as competent and credible. At the same time, you have these very flawed characters and individuals who do make mistakes. You want to get a sense that as flawed as the individuals are, the institution is very together and on top of their game."
Also on rt.com
Amazon and the Lion – Buying MGM is another shrewd move in Amazon's quest to dethrone Netflix from streaming dominance
Among the 'atrocities' Mohammed openly admits he avoided depicting in his scripts are GCHQ's potentially illegal role in the drone program, helping to identify targets who are then assassinated. The only time Intelligence portrays GCHQ collecting the bulk data of innocent civilians, it is played off as an accident rather than the normal working practices of technically-enhanced state-funded neurotics.
One scene from season one stands out, where Schwimmer's character suggests hacking into a target's computer to see whether they pose a threat. His supervisor immediately shuts down the idea, asserting "No, that's not how we do things here." The message is clear – GCHQ do not allow their operatives to hack into your computer.
Except they do. A leaked GCHQ document describes what they call "Computer and Network Exploitation", another name for hacking. Among GCHQ's most egregious hits are their hacking of Belgium's biggest telecoms provider, and their development of tools "to manipulate the results of online polls, artificially inflate pageview counts on web sites, [and] amplify sanctioned messages on YouTube." None of this appears in Intelligence.
Season two continues in the same vein, and was based on the real life story of the NSA's EternalBlue cyberwarfare exploit, which was stolen, leaked and used to wreak havoc on computer systems. The second season of Intelligence rebrands this as a tale of GCHQ and NSA heroism, as they protect the public from evil Russian gangsters who are using EternalBlue to attack power stations and other targets.
Also on rt.com
'A Quiet Place II' falls dramatically, culturally and politically flat as it fails to live up to the suspenseful original
Despite its obvious value to GCHQ, Intelligence might have run its course – to the relief of both critics and audiences who have mostly lambasted the show. Intelligence was renewed for a second season before the first season had even aired but there is, gratefully, no news about a third run out for Schwimmer and Mohammed.
Intelligence broke new ground in being both the first sitcom set inside GCHQ and the first TV show supported by GCHQ, but its entertainment quality does not match its lofty propaganda ambitions. Let us hope it is now permanently consigned to the dustbin bin of cultural history.
Think your friends would be interested? Share this story!
The statements, views and opinions expressed in this column are solely those of the author and do not necessarily represent those of RT.
You can share this story on social media: